Found November 24, 2012 on Fox Sports Carolinas:
PHILADELPHIA (AP) -- Philadelphia quarterback Michael Vick and running back LeSean McCoy have been ruled out for the Eagles' game against Carolina on Monday night because of concussions. Coach Andy Reid announced the decisions Saturday. Eagles trainer Rick Burkholder said Vick is symptom-free, but McCoy has headaches and dizziness. Vick was injured against Dallas on Nov. 11 and didn't play last week in the Eagles' 31-6 loss to Washington, their sixth straight loss. McCoy was hurt in the fourth quarter against the Redskins. Rookies Nick Foles and Bryce Brown will start in place of Vick and McCoy. Foles will make his second career start at quarterback, and Brown his first NFL at tailback. Burkholder said Vick has advanced to phase three of the team's five-phase concussion recovery protocol, which is separate from the NFL-mandated concussion program. "Every thing's progressing as normal with him," Burkholder said. "He reports no symptoms, no headache, no vision problems, no nauseu, no fatigue. He hasn't reported any symptoms after he did his workout today." Burkholder said Vick participated in moderate heart-rate exercise on a bike machine Saturday and was symptom-free afterward for the first time. Burkholder wouldn't speculate whether Vick would be able to play against the Cowboys on Dec. 2. "I'm encouraged at the way he's doing, but if he plays he plays, if he doesn't he doesn't," Burkholder said. "But he's going to be healthy before he plays." Burkholder said he plans to move Vick into the fourth phase of the team's rehab program Sunday. "If he doesn't have any symptoms tonight we'll start doing some throwing if he's doing OK," Burkholder said. "I'll get a couple receivers he can throw to and do a little workout." Burkholder said Vick hasn't yet passed the separate impact test that compares brain function before and after a concussion. Until he passes that and is cleared by both an independent league-approved neurologist and the Eagles' own concussion specialist, he can't practice or play -- even if he is in the fifth and final phase of the Eagles' rehab protocol. "He's still off in a few areas (on the impact test)," Burkholder said. "That's not alarming to us. It happens. He won't return to football practice until I can get him to do a little better on that impact test." Monday's game will be the eighth Vick has missed because of injury since he became the Eagles' full-time quarterback early in 2010. Burkholder said Vick wants to play now. "These guys are all competitors and that's one of the inherent problems with concussion management -- they want to play," Burkholder said. "They know the consequences and everything, but they want to play. We know he's anxious to go out there and play but we have to be careful with these guys." Burkholder said McCoy, who led the NFL last season with 20 touchdowns, remains in phase one of his recovery. He said McCoy won't be given even light exercises until his symptoms diminish further. "He still has symptoms today," Burkholder said after the team's Saturday practice. "He has a headache, he has periodic dizziness with exertion If he tries to go up steps too fast or tries to pick up his baby, he gets a little fuzzy. It's not nearly as bad as it was in Washington (after the game) but it's still there. "He's got some sleep issues, where he sleeps a lot and then he's awake and then he can't get back to sleep, that kind of thing, and one of the things that he complains about is sensitivity to noise. Noise in general is bothering him." Burkholder said McCoy was given an impact test Saturday and "obviously, that's below baseline as well with his symptoms." Reid also said wide receiver Jason Avant will miss the game Monday night because of a hamstring injury, and running back Chris Polk is out with a toe injury.
Original Story:
http://www.foxsportscarolinas.com/11/...
THE BACKYARD
BEST OF MAXIM
RELATED ARTICLES
Ever since Michael Vick went down with his concussion, I've been pounding the drum that Nick Foles should remain the Eagles' starting QB for the rest of the season, regardless of how he or the team performs. I even went so far as to say that Andy Reid would be selfish not do so. Before all the Vick lovers come crying, this is not about him.  My reasoning for starting Foles is...
Philadelphia quarterback Michael Vick and running back LeSean McCoy have been ruled out for the Eagles' game against Carolina on Monday night because of concussions. Coach Andy Reid announced the decisions Saturday. Eagles trainer Rick Burkholder said Vick is symptom-free, but McCoy has headaches and dizziness. Vick was injured against Dallas on Nov. 11 and didn't play...
Cam Newton has been compared to Michael Vick ever since he burst onto the scene at Auburn and led the Tigers to a national championship. While many will argue that their comparisons are race related, Newton understands that the comparison stems mostly from the fact that both quarterbacks can make plays with their arm and their legs. Newton says that dual-threat ability has its benefits...
The Philadelphia Eagles will be without their starting quarterback Michael Vick and running back LeSean McCoy, who are each recovering from concussions, when they take on the Carolina Panthers tonight. Vick sustained his head injury two weeks ago against the Dallas Cowboys. He was unable to suit up last weekend when the Eagles took on the Washington Redskins, and he's been...
The Philadelphia Eagles have officially confirmed that both QB Michael Vick and RB LeSean McCoy will sit out Monday night's game against the Carolina Panthers with concussions. As many predicted before the season, Michael Vick's style of play would lead to injuries from taking too many hits, although having one of the worst offensive lines in football hasn't helped. The...
The Philadelphia Eagles have had one of the more disappointing season in 2012, and now they are adding insult to injury. Actually, they may be more accurately adding injury to insult. On Monday Night Football, the Eagles will be forced to turn to a pair of back up players on offense while they prepare to battle the Carolina Panthers. We already pretty much knew that starting quarterback...
After yesterday's Thanksgiving day debacles, it's safe to assume some coaches are on the proverbial hot seat. Congratulations Jason Garrett of the Dallas Cowboys, you fit that description.I wrote a few weeks ago that the Cowboys could still make the playoffs. They needed to win every "winnable" game and hope the NY Giants faltered down the stretch. The Cowboys now...
Brown is no Shady Juan… Andy Reid has already ruled out both Michael Vick and LeSean McCoy for Monday Night Football.  That means more Nick Foles and possibly fantasy savior Bryce Brown.  Foles has already shown he can't be trusted for fantasy purposes, but Brown is somewhat intriguing. The Panthers were getting shredded earlier in the season by the run, but have tightened...
Monday Night Football will feature a game that few outside of Carolina and Philadelphia will care about tonight. The 2-8 Panthers head to Philly to take on the 3-7 Eagles. Both teams have clearly struggled all season, so it will be interesting to see which team steps up in this game. The Eagles aren't looking too good, as Andy Reid is on the verge of getting fired and Michael Vick...
Bryce Brown will start at running back for Philadelphia in place of LeSean McCoy on Sunday against Carolina. Eagles offensive coordinator Marty Morhinweg confirmed Friday that Brown will make his first career start. McCoy is recovering from a concussion along with quarterback Michael Vick. "My expectations are very high with Bryce Brown," Morhinweg said, according to...
With a rookie quarterback and a running back making his first start since high school, the Philadelphia Eagles will try for their first win in two months. No wonder even the Carolina Panthers (2-8) are favored on the road. The struggling Eagles (3-7) have lost six straight games entering Monday night's matchup against Cam Newton and the Panthers. They won't have Michael...
This week's Monday Night action takes us to Philly as the Carolina Panthers (2-8) get set to face the Philadelphia Eagles (3-7) in a showdown of possibly the two most underachieving teams in the league. The two teams have the worst records in the NFC. In fact, somebody on Twitter earlier said "Free Fallin" by Tom Petty would be the perfect soundtrack for both these teams. With...
Eagles News

Delivered to your inbox

You'll also receive Yardbarker's daily Top 10, featuring the best sports stories from around the web. Customize your newsletter to get articles on your favorite sports and teams. And the best part? It's free!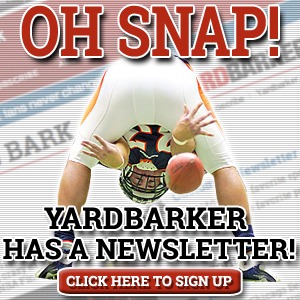 Latest Rumors
The Backyard

Today's Best Stuff

For Bloggers

Join the Yardbarker Network for more promotion, traffic, and money.

Company Info

Help

What is Yardbarker?

Yardbarker is the largest network of sports blogs and pro athlete blogs on the web. This site is the hub of the Yardbarker Network, where our editors and algorithms curate the best sports content from our network and beyond.