Found April 10, 2013 on Fox Sports North:
EDEN PRAIRIE, Minn. At 6-foot-6 and 258 pounds, the Minnesota Vikings' Kyle Rudolph has the size and skills to make him a natural at tight end. As it turns out, his athletic skill isn't just a fit for football. Rudolph can swing a bat a little bit, too -- a cricket bat. Rudolph, along with teammates John Sullivan and Harrison Smith, traveled to the United Kingdom last week to promote the Vikings' Sept. 29 game against the Pittsburgh Steelers in London's historic Wembley Stadium. Touring the region, the Vikings players met up with the Yorkshire Vikings, one of the most historic cricket teams in the United Kingdom. Rudolph and Smith quickly showed off their athleticism by trying their hand at the tradition-rich sport. "Obviously, it's a totally different dynamic," said Danny Reuben, the Yorkshire County Cricket Club communications manager who helped set up the meeting in conjunction with the NFL's office in the United Kingdom. "This is a bat-and-ball game, very similar to baseball. American football is very physical, it's a collision sport. It's totally different. We were pleasantly surprised how well they took to it. In terms of their natural hand-eye coordination, it was up there with the best athletes around. I think that's why they play at their level, the elite level, because they have natural ability and certainly that natural hand-eye coordination came as a bit of a surprise to us all." Yorkshire, which is celebrating its 150th anniversary in 2013, recently made the name change to Vikings after years of competing as the Yorkshire Carnegie. York's historic roots dating to days of Vikings in the area prompted the change. As soon as the NFL's office in London heard of the new name, it contacted the club, setting up the unique meeting of Vikings and Vikings. Minnesota's Vikings mingled with several members of the team and tried their hand at cricket, putting on the sport's equipment before getting into the "nets" for some batting practice. "They were surprisingly good actually, to be fair," said Jack Brooks, one of Yorkshire's players. "They were able to hit the ball quite cleanly even at top pace. So they surprised themselves, but you'd expect sportsmen to have good hand-eye coordination, and they had protective equipment on so they didn't get hit. They were quite good." With a "bowling" machine pitching at 70 miles per hour, Rudolph was so good, the overseas Vikes upped the speed to see what he could handle. "I couldn't believe how they really got into it," Reuben said. "He smashed it. He had really great hand-eye coordination. We couldn't believe how natural he was at playing the game." The size of Rudolph and Sullivan (6-4, 301) made an immediate impression. "I'm 6-foot-2 and about 14 stones (about 196 pounds), so I'm not small," Brooks said. "But coming up against those guys made me look like a small boy. It was shaking hands with a guy whose hands are twice the size. Rugby players are quite big guys, and these guys are big. They are really down-to-earth guys and really quite nice. They definitely gave the NFL and the Minnesota Vikings a good rap." Yorkshire's Vikings have a record of success Minnesota's Vikings can only dream of. Yorkshire has won 33 championships, described as equivalent to Super Bowls, the most by any club in history. On the NFL side of things, Minnesota is taking part in the league's international series with the September game, the first for the team in London since a 1983 exhibition contest. Besides the international series there will be two games played in London next season NFL games are broadcast in the United Kingdom each week and have developed a faithful following. "It's certainly a sport over here that's starting to get noticed and certainly with the international series where you've got two of the bigger names coming over to play in the UK," Reuben said. "You just wonder if in the next four or five years, or maybe longer, if there could be a full-time franchise over here, which would be phenomenal. It would really broaden the appeal of the sport over here. "Certainly on the team, there's a few players who watch it religiously every week. They support the teams, and I think now that they've met players from an NFL team, their support will probably change to the Vikings and they'll be rooting for the Vikings all of next season." Yorkshire is hoping the relationship with Minnesota can continue. Brooks said several members of the cricket club are planning to come to Minnesota to see the Vikings play. With Yorkshire wrapping up its season the day before the Vikings play the Steelers, Brooks said Rudolph, Sullivan and Smith might try to make it to a cricket game as well. Regardless of the new friendships, England will support both teams when they arrive. "Wembley's packed out," Brooks said of the NFL games at the stadium. "They really enjoy when they come over to play. They're well-supported. It really doesn't matter who comes over, certain people over here will support the teams. Wembley packed out is a fantastic stadium, and I know the atmosphere will be incredible." Follow Brian Hall on Twitter.
Original Story:
http://www.foxsportsnorth.com/nfl/min...
THE BACKYARD
BEST OF MAXIM
RELATED ARTICLES
MAD IN MINNESOTA
Vikings running back Adrian Peterson is not happy about the NFL's new helmet rule, saying, "Sooner or later we're going to be playing touch football."
With the 2013 NFL Draft just around the corner, it's time to unveil team-by-team projections for the first three rounds before the three-day festivities kick into swing on April 25.  Part one of the series begins with the Minnesota Vikings. Photo Credit: Vikings.com First Round (No. 23 Overall): Manti Te'o, LB, Notre Dame Wait, what?  Yes, the're a pretty logical connection...
It's week three of the Minnesota Vikings uniform unveiling charade (apparently), and we have a collection of additional clues for you to look and at try to piece together what it all means.  Today, the Vikings have released previews of their new uniform. Actually, it was done in pieces. Like they cut someone's body up that was wearing them and then submitted photos like...
Last week, the Baltimore Ravens cut Brendon Ayanbadejo. The Ravens certainly have salary cap issues. With departures of Ray Lewis, Ed Reed, Matt Birk and Anquan Boldin the defending champions seem to be in a full rebuilding mode. Maybe Ayanbadejo was just a victim of these factors. Maybe not. Even he will admit that his play has dropped off recently, but he believes his...
After finishing 6-10 in 2010 and 3-13 in 2011, the Minnesota Vikings surprised the world in 2012 by finishing second in the NFC North and qualifying for a Wild Card berth. Although their postseason appearance ended in disappointment, the season was almost universally considered a resounding success. This year, general manager Rick Spielman finds himself [...]The post Best and Worst...
On Oct. 6, 2005, several members of the Minnesota Vikings, including Fred Smoot, Daunte Culpepper, Bryant McKinnie and Kevin Williams made a trip to Lake Minnetonka for some bye week relaxation. What initially was supposed to be a leisurely cruise around one of Minnesota's most famous bodies of water on a party boat devolved into a night of booze-fueled, raunchy sex romp that ultimately...
Being a Minnesota Vikings fan for all these years has had some major benefits. It's helped make me a better person. No, really. I know that Vikings players always seem to making headlines for all the wrong reasons — repeated arrests, salacious scandals, and lurid letdowns on the field — but that's just the point. [...]The post Minnesota Morals: Poaching Packers players by...
Leading up to this month's draft, Purple Jesus Diaries will take time analyzing potential draft targets for the Minnesota Vikings. With our cutting edge video technology, long hours spent scouting literally DOZENS of college players from our couch, and insight from Vikings meathead CapitalJsCorner, we're give you details you never even dreamed of from prospects that could...
EDEN PRAIRIE, Minn. The Minnesota Vikings have finalized their 2013 preseason schedule with dates and times. Minnesota, which revealed its preseason opponents last week, will open the 2013 preseason at home against the Houston Texans at 7 p.m. Friday, Aug. 9. The Vikings will travel the next two weeks, playing at 6 p.m. Friday, Aug. 16 in Buffalo and at 7 p.m. Sunday, Aug. 25 in...
EDEN PRAIRIE, Minn. Adrian Peterson proved coming back from major knee surgery to be no obstacle for his immense talents. But can he overcome a cover jinx? Peterson, the Minnesota Vikings MVP running back after rushing for the second-most yards in single-season NFL history, is one of the final four players in the annual voting for the 'Madden 25' video game cover. In...
Nine years ago, one of the best Vikings stories of a free agent pursuit took place. It also involved Antoine Winfield's "decision," some personal negotiating tactics and a storyteller with a flair for the dramatic.
In an attempt to alienate more potential bandwagon Minnesota Vikings fans from ever switching allegiances from the Midwestern teams to the Pacific Northwest, the Seattle Seahawks are reportedly close in negotiating a contract for Antoine Winfield. Winfield, the former Minnesota Vikings cornerback that has been with the team for nine seasons and has easily become a fan favorite...
NFL News

Delivered to your inbox

You'll also receive Yardbarker's daily Top 10, featuring the best sports stories from around the web. Customize your newsletter to get articles on your favorite sports and teams. And the best part? It's free!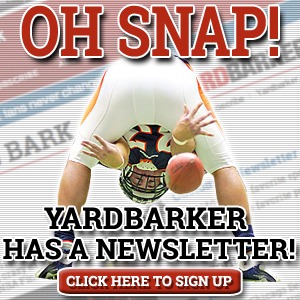 Latest Rumors
The Backyard

Today's Best Stuff

For Bloggers

Join the Yardbarker Network for more promotion, traffic, and money.

Company Info

Help

What is Yardbarker?

Yardbarker is the largest network of sports blogs and pro athlete blogs on the web. This site is the hub of the Yardbarker Network, where our editors and algorithms curate the best sports content from our network and beyond.