Happy Halloween!  I'm wondering if Craig James and Pam Ward disguised themselves as good announcers because it was unusually quiet for them with this week's nominees as some new announcers come back into the Pammies picture.  Gary Danielson and Matt Millen will look to catch up with Darth James and make this a race for the Pammies title as we move into November. As a reminder as to how the Pammy vote works, each week we'll nominate 15-20 quotes for you to pick the best 10.  The winning quote of the week will earn that person 10 points all the way down to 1 point for 10th.  Remember, you can vote for your favorite five quotes.  Here are your Week 10 nominees...
1) "Jimbo Fisher knows how to get QBs ready for the NFL; when he was at LSU, he had JaMarcus Russell 1st Overall" - Jesse Palmer (via AlexFromBuffalo) Yup, that's a positive reference about JaMarcus Russell's NFL career. 2) "Worley may have pulled out too soon." - Tim Couch (via sctvman) 3) "You can throw or run here, those are your options" - Gary Danielson (via sctvman) 4) "This is probably exactly what the Wisconsin coaching staff wanted to see today. After those two heartbreaking defeats, you come back and you just explode all over somebody." - Mike Patrick (via DevsFan30) 5) Regarding the earthquake that took place in Oklahoma at 2:12 AM... Kirk Herbsteit: "Did you feel anything?"
Brent Musburger: "It might have been last call" (via Chris Schenkel) 6) "Floyd getting the last word... for now." - Mark Jones (via Dascenzo) 7) "Redshirt freshman Ronald McCombs well over 100 yards on that last drive." - Pam Ward (via sctvman) 8) "Never bet against the *****" - Brian Wilson (via djstevem) 9) "Intercepted! Wait... no... caught by LSU!" - Verne Lundquist (via GB330033) saying LSU intercepted their own pass. 10) "Stick it up in there hard and with power!" - Chris Spielman (via DomoBENesis) 11) Rece Davis: "What would you tell kids to do in that situation?"
Craig James: "Don't watch SportsCenter" (via sctvman) 12) "  And   gets bent over backwards!" - Pam Ward (via DevsCuse44) 13) "The quarterback has to win with the throw." - Andre Ware (via deadgeneration4) 14) "We've had 3 touchdowns in 6 minutes" - Rod Gilmore (via BoBips2188) with the score 7-7. 15) "Who had 6-6 for a final?" - Verne Lundquist (via Dascenzo) No one. They have invented overtime. 16) "You live your life like a field goal into the wind." - Matt Millen (via cptmintz) 17) "Wonder where the beef is, here it comes." - Matt Millen (via TheSportsHernia) Vote For Your Week 10 Pammy Nominees! (vote for up to five) Vote For Your Week 10 Pammies Nominees! The winners will come Wednesday morning so make sure you vote early and often and check back for the full Week 11 announcing sked later this week!
[follow]
Original Story:
http://www.awfulannouncing.com/pammie...
MORE FROM YARDBARKER
NFL News

Delivered to your inbox

You'll also receive Yardbarker's daily Top 10, featuring the best sports stories from around the web. Customize your newsletter to get articles on your favorite sports and teams. And the best part? It's free!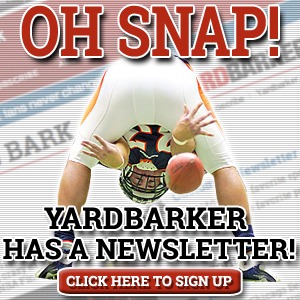 Latest Rumors
Best of Yardbarker

Today's Best Stuff

For Bloggers

Join the Yardbarker Network for more promotion, traffic, and money.

Company Info

Help

What is Yardbarker?

Yardbarker is the largest network of sports blogs and pro athlete blogs on the web. This site is the hub of the Yardbarker Network, where our editors and algorithms curate the best sports content from our network and beyond.