Found October 25, 2012 on Phin Nation:
The Miami Dolphins and New York Jets do not like each other.  Yesterday, we heard from S LaRoid Landry and LB Aaron Maybin.  Landry focused his trash talking on Reggie Bush mostly, saying that Reggie will run differently for the Dolphins on Sunday because he remembers the hit that injured his knee back in September.  Landry went on to say that even if he's penalized, it won't stop him from headhunting.  He finished by saying that the Jets would beat the Dolphins on Sunday and improve to 4-4 entering their bye week. Linebacker Aaron Maybin couldn't help himself, as he too had to say something about Reggie Bush.  He said that the Jets want to 'knock him out', but do so legally.  Great team you have up there Rex.  I see you have everything under control.  I'm interested to see if Roger Goodell has anything to say about 'headhunting' and wanting to 'knock him out'. Most of the Dolphins took the high road when the media asked them about Landry's and Maybin's comments.  Cameron Wake said that words don't make you a better or worse player.  Most of the Dolphins (Reggie Bush, Sean Smith & others) said that they would wait to do their talking on the field Sunday.  It was almost as if, I don't know, THEIR COACH told them not to take the bait from the Jets.  Imagine that, a coach that has control of his team. (cont'd on page 2, click below) Pages: 1 2
Original Story:
http://www.phinnation.com/war-of-word...
THE BACKYARD
BEST OF MAXIM
RELATED ARTICLES
The Miami Dolphins were off on Tuesday, getting one final day of rest before their practice resumes in preparation for Sunday's BIG divisional matchup with the Jets.  Since we already broke down the Dolphins Division this week, we thought we'd skip that feature on it's usual Wednesday slot.  Instead, since the Dolphins were off on Tuesday, we did some reading of other Dolphins...
DAVIE, Fla. -- He might be bent over much of the game, but a center's job is to stand by his quarterback. Mike Pouncey sure is doing that with Ryan Tannehill. "I think he's the best rookie quarterback in the NFL right now," Pouncey said of Tannehill, taken by Miami with the No. 8 pick in last April's NFL draft. "Without his success that he's having...
Miami Dolphins center Mike Pouncey records and watches all of the Pittsburgh Steelers' games to study their All-Pro center, and talks with him on the phone every day. Sometimes they remark on their similar styles of play, which is really no surprise. After all, they're identical twins. Maurkice Pouncey was born a few minutes after Mike but made it to the NFL first, turning...
DAVIE, Fla. Joe Philbin strolled through the Dolphins locker room Friday during the post-practice media availability period. The Miami coach noticed center Mike Pouncey alone in front of his cubicle. Nobodys talking to you today, Mike? Philbin asked with a smile as he continued through the room. Philbins friendly jab came a day after Pouncey delivered a few verbal blows, the latest...
Next up in a week filled with trash talk: Antonio Cromartie. The New York Jets cornerback says Friday that comments by the Miami Dolphins' Reggie Bush about it being karma that Darrelle Revis is out for the season were ''unprofessional'' and don't show ''any kind of sportsmanship at all.'' Cromartie nearly let out an obscenity when he was...
1. Scheme out Cameron Wake - Cameron Wake is an absolutely devastating pass rushing presence. The Jets won their matchup with the Dolphins earlier in the year because they were able to hold Wake without a sack, though he did have several pressures. If the Jets want to complete the season sweep, they'll have to keep Wake off of Mark Sanchez so that their newly efficient passing...
  The trash talking has begun in advance of Sunday's match up between the New York Jets and the Miami Dolphins. When the two teams met earlier this season, the result was a Jets win but the loss of key defensive player, CB Darrelle Revis for the season. Dolphins RB Reggie Bush also suffered an [...]
For 2 weeks, the Miami Dolphins have been thinking about nothing but improving their record to 4-3.  In fact, the Dolphins have been thinking about getting revenge on the Jets since they lost to them in overtime a month ago in Miami. This week, the emotions of this game spilled into the press as both sides took shots at the other. The Jets started the verbal barbs and it appears...
The New York Jets have already guaranteed victory over the Miami Dolphins, which is typical, considering no other team enters match-ups guaranteeing the win more than the Jets. The last time the Dolphins met the Jets, in Week 3, Reggie Bush had to leave the game with a knee injury and Derrelle Revis' season ended with a torn ACL. The Jets squeezed out a win in overtime (but...
Jets defensive coordinator Mike Pettine's job just got a little bit harder, and it's all because a couple of guys couldn't keep their mouths shut. The back and forth between the Jets and Dolphins running back Reggie Bush continued this week with the teams squaring off in the Meadowlands on Sunday. But while we'll have to wait and see what unfolds...
Joe Caporoso - LaRon Landry and the Jets Run D versus Reggie "Hot Sauce" Bush - There has been plenty of chirping from Reggie Bush about the New York Jets and LaRon Landry didn't back down reminding that Bush "will remember his hit from week 3, every time he sees him on the field." Should be a scrappy one on Sunday, no? In all seriousness, if the Jets slow down Reggie...
A pair of injuries to star players marred the last meeting between the New York Jets and Miami Dolphins. It's been five weeks, but the emotions from that matchup are still lingering. With a war of words continuing, the Jets will try to sweep the season series from the Dolphins for the first time in five years Sunday at MetLife Stadium. Nick Folk's 33-yard field goal in...
Dolphins News

Delivered to your inbox

You'll also receive Yardbarker's daily Top 10, featuring the best sports stories from around the web. Customize your newsletter to get articles on your favorite sports and teams. And the best part? It's free!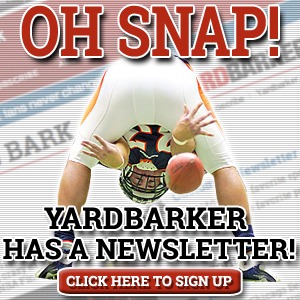 Latest Rumors
The Backyard

Today's Best Stuff

For Bloggers

Join the Yardbarker Network for more promotion, traffic, and money.

Company Info

Help

What is Yardbarker?

Yardbarker is the largest network of sports blogs and pro athlete blogs on the web. This site is the hub of the Yardbarker Network, where our editors and algorithms curate the best sports content from our network and beyond.