Warren Sapp was recently inducted into the Pro Football Hall of Fame and will be inducted in the Buccaneers Ring Of Honor during their Monday night matchup against the Miami Dolphins. That honor has prompted a former teammate of Sapp to release some information we may not have known about. Former Buccaneers' defensive end Chidi Ahanotu unleashed a lengthy Facebook post comparing Sapp to Dolphins' bully offensive lineman Richie Incognito (if you haven't heard about what's going on with the Dolphins, click here). The full Facebook post/rant can be read below. Ring Of Honor Truth Moment: ~Richie Incognito tormenting & bullying of his teammate reminds me of what our own beloved Warren Sapp did to his teammates & the staff at Buccaneers. Tyoka Jackson, Super Bowl MVP Dexter Jackson, Marcus Jones & Chidi Ahanotu all confronted Sapp & had physical altercations of varying degrees with Sapp. Virtually Nothing was off limits to Sapp's verbal attacks & belittling of his teammates & front office staff. Legendary superstar & ESPN commentator Keyshawn Johnson would hangout at my restaurant jazz club & ask to exit out the back when Warren Sapp came in because he despised Sapp. For many years many in the Tampa community all the way to Orlando have shared their Sapp insult stories thru various sports radio shows, sports newspaper blogs & to me personally. So why does a man like Sapp get put in the coveted Ring of HONOR of all things? A legendary coach once said to us that if a guy is a jerk but he plays football great, then he's not a jerk to him. Sapp's prowess on the field & national acclaim has been embraced by the Buc owners the Glazers, former head coaches Tony Dungy & Jon Gruden & the local media regardless of full knowledge of Sapp's belligerence & insulting behavior. In the end, a pass is given to players when they are superstars. Even passes to be included all the way into the NFL Hall Of Fame. If Richie Incognito was such a superstar then the Nation would never have heard about his bullying altercation. No, Incognito's behavior would've never been reported by his disgruntled & verbally abused teammate if Incognito was such a superstar. This is the way it was & is & always will be. The locker room culture in the NFL is not a place of political correctness & moral authority. While the NFL continues to vamp up its $9 Billion dollar product as a family friendly adventure akin to a Disney World, the true nature of the locker room culture will never resemble the Magic Kingdom. As we set to honor Warren Sapp into our coveted Buccaneer Ring Of Honor on this Monday Night Football national event, it is a symbol of a clash of contrasting cultures wherein if the true nature of certain players' behavior in the locker room were displayed for the world to see; there'd be no awards for honor handed out to certain players…..regardless of how big a superstar that player may be. Truth is a hard pill to swallow sometimes. The messenger of truth is vilified at times. But there comes a moment when truth can no longer be swept under rugs & hidden behind shiny media interviews and snazzy commercials & glossed over thru various ceremonial awards. Sometimes that truth just must be told…..even if no one in the media, the organization, or the company has the balls to do it. Incognito's Miami Dolphin Victim & teammate Jonathan Martin came to this point of truth. And in the end Warren Sapp is my brother regardless of his ways. Seems fighting in the trenches alongside a man tooth & nail thru guts, blood & glory for many many years can give a man a pass too. That's a strong, lengthy statement from Ahanotu. But don't worry Sapp (via ESPN) responded back to those comments just like we knew he would. Check the source. I've been in the locker room with Chidi for many years. If you know the nature of the beast, don't be surprised by what it does. He had plenty of time to say whatever he wanted to say about Sapp up until this point. Warren was just as hard on you as he was on himself. I think Derrick Brooks and anyone else that's been in that locker room will tell you. I've been called everything under the sun in this town. This is the first time I've ever heard that and why do you think that is?I think I helped him get paid. And then when he got his 10 sacks, didn't come to the offseason conditioning, yeah, I tortured his [butt] because we needed him here in the offseason. If I was going to be here every day, why wasn't he? He got his $30 million deal, I got my $36 million deal and we were out there in the same dirt. But he still says I'm his brother because he knows I was right to get on his [butt] about not being here. Ahanotu may have felt the time to air out Sapp's laundry was now, the week leading into the Ring of Honor ceremony. And with everything going on with Incognito and Miami, it was only fitting. Everyone knew Sapp was not a very sociable guy and came across as a cocky S.O.B. But he got the job done on the football field and transformed the culture in Tampa Bay into a winning one. So while Ahanotu feels the need to blast out stories about Sapp's time with the Bucs, Sapp will continue to be on television and be talked about as one of the greats to ever play the game.
Original Story:
http://www.thebaycave.com/2013/11/07/...
MORE FROM YARDBARKER
NFL News

Delivered to your inbox

You'll also receive Yardbarker's daily Top 10, featuring the best sports stories from around the web. Customize your newsletter to get articles on your favorite sports and teams. And the best part? It's free!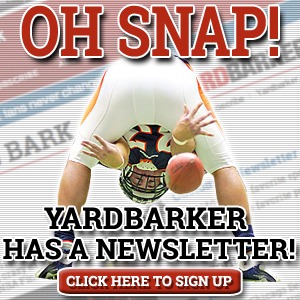 Latest Rumors
Best of Yardbarker

Today's Best Stuff

For Bloggers

Join the Yardbarker Network for more promotion, traffic, and money.

Company Info

Help

What is Yardbarker?

Yardbarker is the largest network of sports blogs and pro athlete blogs on the web. This site is the hub of the Yardbarker Network, where our editors and algorithms curate the best sports content from our network and beyond.