Found September 30, 2012 on The Sports Headquarters:
PLAYERS:
DeSean Jackson
,
Michael Vick
,
Kevin Kolb
,
Andy Reid
,
Brent Celek
,
LeSean McCoy
,
Eli Manning
,
Hakeem Nicks
,
Ramses Barden
,
Steve Smith
,
Victor Cruz
,
Tony Romo
,
Martellus Bennett
TEAMS:
Philadelphia Eagles
,
Arizona Cardinals
,
New York Giants
,
Dallas Cowboys
This will be the Giants third prime time game through the first four weeks of the season. A brutal, daunting task which has proven advantageous for New York, at least record wise. The Giants are coming off of a mini-bye since they beat down the Panthers last Thursday night while the Eagles are coming off of a Sunday afternoon beat down of their own. Only problem: they were the ones being beat down by a superior (at least in the here and now) Cardinals team. Both division rivals head into the Sunday Night game 2-1 with the early season NFC East division lead on the line. Anytime these two teams matchup, there is a chance something memorable will happen. Who can forget DeSean Jackson's game winning punt return just two seasons ago? So what can we expect this Sunday Night? I'm not quite sure. But I know one thing: this is going to be a hell of a bout.
What the Eagles Must Do in Order to Win This Game
When Michael Vick took over for Kevin Kolb, he lit the league on fire much like when he first broke into the NFL. Spectacular play after spectacular play. After an injury laden 2011, Vick has yet to bounce back and his doubters have re-emerged louder than ever. Even Andy Reid has hinted that Vick's starting job was on the line if he could not perform better. This is Eagles team is under a ton of scrunity and stress. The last thing they need is to be put under the microscope of a nationally televised primetime game against their division rival. Or, perhaps it is a good thing. I expect Vick to have a big game Sunday at home. I really do. Vick is elusive enough to escape the Giants' front seven if New York brings pressure. He has a strong enough arm to hit Jackson deep beyond a relatively mediocre Giants' secondary. Brent Celek needs to continue to be utilized in between the numbers and LeSean McCoy needs the ball in space. But the game rests on Vick's shoulders. A game which he can lead his team to victory and leave his doubters at bay for at least another week. This is a huge game for the Eagles. A game they need to win. And in front of their home crowd, with EDP in Philadelphia for the first time ever, I can't picture them not stepping up and delivering a gem.
What the Giants Must Do in Order to Win This Game
Eli Manning is a great quarterback. It would be impossible for me to argue against it. He's better than his brother ever was and if you think that's an outrageous statement then you and I have vastly different views on what makes a quarterback great. The Giants are not going to roll over and hand the division to the Eagles. (Yes, I understand the Cowboys are also 2-1. The Cowboys don't count.) That being said, not having Hakeem Nicks for the second consecutive game is a major blow. Ramses Barden had a great game last Thursday night against a weak Panthers' secondary. Not trying to take anything away from him, because he did have a spectacular game, but I just can't comprehend how the Giants keep filling in these number three receivers and turning them into world beaters. Steve Smith, Victor Cruz, Mario Manningham, and now Barden. They seem to be able to plug anybody in and just flat out dominate with them. I think that's more of a testament to Manning than the receivers. Hell, Tony Romo couldn't utilize Martellus Bennett and now he looks like a top five tight end in football since he's been paired up with Manning. Absolutely ridiculous. That being said, this game really does come down to Manning vs. Vick. If Manning has the ball at the end of the game with the Eagles only up a score. I'm calling Vegas and going all in on the Giants. Manning is going to have to play better than whatever Vick brings to the table on Sunday Night. If Vick falters, Manning cannot be worse. If Vick shines, Manning must shine brighter. Both of these defenses are no joke. Let's see how much of a quarterback's league it truly is later tonight.
Final Prediction
31-28 Eagles. Like I said, when EDP comes to town, the Eagles cannot lose. Just all the pressure in the world on Vick and I think he delivers with a late drive to set up Alex Henry for the win. Vick will throw three touchdowns and commit zero turnovers for the first time in decades. McCoy will rush one in as well. Manning will have a solid game, but he will not have the ball in the waning minutes. That will be the difference. Vick will run an almost flawless two minute drill (someone will drop a sure interception) and get his team their second solid victory of the season.
Original Story:
http://feedproxy.google.com/~r/TheSpo...
THE BACKYARD
BEST OF MAXIM
RELATED ARTICLES
Michael Vick may have 32-year old legs and his coaches are telling him to resist scampering down the field at the first white of a defensive lineman's eyes. But that doesn't mean the Philadelphia Eagles quarterback still can't run. The Eagles' scrambler has a warning for anyone who thinks his best days as an athlete are behind him and he can't make a big play...
Philadelphia Eagles quarterback Michael Vick said he was OK after limping off the field at the end of Sunday night's game against the New York Giants. Vick told reporters after the game that "something happened with my knee on the last drive. I'm all right, though. I'll be ready for next week. Hopefully." Vick fell to the ground on the Eagles' last play...
On the night when former Eagle Brian Dawkins was honored, the Philadelphia Eagles took down the arch rival Giants, 19-17 behind a strong defensive effort. The Eagles bounced back after an embarrassing loss to Arizona last week, which shows the true heart and determination of this team. What is more impressive is that the Eagles have won all three of their games by scoring on their...
Philadelphia Eagles head coach Andy Reid confirmed that quarterback Michael Vick suffered a knee contusion during Sunday night's win over the Giants.  He says Vick will be fine. I'm sure Vick will play in this week's game against the Steelers. But we'll certainly be monitoring his status throughout the week.
Michael Vick is always tweaking something, but somehow, someway the Eagles are 3-1 and leading the NFC East. Most people worry about Vick getting injured taking a BIG HIT, but this time it was a non contact injury that will have him in the trainer's room according to Pro Football Talk. "Something happened with my knee on the last drive," Vick told reporters after the game...
Gregory Shamus/Getty Images Philadelphia Eagles offensive coordinator Marty Mornhinweg was peppered with questions this week about the run-pass ratio and whether or not they should run the ball more in the first half. After looking at his answers, and then going through the numbers myself, there is a little discrepancy there. First, here is what he was asked, followed by his answers...
PHILADELPHIA -- Quarterback Michael Vick led Philadelphia on a fourth-quarter scoring drive and the Eagles held on to beat the New York Giants 19-17 on Sunday night at Lincoln Financial Field after Giants kicker Lawrence Tynes missed a 54-yard field goal attempt with 10 seconds left to play. Vick, who threw a 19-yard touchdown pass to wide receiver DeSean Jackson in the second...
Image via Sunday Night Football on NBC's Facebook page While it will only be the fourth game of the season, much will be decided by the intense Week 4 matchup that is the rivalry of the New York Giants versus the Philadelphia Eagles. It's well documented that these teams hate each other, and no one who wears Eagles green on Sundays enjoyed seeing our rivals to the north get...
After a quiet performance in Carolina in Week 3, New York receiver Victor Cruz piled up nine catches for 109 yards and a touchdown Sunday night against Philadelphia.Fantasy Spin:Cruz never really got going in Week 3 but Sunday Eli Manning targeted the Pro Bowl wideout 13 times and Cruz was able to make the most of those opportunities. Cruz is fifth in the NFL in receiving yards ...
New York Giants tight end Martellus Bennett is attributing his success this season to quarterback Eli Manning. According to the New York Post, Bennett was overheard telling a waiter at a restaurant that Cowboys quarterback Tony "Romo isn't in the same league as Eli Manning. Not even close." I do believe Romo is a very good quarterback but he isn't on the same level as Manning...
As we all dwell on leaving Brian Hartline on our bench or Waiver Wire, let us not forget that he was playing with a rookie QB against a defense that had shut down Tom Brady and Michael Vick in back to back weeks. Let us also not forget that going into Sunday, Hartline had only made more than 5 receptions in a game once in his 3-year career. And finally, let us not forget to get an...
Hero: Though it was tough to see many positives in this game with both teams making mental mistakes late on both sides of the ball, LeSean McCoy did enough to be the player of the game for Philly.Michael Vick was much more efficient in this game by not turning the ball over, but did not come up with many big plays against the Giants' defense.The elusive "Shady" McCoy allowed...
NFL News

Delivered to your inbox

You'll also receive Yardbarker's daily Top 10, featuring the best sports stories from around the web. Customize your newsletter to get articles on your favorite sports and teams. And the best part? It's free!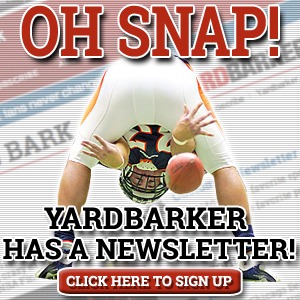 Latest Rumors
Best of Yardbarker

Today's Best Stuff

For Bloggers

Join the Yardbarker Network for more promotion, traffic, and money.

Company Info

Help

What is Yardbarker?

Yardbarker is the largest network of sports blogs and pro athlete blogs on the web. This site is the hub of the Yardbarker Network, where our editors and algorithms curate the best sports content from our network and beyond.