Found June 26, 2013 on Football and Futbol:
When the Philadelphia Eagles decided to part ways with Andy Reid, they ended a relationship of 14 years, it was the longest current relationship between one coach and one team in the NFL. *Belichick and the Patriots enter their 14th season together this year. 5 conference finals and 1 superbowl appearance in 14 years. Very good, not great. 9-5 on making the playoffs in 14 years. Again, very good, not great. For the most part, we saw a highly entertaining offense, and a defense that operated with swagger and emotion under Coach Reid. A very competitive team all around. But unfortunately for the Philadelphia Eagles and their fan base, they couldn't find a way to bring home their franchise's first ring, and in the words of Ricky Bobby's old man, "if you ain't first, you're last." Enter Chip Kelly. Indeed, he has some big shoes to fill, (no pun intended), even though Andy Reid never won the big dance, his predecessors only made it to one conference final in 39 years prior to Reid's tenure. Ed Yourdon Flickr Page So just what can we expect from the Eagles this year? If it's any indication of the type of football that was played out of Oregon the last four years, the entertainment value should remain high. Known for being an innovator on offense, Coach Kelly has many dynamic offensive pieces to play with on the Eagles. Most notably, number 7. Regardless of what anyone's opinion on Michael Vick's past social life may be, or even on his playing career, it's undisputed that he is a gamer. Gone are the days of him blaming others for his mistakes, as are the days when his determination was routinely questioned. A large part of this is most likely due to the fact that he is older, and understands that his window for a championship is slowly closing. Only four starting quarterbacks are older than Mr. Vick, (Peyton Manning, Brady, Brees, Romo). With a bag full of offensive gadget plays, and a 'high tempo' offense being Chip Kelly's bread and butter, it would seem there is no one more suited to run his offense than Michael Vick. DeSean Jackson would also seem in line to benefit from Coach Kelly's wide open fast paced offense. He has steadily declined in almost every offensive category since his second year. If he can actually focus on football and not on his rap career, we could see a revived Jackson next season. McCoy is the real McCoy, regardless of who the coach is, the running game will continue to be a strength, as long as the RB's don't lead the league in fumbles again. The Defense must improve. Too many times were there mental lapses last year. Blown coverages, missed assignments, and minimal big plays. The Eagles were tied with Kansas City for dead last on takeaways with only 13. Winning the turnover battle is a key ingredient to winning games. New Defensive Coordinator Bill Davis will be given the job to not only light a fire under the defense, but to bring passion and stability to a unit that has seemingly lost its way since the late great Jim Johnson and his much maligned, 'cover zero blitz defense.' With only two prime time games this season, both of them very early, the Eagles can avoid the national spotlight and go about their business without heavy scrutiny, which is exactly what they want for their new face franchise. A big name coaching hire, a big name QB, and a big and loud fan base should add up to another exciting season in the city of brotherly love.
Original Story:
http://www.footballandfutbol.com/what...
THE BACKYARD
BEST OF MAXIM
RELATED ARTICLES
REALLY?
Eagles quarterback Michael Vick was "very surprised" that his opinion that Chip Kelly should name a starting QB before training camp garnered so much attention.
Matt Barkley competed for — and won— starting quarterback jobs as a freshman at both Mater Dei High School and Southern Cal. The only difference with the Eagles is that there's less attention on him this time. The fourth-round slider said he's been pleasantly surprised how low-key things have been, at least in comparison to his previous gigs. "I think right now is the least...
Matt Barkley was named 2007 football Gatorade National Player of the Year as well as the inaugural Joe Montana Award as the nation's top high school quarterback. After graduating from high school, Barkley enrolled in the University of Southern California in January 2009 and became a four year starter for the school. The national attention on Barkley has been has been intense...
Philadelphia Eagles head coach Chip Kelly saw the writing on the wall. After going back and forth on making the jump to the NFL, looming action against the Ducks for NCAA violations made his choice much easier. On Wednesday, the NCAA gave the Duck's football program a little slap on the wrist with three years probation and took away a pair of scholarships -- one each over...
There is an offseason Juan… DeSean Jackson seems to catch a lot of flack from Eagles fans when he goes out and enjoys himself.  I have no issue with him enjoying his off season as long as he comes back ready to roll when training camp hits. DeSean Jackson Gets New Ink Via Instagram Video DeSean Jackson Works On His Cardio
The Andy Reid era in Philadelphia has come to an end as Chip Kelly makes the jump from college to the pros. Can he lead the Eagles to the playoffs...
Eagles News

Delivered to your inbox

You'll also receive Yardbarker's daily Top 10, featuring the best sports stories from around the web. Customize your newsletter to get articles on your favorite sports and teams. And the best part? It's free!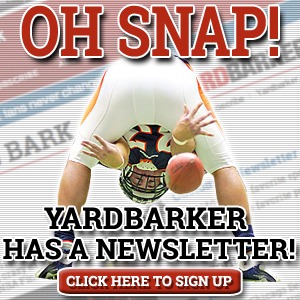 Latest Rumors
The Backyard

Today's Best Stuff

For Bloggers

Join the Yardbarker Network for more promotion, traffic, and money.

Company Info

Help

What is Yardbarker?

Yardbarker is the largest network of sports blogs and pro athlete blogs on the web. This site is the hub of the Yardbarker Network, where our editors and algorithms curate the best sports content from our network and beyond.