Found October 06, 2012 on isportsweb.com:
Ryan Fitzpatrick might just be the easiest man to root for in the NFL today. You probably know the story by now: drafted in the 7th round out of Harvard, a career backup turned franchise savior living an NFL fairytale dream. His long, lumberjack beard can be found on any regular guy in the stands at Ralph Wilson Stadium. He is not pretty. Don't hold your breath on the GQ cover spread featuring Ryan Fitzpatrick. He is as Buffalo as Buffalo itself, we hear often about how Millionaires play with a blue collar attitude, but with Ryan Fitzpatrick it seems to be true. I have watched every game Fitzpatrick has started in Buffalo and I can remember him sliding twice.  That is not an exaggeration. Bills fans love Fitzpatrick because it is almost like someone from the factory downtown grew a beard and happened to have a rocket on his right shoulder. We love him because he is like one of us.
For a while, Bills fans loved him because he could play as well. After years of Trent Edwards (or captain check down) to have a true gunslinger was a welcome sight to Bills fans.  We saw Fitzpatrick in true gunslinger form last Sunday, as he threw for 4 Touchdowns…. and 4 interceptions. So continues the story of Ryan Fitzpatrick. Smart, tough, and wildly inconsistent.
So the question that the Buffalo Bills, and to a degree their fans, will have to explore in the coming years is this: can you win a Super bowl with Ryan Fitzpatrick?
I still believe that if you have a great defense, a great running game, and your quarterback is not elite you can win a Super Bowl. So the question is not if Ryan Fitzpatrick is elite or not, anyone with two functioning eyes can tell you he's not, but with a great defense, and a great running game, is he the one who can win Buffalo a Super Bowl? As the evidence of his inconsistency mounts, I'm not willing to say that it's time to pull the trigger on the Ryan Fitzpatrick era, but it is at least time to shine the spotlight on the issue.
First, the positives of Ryan Fitzpatrick: maybe the Harvard educated thing is over played a little bit, but he does make the right read play in and play out. The issue is not the decision making. He works well in Chan Gailey's offense, which specializes in quick slants and screens. Fitzpatrick has the confidence to make a quick decision and an authoritative throw.  The toughness was discussed earlier. Fitzpatrick is fairly mobile and will fight and claw for an extra yard or two.  Through the negative words said about Fitzpatrick, his 12 touchdowns lead the NFL. When he, and the rest of the 11th ranked offense is good, they are very good.
Now, to the negatives: Fitzpatrick is smart and makes quick decisions about where the ball should go, that does not mean he necessarily gets the ball out quickly. If you think Tim Tebow's windup is bad, watch some Ryan Fitzpatrick game film. His windup is more elaborate then Dontrelle Willis. The problem is never decision making, but if he is actually good enough physically to get the ball where it needs to be. Gunslingers in the past have had arm strength to fit the name of the label disposed upon them. Ryan Fitzpatrick has a gunslinger attitude without the gunslinger arm. His deep ball is not great, and he has the occasional mid to short-range throw that makes you wonder if he thinks the Bills are playing Cornell or Yale. Those, "are you an NFL quarterback?" throws can come at any time, in any situation, and the scares Bills fans to death.
A pet peeve of mine in sports has always been blindly calling for the heads of coaches, general managers, or prominent players. If you want someone out, tell me who should replace him. If you don't have a replacement in line, shut up. There is no replacement for Ryan Fitzpatrick lined up that can do better than him right now.  To call for the benching of Ryan Fitzpatrick would be foolish, but make no mistake, the Buffalo Bills are at a cross roads in their season, and the career of Ryan Fitzpatrick. In my mind, Fitzpatrick is auditioning for his job from now until the end of the season. At 2-2 this season could go either way. So to could the fortune of Ryan Fitzpatrick.
Fitzpatrick signed a 6-year contract extension last year. To even explore getting rid of him would place a big financial burden on a team that just dropped north of $100 Million on a defensive end who has one sack through four games. Getting rid of Ryan Fitzpatrick might not even be feasible. I will root for nothing more then for Ryan Fitzpatrick to return to his early 2011 form and take over the NFL, because all of the traits that make him so likable I happen to be a tremendous sucker for. If the inconsistency continues; however, a change may need to be explored.
Original Story:
http://feedproxy.google.com/~r/isport...
THE BACKYARD
BEST OF MAXIM
RELATED ARTICLES
TEMPE, Ariz. If Buffalo Bills quarterback Ryan Fitzpatrick seems unusually calm in the wake of his teams disastrous performances the past two weeks, well, thats because he is. Hes always been that way, said Mike Reardon, Fitzpatricks coach at Gilbert Highland High School. Initially, I didnt know how to take him. I thought he was a teenager just shutting me off, but he wasnt at...
The NFL is investigating whether Buffalo defensive end Mario Williams has an injured left wrist. Williams has not been on the Bills' injury report this season despite what he claims has been a wrist injury that has bothered him all season. But the team says he has not missed any practices or game time. NFL spokesman Greg Aiello said Sunday that ''the club says he is...
SAN FRANCISCO -- The NFL is investigating whether Buffalo defensive end Mario Williams has an injured left wrist. Williams has not been on the Bills' injury report this season despite what he claims has been a wrist injury that has bothered him all season. But the team says he has not missed any practices or game time. NFL spokesman Greg Aiello said Sunday that "the club...
"Obviously, there's something I'm not doing correctly with this football team in the second half."The above words may have been spoken by Buffalo coach Chan Gailey, but they apply across the board for the Bills right now as they come off their 45-3 beating by the 49ers.When Buffalo went shopping for defense after such a poor showing in 2011, what they came up with was looked...
The NFL is investigating why the Buffalo Bills have yet to list Mario Williams on their injury list, despite the fact he has been vocal about a wrist injury, ESPN reported Sunday. Williams, who was a celebrated free-agent signing this off-season by the Bills, has been complaining about the injury all season, which is why the NFL is looking into the matter, league sources told ESPN...
Buddy Nix places the blame for the Buffalo Bills' defensive meltdowns on an overall lack of urgency and not solely on high-priced defensive end Mario Williams. And the Bills general manager maintained his confidence in coach Chan Gailey's ability to turn around a team suddenly facing an early season crisis. Otherwise, Nix finds himself as frustrated and ''puzzled...
Buffalo Bills general manager Buddy Nix is puzzled and unhappy by his high-priced defense's meltdowns, and criticized the entire unit for playing with a lack of urgency. ''What I see is not enough intensity and urgency,'' Nix said Tuesday during a telephone conference call with reporters. ''When you miss tackles, usually it's one of two things: It...
If there's a more deplorable word to be uttered in a professional locker room than "quit," good luck finding it. No athlete ever wants to give the impression that he quit in a game, and the Buffalo Bills were adamant that they did no such thing Sunday in their 45-3 loss to the San Francisco 49ers, but it was certainly hard to buy into their proclamations. &quot...
Bills running back Fred Jackson was the team's leading carrier Sunday against San Francisco but he didn't lead the team in rushing yards.Fantasy Spin:Neither did C.J. Spiller. Buffalo's leading rusher ended up being Brad Smith, with one carry for 35 yards. Jackson and Spiller combined for 53 yards on 16 carries.
After allowing opponents to score 97 points over the last two weeks, Buffalo Bills general manager Buddy Nix suggested today that the team needs to play with more urgency (Credit: AP Photo)With the Bills spending the week in Arizona, the team's coaches are trying to figure out how to improve on defense. Over the last two games, the Bills have been outscored 97-31. To say the Bills...
We all know that Buffalo Bills wide receiver Stevie Johnson can catch touchdown passes but did you know he's down, "Gangnam Style?"Courtesy from our friends over at Network of Champions as part of a new series called "Street Games", Stevie learns the dance from a contestant and shows off his moves to some other folks on the street.I think Psy would have been proud:
Bills News

Delivered to your inbox

You'll also receive Yardbarker's daily Top 10, featuring the best sports stories from around the web. Customize your newsletter to get articles on your favorite sports and teams. And the best part? It's free!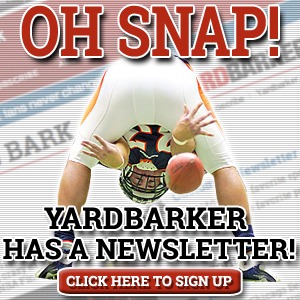 Latest Rumors
Best of Yardbarker

Today's Best Stuff

For Bloggers

Join the Yardbarker Network for more promotion, traffic, and money.

Company Info

Help

What is Yardbarker?

Yardbarker is the largest network of sports blogs and pro athlete blogs on the web. This site is the hub of the Yardbarker Network, where our editors and algorithms curate the best sports content from our network and beyond.