Found September 21, 2012 on Extra Pine Tar:
PLAYERS:
Cam Newton
,
Derek Anderson
,
Ron Rivera
,
Andre Brown
,
Ahmad Bradshaw
,
Tom Coughlin
,
Steve Smith
,
Greg Olsen
,
Ramses Barden
,
Eli Manning
,
Will Hill
TEAMS:
Carolina Panthers
,
New York Giants
Cee Lo Green Can Really Sing… For An Alien
What the ****? Seriously, what the ****? I don't get it at all. Why do they need a 300 pound midget little person yelling about how much he loves football? And if the opening 3 minute song wasn't enough, every time they went to commercial break I had to deal with that little fat alien screaming at me. The entire NFL Network experience sucks, except for Rich Eisen, but the hands down worst part is Cee Lo. I just can't imagine a worse person to feature.
Cam Newton Looked Lost
Look! Up in the sky! It's a bird… It's a plane…It's… another terrible decision by Cam Newton. 
What an awful showing. The entire Carolina offense just looked out of sync. The Giants were getting great pressure all night and there was nothing Cam Newton could do about it. He forced passes, held on to handoffs too long and, for some reason unbeknownst to anyone, felt the need to Superman with no regard for the scoreboard.
It wasn't all terrible, though. Cam's performance allowed the world a chance to get a Derek Anderson sighting, which is always a treat.
Good Thing The NFL Network Guys All Picked Carolina
Seriously, boys?
I know that the Giants were missing some pretty key guys, but there wasn't a single person on the panel that thought the reigning Super Bowl champs couldn't pull it out against a young quarterback and Ron Rivera? Come on now. The Panthers had given up almost 150 rushing yards per game and they hadn't faced anything close to an elite running back yet (sorry, Doug Martin). Andre Brown looked great after taking over for Ahmad Bradshaw last game and the Bucs run defense is just as bad as the Panthers'.
I don't know – call me crazy – but I think at least one person should have picked the team coached by Tom Coughlin, not the one coached by Ron Rivera.
Steve Smith Is A Thug
Everytime the guy touches the ball he's beating his chest and ************* anyone within 20 yards. It's awesome.
Greg Olsen Had A Great Game
You know what that calls for?
Get em, G-Reg.
Martellus Bennet Is A Beast
If last year was the year of the quarterback then this is certainly the year of tight end. Bennet is clearly Eli's favorite red zone target and his blocking skills guarantee that he will be on the field in most situations. If he's still available in your league he's worth an add. Even if you already have a tight end, there's nothing wrong with having a legitimate trade chip.
Andre Brown And Ramses Barden Showed Up To Play
Go on and take a bow if you started either of these guys this week. Realistically, you can;t expect a week like this ever happening for either of these players again, barring injury of course. If Ahmad Bradshaw's neck doesn't heel, or those huge cracks that he has in both feet come back, then Andre Brown looks like a legitimate starter. I just don't see him doing anything other than mildly annoying Bradshaw owners if Ahmad can stay healthy. Which is always a HUGE if.
Barden was more impressive to me. The way he was able to step right in and be right in sync with Eli Manning was pretty damn impressive. Nine catches for 138 yards on national television should answer any questions about Barden reaching his potential should be put to rest. I think there's a reason to roster him, obviously, but there will be a cap on his upside once Nicks comes back. Not a huge cap, because we've seen in the past how three receivers in a New York Giants offense can all be owneable, but a cap nonetheless. I don't think Hixon should be in the picture anymore and given Nicks' injury past, there is serious upside to owning Barden. Hell, there's serious upside to owning both of these players. Just don't expect nights like Thursday unless there are injury issues with the front line guys.
Will Hill Is Back! Sour. 
As angry as Cee Lo made me, Will Hill made it all worth it. I kind of wish that he was still tweeting ridiculous things about white girls, using the airport bathroom and musing about the density of baby's bones, but just knowing that person is somewhere under the surface makes me happy. Don't know what I'm talking about? Well a few years ago when Will was at Florida he decided that it would be a good idea to tweet everything that came to his beautiful mind. 
These are some of the highlights
. It's well worth your time to click and read them. If you don't believe me, the picture to the right was his public Twitter avatar. That's how little of a **** he gave. The next time you're holding a small child, make sure to ask yourself the same question that Will posed to his Twitter followers before his account was shut down: How the **** a baby break its arm? Touche, Will. Glad to see you made it. Sour.
Original Story:
http://www.extrapinetar.com/2012/09/2...
THE BACKYARD
BEST OF MAXIM
RELATED ARTICLES
Cam Newton was embarrassed by his Panthers performance Thursday night against the defending champion, New York Giants.  Cam has been said to be a little to emotional at times, letting the highs and the lows of the game hit him harder than necessary (sometimes that's just called "passion" but I guess it depends on the [...]
Charlotte, NC – Just when the Carolina Panthers had a great opportunity to make a statement – on prime time – they flopped. Just when they had a chance to come out and show the defending Super Bowl champs what they were made of, they flopped. The New York Giants crushed the Panthers 36 – 7 before 73,951 at Bank of America Stadium in a game that was not that close. Thursday...
Panthers quarterback Cam Newton had a miserable night Thursday against the Giants, completing 16-of-30 for 242 yards and throwing three picks.Fantasy Spin:Newton also only rushed for six yards on six carries, though he did pick up a rushing score. The Carolina QB has rushed for less than 10 yards in two of three games this season. This is not how fantasy owners wanted to start their week.
Cam Newton came out last night looking to make a statement. He wanted to prove that he and the Panthers could hang with the defending Super Bowl Champion Giants on national TV. He in fact did the total opposite of that in a 36-7 whooping. 3 INTs & a measly 1-yard TD run later, black guys across the globe going nuts at this dud on the NFL Network. Obviously they went NSFW-crazy...
Your fantasy football season (or even just week 3 like I am after Cam Newton and the Panthers stunk) off to a terrible start? Well, the good news is that you can still do weekly leagues, and win money while doing so, on FanDuel. And guess what? FanDuel's hooked us (and their other friends of the program) up with a week 3 FREEROLL league (for this Sunday's games) that will...
Just as Players View posted our list regarding Cam Newton, an explosion came down the pipeline regarding wide receiver Steve Smith's current feelings on Newton that seems to backup our point. Please Click Here To Read This Story
Manning and Newton should put up big numbers tonight. New York Giants (1-1) @ Carolina Panthers (1-1) Last week, Eli Manning and the Giants were down 27-13 in the third quarter. What did Manning do? Nothing much, just led his team on five scoring drives including two touchdown passes in the fourth quarter.  He finished with 510 yards, 3 TDs, and 3 INTs. Not too shabby.  Cam...
Panthers receiver Steve Smith says he'' lit into'' Cam Newton about his actions on the sidelines when the young quarterback was replaced late in the fourth quarter of Thursday night's 36-7 blowout loss to the New York Giants.
There was a scary moment towards the end of the New York Giants-Carolina Panthers game when Cam Newton's pass sailed over tight end Greg Olsen's head while he was being chased down by defensive back Antrelle Rolle. Both players rumbled into the sidelines taking down a couple of cameramen, respectively. Rolle tried jumping over a sitting photographer and caught his left...
NFL News

Delivered to your inbox

You'll also receive Yardbarker's daily Top 10, featuring the best sports stories from around the web. Customize your newsletter to get articles on your favorite sports and teams. And the best part? It's free!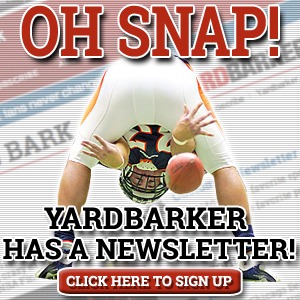 Latest Rumors
Best of Yardbarker

Today's Best Stuff

For Bloggers

Join the Yardbarker Network for more promotion, traffic, and money.

Company Info

Help

What is Yardbarker?

Yardbarker is the largest network of sports blogs and pro athlete blogs on the web. This site is the hub of the Yardbarker Network, where our editors and algorithms curate the best sports content from our network and beyond.