Found September 28, 2012 on Extra Pine Tar:
PLAYERS:
Joe Flacco
,
Torrey Smith
,
Anquan Boldin
,
Greg Little
,
Brandon Weeden
,
Colt McCoy
,
Josh Cribbs
,
Ray Rice
,
Marshall Faulk
,
Dennis Pitta
,
Trent Richardson
,
Ben Watson
,
Jordan Cameron
,
Jerious Norwood
,
Travis Benjamin
TEAMS:
Baltimore Ravens
,
Cleveland Browns
The real refs are much better Great to see a smooth game played. The product may not have been the best, but at least the refs didn't add an additional hour and half to the game with constant meetings, reviews and overall ***********. Welcome back, refs. Here's to hoping Ed Hochuli kept in shape over the lockout. There was noticeably less Cee Lo last night Our prayers were all answered. I only saw a few glimpses of that fat martian. Last week it was seemingly every commercial break that revolting blob was screaming about football. I think the NFL realized the horrific mistake they made by hiring that marvel of modern science. And for that, we thank you. It makes me sick to say, but Joe Flacco is really, really good I'm not ready to call him "elite" yet, or put him the same breathe as Brady, Rodgers or Brees, but some of those passes he made last night were absolutely beautiful. They weren't the high arching bombs that we've always known Joe Flacco could through. Instead, he would throw this mid range touch passes that would fall right over the corner's head and in to the receivers arms. Both throws that come to mind (one to Torrey Smith and one to Anquan Boldin), the receiver didn't even have separation from the corner. Flacco just placed the ball exactly where he wanted it. Of course, in typical Joe Flacco fashion, as soon as he rushed the ball in and seemed ready to take his place among the best quarterbacks in the game, he spiked the ball like a nerd and then tried to look tough. Give it a rest Flacco, you're never going to be intimidating. Look at Eli, for example. There isn't a person in this world who is afraid of Eli, except for when he has the ball in hands. Strive for that, big guy. And do something about your face. I don't know what it is, but your face just really bothers me. Greg Little is the most frustrating receiver in the world? I'm not even a Browns fan and this guy drives me crazy. I've owned Greg Little in a few different fantasy teams over his short career and he usually only lasts until I see the Browns actually play. Little is always tops of receivers in targets and is a physical specimen to look at. He's consistently open and no matter if the quarterback is Brandon Weeden or Colt McCoy, the ball is fed his way. The only problem is Greg Little can't catch the ******* ball to save his life. After he attempted to make a body contorting, top speed, full extension dive, I finally noticed something. Greg Little makes the easy ones look hard. The announcers, after the attempt diving catch, said that Little had come up with a few tough catches earlier in the night. I began to think to myself about the balls I had seen him pull in. They weren't anything out of the ordinary. A receiver is supposed to be adjust to a ball that's not thrown directly at his letters in any level of football. At the NFL level that should be commonplace. Then it hit me, any catch for Greg Little is a tough catch, because he's not "good" at catching the ball. All of the physical tools are there. Size, speed, strength; he's got everything you need to be a game changing receiver. Except for those damn stone hands. Have you ever put on the really nice receiver gloves before? It's like wearing those fruit fly tape strips on your hands. Until Little gets more consistent, the Browns and his fantasy owners alike will be in for a frustrating affair. Josh Cribbs has a hard head Whenever I see a player go down and their limbs are just kind of suspended in the air, I always expect them to leave on a stretcher. Even if there are no neck injuries or anything like that, the staff's usually ere on the side of caution. Not only did Cribbs walk off the field, he was smiling for Christ's sake. I would be completely amazed if he played next week, but at least he'll be able to play again. That hit was downright frightening. Legal, but still frightening nonetheless. The more Torrey Smith continues to get improve, the easier things will  become for Anquan Bolden Smith is quickly becoming a legitimate fantasy starter, and as he evolves in a complete receiving threat and not just a deep ball receiver, teams will have to game plan more for him. This means that Bolden will be receiving less attention and more one on one match ups, which – even at his age  - he will win more often than not. Both of these players should continue to have good numbers on a weekly basis from here on out. Also, all my respect to Torrey Smith for the work he put over the past two games in what must have been one of the toughest weeks of his entire life. Quick Notes
The NFL Network wants you to know that Ray Rice is a lot like Marshall Faulk.
Where the hell was Dennis Pitta?
Trent Richardson is having no trouble adjusting to the NFL. Somewhere Mark Ingram is stuffing his face with Twinkies and inappropriately touching his Heisman.
Ben Watson may have gotten the lion share of the targets last night, but the Browns have something in Jordan Cameron.
Brandon Weeden isn't the worst and some of those plays he made last night actually looked pretty good. He just needs a better group of receivers. Jerious Norwood and Travis Benjamin force him to rely on Greg Little and that's just not how you win games.
Quick, who coaches the Browns? If you had to look it up, you're just like the rest of the country.
The Ravens defense is a scary group of guys. They all look like they could be on the cast of The Wire.
Original Story:
http://www.extrapinetar.com/2012/09/2...
THE BACKYARD
BEST OF MAXIM
RELATED ARTICLES
Joe Flacco is one of perpetural internet scorn, and why stop today. Thursday night, the Baltimore Ravens' QB made sure to not be confused with Rob Gronkowski.
BEREAGreg Little caught four passes for 77 yards against the Ravens, but he will be remembered for the one he didnt catch. With 4:45 to play in the game and the Browns trailing 23-13, Little went high into the air in the end zone and couldnt come down with the pass that wouldve made it 23-20. Instead, Phil Dawson kicked a 52-yar d field goal to make it 23-16. You dream and go...
As if being a Browns fan isn't bad enough, last night was just adding insult to injury. They teased the fans into thinking they had a chance to beat the Ravens, and naturally, collapsed at the end. At the center of it all was wide receiver Greg Little (@Str8UpGlittle) who dropped a would be game-tying touchdown in the end-zone in the last minute. Browns fans went nuts, ripping...
Joe Flacco shut up some of the naysayers (myself included) after he was able to put together a virtuoso performance in their 31-30 victory over the New England Patriots. Throwing for 382 yards and 3 TD is a primetime performance against the other quarterback who was named Tom Brady. Ray Rice was effective as usual rushing for 101 yards on 20 carries, but he also hauled in 5 passes...
Cleveland Browns wide receiver Greg Little (second in drops last season) continued his catching problems last night against the Baltimore Ravens, dropping a total of five catches, including a great Brandon Weeden would-be-touchdown pass that he had right in his hands. "My job is just to beat the guy and get through the middle of the field," Little said. "[Weeden] moved...
A few dropped passes, none no bigger than Greg Little's drop late in the fourth quarter hamper the Browns once again. Rookie QB Brandon Weeden pushes the Baltimore Ravens to the edge as rushing attack abandoned.
BALTIMORE -- It was a rough night for the Ravens' offensive line. After an encouraging game against the New England Patriots in which quarterback Joe Flacco wasn't sacked and was rarely hit, he sustained several big hits as the offensive line regularly broke down against the Cleveland Browns on Thursday night. Flacco was sacked a season-high four times and hit six times...
Tonight had such great potential, what with replacement refs and the Cleveland Browns on the field at the same time. But, no, the NFL and the real refs just had to settle their squabbles in time for tonight. After three weeks of chaotic deliberations of the rule book, the real refs will take the field. I feel a bit robbed. I was looking forward to a team being granted four timeouts...
Cleveland Browns @ Baltimore RavensThe new age Browns (Cleveland Browns) versus the old school Browns (Baltimore Ravens). It is known that the Ravens aren't happy about playing in the Thursday night game after playing in the Sunday night game. While they think they are not getting enough rest or time to game plan, the scheduling gods did help them out by putting them up against...
As usual Thursday is the beginning of the NFL week and while there was just one game it was way worth watching, no matter who you rooted for. The fact that there was a former North Carolina football player in it made it ever more worthwhile, add that the wide out had a good game it then totally made it worth your time to watch. As usual to gather my information I have used information...
Cleveland Browns (0-3) at Baltimore Ravens (2-1)Thursday, 8:25 ET, NFL Network, Brad Nessler, Mike Mayock, Alex Flanagan Last Meeting: The Ravens won, 20-14, at home last Dec. 24 with QB Joe Flacco throwing a pair of touchdown passes. Streaking: The Ravens have won 12 straight home games and 20 of their last 21 at M&T Bank Stadium. The engine that can: Browns RB Trent...
The Ravens will be playing their fourth game in 17 days, and third primetime game in their first four Thursday night when they take on the division rival Browns. Cleveland is winless and has a rookie quarterback and running back combination in the backfield. The winless part won't change for Cleveland because the Ravens' defense will harass Brandon Weeden into mistakes. Weeden...
NFL News

Delivered to your inbox

You'll also receive Yardbarker's daily Top 10, featuring the best sports stories from around the web. Customize your newsletter to get articles on your favorite sports and teams. And the best part? It's free!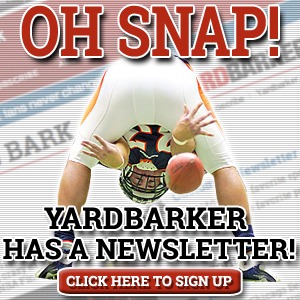 Latest Rumors
Best of Yardbarker

Today's Best Stuff

For Bloggers

Join the Yardbarker Network for more promotion, traffic, and money.

Company Info

Help

What is Yardbarker?

Yardbarker is the largest network of sports blogs and pro athlete blogs on the web. This site is the hub of the Yardbarker Network, where our editors and algorithms curate the best sports content from our network and beyond.