Found May 13, 2012 on Queen City Sports:
PLAYERS:
Vince Young
,
Shane Matthews
,
J.P. Losman
,
Kelly Holcomb
,
Trent Edwards
,
Brian Brohm
,
Gibran Hamdan
,
Tyler Thigpen
,
Ryan Fitzpatrick
,
Tim Tebow
,
Buddy Nix
,
Chan Gailey
,
Brad Smith
,
Ville Leino
,
Plaxico Burress
,
Mike Clayton
,
Braylon Edwards
,
Santana Moss
,
Terrell Owens
TEAMS:
Buffalo Bills
,
New York Jets
,
Buffalo Sabres
,
Washington Redskins
,
Cincinnati Bengals
,
New York Giants
It was Friday afternoon when I received a text that said, "The Bills just signed Vince Young.  What are they thinking?"  After dismissing my students for the weekend I pulled my phone out and simply replied, "Great football move."  Yep, I used the word great.  Here are five reasons why I'm so giddy about a guy who had a 4-9 TD to INT ratio. 1.  We Finally Have A Decent Backup Quarterback
Alex Van Pelt, Shane Matthews (pictured above), JP Losman, Kelly Holcomb, Trent Edwards, Brian Brohm,  Gibran Hamdan, Tyler Thigpen.  These are players who were backups and starters between 2002 to 2012.  Looking at this list alone, Bills fans should be ecstatic to have a player of Vince Young's capabilities as our backup.  He may not have turned out to be a franchise QB but the guy still has a lot of talent.  Look no further than his game against the New York Giants in which he lead the Eagles to a 17-10 win over the eventual Super Bowl champions. In was in Week 8 last year where Ryan Fitzpatrick cracked his ribs.  Unbeknownst to Bills fans, Fitzpatrick would play out the rest of the season injured.  The fact that the Bills hid the injury rather than start Thigpen does not bode well for Tyler.  It shows that they had no confidence in Thigpen as a starter.  I know that Thigpen didn't get a full off-season to prepare or learn the playbook, but by week nine he should have been ready.  If anything happens to Ryan Fitzpatrick (and I hope he's healthy all season), I believe the Bills will not hesitate to bring Vince Young into the game. 2. There Is No Quarterback Controversy
Regardless of what ESPN and the NFL Network say, there is no quarterback controversy in Buffalo.  Young was told that he was being brought in as competition for the role of backup and Young accepted.  Now this doesn't mean this is the only role for Young, but I'll talk more on that later.  The situation in Buffalo is the exact opposite of what is going on in New Jersey.  Jets fans are fickle.  If Sanchez has a rough first half in game one, the Jets fans will be calling for his head and it won't stop until eventually Tebow gets an opportunity.  At some point in the 2012-2013 season I guarantee you that Tim Tebow will start a game for the Jets.  I can't make that same guarantee for the Bills.  Unless Fitzpatrick is injured he'll stay in our starting lineup.  Buddy Nix and Chan Gailey are pretty straight shooters and they've established that 'Fitz' is our starting QB. 3. He's Our Best Option at Wildcat
Brad Smith is the Ville Leino of the Buffalo Bills.  It's not his fault, but he just wasn't a good fit in our offense in 2011.  Again, due to the CBA negotiations the off-season was short last year.  Maybe I'm wrong and this year he'll be great, but if I'm the Bills I cut him and give Vince Young all of our Wildcat plays.  Vince Young is an actual QB so defenses would actually be afraid of him throwing the ball.  Throw in the fact that he's a very tough runner and he's perfect for our Wildcat package.  Last year when Brad Smith entered the game everyone knew he was going to run.  He was actually quite successful in terms of moving the chains, but his rushing yards per attempt were his lowest since 2007.   4. He Opens Roster Spots and Frees Up Cash
If Vince Young wins the backup job (which I fully expect) Tyler Thigpen will be released freeing up $2.5 million this season.  If VY takes over the Wildcat Packages we can also free up about four million dollars by releasing Brad Smith.  Some of that money can go towards helping us in other areas such as WR.  There are still some valuable WR's on the market that would be an upgrade over Brad Smith.  Plaxico Burress, Mike Sims-Walker, Mike Clayton, and Braylon Edwards are just a few names out there now and I fully expect Santana Moss and a few other veteran receivers to be let go.  Figure out which wide-out fits best in our offense and him sign. 5. VY Will Be on His Best Behavior
Vince Young knows that the Bills may be his last chance to prove himself as a valuable asset for an NFL team.  It may be as a QB if Ryan Fitzpatrick goes down with an injury or in a Wildcat package, but this is Vince Young's opportunity to prove that he is still a valuable player in the NFL.  Something tells me he'll make the most of this opportunity.  I compare this signing to Terrell Owens joining the Bills a few seasons back.  Owens had wore out his welcome with many NFL teams and people were worried when he signed here.  T.O. however was a choir boy in his time here.  He never said anything bad about the Bills, nor did he throw any of his teammates under the bus.  Even after leaving the Bills, T.O. spoke glowingly about his experience in Buffalo.  Vince Young will do the same.  He'll get his opportunities in certain packages and praise the Bills for the opportunity.  If he finds any success here, another team will give him a multi-year contract.  If Young doesn't do this, the Bills are likely to be his last stop in the NFL. Maybe I'll look back on this post at some point this season and have to admit I'm wrong, but until then I'm sticking to my guns.  This was a great football move for the Bills and for Vince Young. What are your takes on the signing #BillsMafia?
Original Story:
http://www.queencitysports.net/why-si...
THE BACKYARD
BEST OF MAXIM
RELATED ARTICLES
Could there be a quarterback's controversy brewing in Buffalo? It was expected that the Bills would sign for Titans starter Vince Young after he had a successful workout with them. What was not expected is that head coach Chan Gailey was going to come out and gush about the signing. To read this story please click the link below.
For all of T.J. Graham's blazing speed, the Buffalo Bills rookie receiver's true strength might be a self-confidence shaped out of handling adversity. His self-assurance was evident during the Bills' rookie minicamp this weekend, when the third-round pick out of North Carolina State provided a simple answer to what numerous NFL draft publications might have missed in...
The Buffalo Bills are planning to let 2nd-round pick Cordy Glenn compete for the starting job at left tackle, and began using him there this weekend at rookie camp. It's an odd decision considering Glenn's size (6'6″, 343 lbs) and his lack of athleticism. Most draft analysts, myself included, assumed Glenn would be shifted inside to guard or to right tackle. Bills new left...
A few days ago the Bills posted a video that's a mini documentary of sorts that gave a glimpse inside the Bills draft process. It was bit propaganda-y, but Buddy Nix made a comment that made our ears perk up, and offered some insight into the difference between media/fan draftnik'n and player evaluation and how the pros do it. I don't think I'm telling any tales out of school...
Former Eagles and Titans QB Vince Young has agreed to a one year deal with the Buffalo Bills. Young accepted a $2 million deal with an additional $1 million on the table for playing time incentives. Young turned 29 last week and also recently got married to his long-term girlfriend, Candice Johnson in Los Cabos, [...]
Hot News for C Chan Gailey
Former Buffalo Bills general manager Bill Polian has been selected to become the latest member of the team's Wall of Fame. Polian will become the 28th member placed on the wall that rings Ralph Wilson Stadium. The Bills have not yet selected when Polian will be honored. Before helping transform the Indianapolis Colts into perennial contenders over the past decade, Polian was...
Vince Young had trouble being "the man" in Tennessee. He named his Eagles club the "Dream Team" which was hardly the case. Now he has landed in Buffalo. Can he be a factor again, or are his best days behind him?
I'm borrowing this post form the fine folks at Dear God, Why us? Sports. Be sure to check out their awesome website which is dedicated to snark, the Bills, the Sabres and the greatest invention in the history of the world...Cuss words. You can also follow them on Twitter.  This news was a couple weeks in the making. Having opted against taking a serviceable QB in the...
Vince Young is your backup QB. Will there be a QB controversy? Are we just trying to stir the pot because that's what Buffalo fans do? Do we like this signing? Time will tell...but we can do some research here about Vince Young's time in Tennessee. We are joined by the boys over at Total Titans to help dissect what went wrong with VY in Tennessee. Yes, doing a Q&A about...
After signing Vince Young, the Buffalo Bills could find themselves in the middle of a quarterback controversy before the season even starts. With Young, who said he was happy to join the team, agreeing to a one-year, $2 million deal Friday, the Buffalo Bills have a capable back-up behind starter Ryan Fitzpatrick. "Thanks to Buddy Nix and coach (Chan) Gailey for giving me...
NFL News

Delivered to your inbox

You'll also receive Yardbarker's daily Top 10, featuring the best sports stories from around the web. Customize your newsletter to get articles on your favorite sports and teams. And the best part? It's free!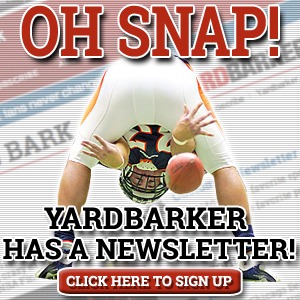 Latest Rumors
Best of Yardbarker

Today's Best Stuff

For Bloggers

Join the Yardbarker Network for more promotion, traffic, and money.

Company Info

Help

What is Yardbarker?

Yardbarker is the largest network of sports blogs and pro athlete blogs on the web. This site is the hub of the Yardbarker Network, where our editors and algorithms curate the best sports content from our network and beyond.