Found January 12, 2013 on isportsweb.com:
In the past, it has seemed as though the only way to deal with the Washington Redskins was to pick someone, or something, to direct your anger at and blame for why the team wasn't able to find success. Likewise, there have always been easy scapegoats, deserving or not, readily available. Often times the quarterback serves this purpose, with some more deserving than others. The offensive line has taken its share of heat as well. The coaches haven't been spared either. And throughout that entire time, Dan Snyder made a seemingly appropriate target of fans frustration and blame. Mike Shanahan and RGIII both deserve praise for an incredible season   This year the Redskins have made it difficult for us. Dan Snyder, whether people want to believe it or not, has done a fantastic job of stepping back and giving the coaches the power and control they need to build a good team, as opposed to simply a profitable franchise. He is no longer, as someone put it, trying to fly his private jet onto the sideline. And although, I'll admit, I was skeptical of Kyle Shanahan's abilities, you have to give him credit as well. Mike Shanahan has done an outstanding job of rebuilding and restructuring a team that was, to put it lightly, a mess. The offensive line has been nothing short of impressive this year, so they're safe in the blame game as well. And while the defense served as a very good, and at times appropriate, scapegoat for the better part of this season, they cannot be completely to blame for last week's loss to the Seahawks. So you're left with 4 options: blame RGIII, blame Shanahan for playing RGIII, blame the doctors for allowing Shanahan to play RGIII, or move on from that and focus on the fact that at 10-6 and Champions of the NFC East, the Redskins had an incredibly successful season. (Or, for old time's sake, you can chock this one up to being Jason Campbell's fault.) If you want to explore all the intricacies and speculations as to who's to blame for the 24-14 loss you can read about it virtually everywhere. But the fact is that none of us know the whole story. For example, most people don't realize that Cousins did not have a full week of practice because he had the flu. Maybe that had something to do with it, maybe not. Shanahan stated he went with his gut, and acknowledged that his gut is not always right. But all the speculation in the world won't change the facts, so instead of trying to place blame, let's try to focus on the positives and look ahead to next year and the possible implications of RGIII's injury. There have been arguments made for the Redskins to draft another quarterback this year. I personally don't see how, or why, they would do that. Remember, they have no first or second round picks and the 2013 draft class is running low on talented quarterbacks to begin with. Kirk Cousins still lacks experience but I would take him over a new, untested, rookie. He has played in some of the biggest, highest-pressure situations imaginable and that has to count for something. It certainly gives him something to build on during the offseason. Kirk Cousins has played in high-pressure situations and will likely be a better quarterback because of it   If anything, it may be beneficial for them to look at an older, more experienced quarterback. Grossman has served a very good purpose this year and has been beneficial in helping Kyle Shanahan develop the two rookies. But he does not serve as a very good option for a backup to Cousins if RGIII is out in terms of actually  having to play. There is so much uncertainty in the NFL at the moment as to who each team will keep on their roster. Presumably any number of players, Kevin Kolb, Matt Flynn, Mark Sanchez, etc. could find themselves wearing a different jersey in the 2013 season. I know a lot of these guys are not free agents but with Matt Flynn, for example, with his fairly large contract, it would not benefit the Seahawks to pay him 5 or 6 million (not sure of the exact number) to sit on the bench. The Redskins don't have much to offer in terms of draft picks, and it would be unwise to do so anyways, but one thing about Snyder that you can't argue with is his ability to come through for us in big trades. I'm not saying all of those trades have been good, just making the point that they happened. While it would be unlikely that a guy such as Mark Sanchez (just an example) would come to the Redskins as a backup to RGIII, if RGIII is unable to start the season the likelihood increases. Even if RGIII is able to start the 2013 season it would be beneficial for them to wait a little bit before letting him get back in the game. That's one thing I'm sure Shanahan learned from the Seahawks game. And just to throw it out there, the Washington Redskins have to be looking far more appealing to players on other teams than they have in recent years. The Redskins surprised everyone (in a good way this time) this year and it appears as though the drama-filled Albert Hayensworth days are finally behind them (knock on wood) assuming people get over speculating about who is to blame for last weeks loss.  So be proud of the burgundy and gold and if you would like, share your thoughts and opinions on the matter.   "Many may question, criticize & think they have all the right answers. But few have been in the line of fire in battle."- Robert Griffin III   (Season recap coming in a few days.)
Original Story:
http://feedproxy.google.com/~r/isport...
THE BACKYARD
BEST OF MAXIM
RELATED ARTICLES
Many have voiced their opinion regarding the handling of Washington Redskins quarterback Robert Griffin III. The Redskins quarterback suffered damage to both his ACL and LCL in his right knee during the NFC playoffs against Seattle. On Wednesday, Griffin had successful surgery to repair both ligaments and is expected to take six to eight months to fully recover.Dr. Neal ElAttrache...
WASHINGTON — The NFL players' union does not plan a formal investigation into how the Washington Redskins medical staff handled Robert Griffin III's knee injury. The NFL Players Association said Friday that they were satisfied with a report received from the Redskins detailing the procedures used by team physician James Andrews and other staff on the sidelines. Griffin had...
It was initially reported that Redskins quarterback Robert Griffin III had his ACL and LCL repaired.  But it also looks like Dr. James Andrews repaired his medial meniscus. According to Dr. Mark Adackes of FOXSports.com, Dr. Andrews also had to operate on his healthy left knee to get a graph of his patellar tendon to repair the ACL in his injured right knee. Because Robert's patellar...
The Washington Redskins have announced that rookie quarterback Robert Griffin III has been voted rookie of the year by Pro Football Weekly and the Pro Football Writers of America. Griffin put together an amazing rookie season after throwing for 3,200 yards, 20 touchdowns, 5 interceptions and rushing for 815 yards and 7 touchdowns. As Rich Campbell of ESPN 980 mentioned, the last...
During the past week I found myself apart of and very amused by my colleague and pal James Fitzgerald's article and debate, claiming a case could be made for RG3 to be given this season's NFL MVP award.  To his credit, he made several key points to support his argument, but I have details to better support my being the yin to his yang. Robert Griffin III, or by his fan preferred...
Washington Redskins QB Robert Griffin III has several months of rehabilitation ahead of him after successful knee surgery on his torn ACL and LCL.  Griffin seriously injured his knee playing hurt in Washington's Wild Card playoff loss to the Seattle Seahawks.  It's too early to know whether or not Griffin will be ready to return for the start of the 2013 season with an...
According to ProFootballTalk.com, a league source has told them that the Washington Redskins are very concerned about the long-term health of quarterback Robert Griffin III's knee. Per a league source, there is much greater concern regarding Griffin's knee than anyone connected to the Redskins or Griffin has publicly conceded. Now that Griffin has suffered two serious knee injuries...
The NFL Players' Association has decided against pursuing a formal investigation into the handling of Washington Redskins quarterback Robert Griffin III's knee injury in last Sunday's NFC wild-card playoff game. Griffin appeared to suffer the injury in the first quarter but remained in the game. Redskins coach Mike Shanahan said the rookie requested that he continue...
Wow, how the mighty stay average. "America's Team" once again finishes .500 and has their season end with a resounding thud at the hands of rookie sensation Robert Griffin III and the Washington Redskins. It could not get any worse. Not only do you lose out on going to the playoffs, but to add insult to injury, to watch your Dallas Cowboys lose a winner take all divisional...
We've all heard by now how bad the grass really was at FedEx Field last Sunday for the wild card round matchup between the Washington Redskins and the Seattle Seahawks. The field, which looked dangerous from the get-go, proved to be harmful. Redskins quarterback Robert Griffin III reaggravated a knee injury that led to surgery, and the Seahawks moved on to the divisional round...
It was clear in the 2012 NFL draft who the top quarterbacks were with Andrew Luck and Robert Griffin III taken with the top 2 selections. Brandon Weeden was also taken in the first round along with Russell Wilson in the third round.USC quarterback Matt Barkley started the 2012 season off looking like he was gonna be the top overall pick this season only to miss his last two games...
Redskins News

Delivered to your inbox

You'll also receive Yardbarker's daily Top 10, featuring the best sports stories from around the web. Customize your newsletter to get articles on your favorite sports and teams. And the best part? It's free!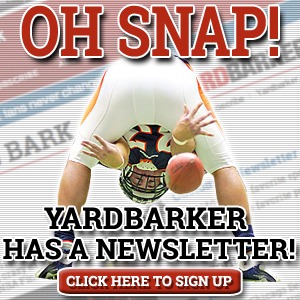 Latest Rumors
Best of Yardbarker

Today's Best Stuff

For Bloggers

Join the Yardbarker Network for more promotion, traffic, and money.

Company Info

Help

What is Yardbarker?

Yardbarker is the largest network of sports blogs and pro athlete blogs on the web. This site is the hub of the Yardbarker Network, where our editors and algorithms curate the best sports content from our network and beyond.