Found June 11, 2013 on Turn On The Jets:
After spending a full year on the New York Jets roster, primarily as a practice squad player, former rugby player Hayden Smith is competing for a role in the 2013 offense. After promising performances in recent OTA's Smith has been a popular discussion point amongst the Jets fan base, as the team is searching for signs of life at their tight end position. As training camp is around the corner one must ask: Will Hayden Smith break out in his second NFL season? Smith is regarded as a former rugby and basketball player attempting to become a serviceable to potentially star football player. What many members of the media fail to note is that Smith never even played rugby until around age 23 while he lived in Denver, Colorado. Formerly a basketball player for D-2 University Metropolitan State, he went on to play for the Denver Barbarians after graduating college. In his first season playing the sport he was named All-American and went on to play professionally with Saracens FC, an English club. In a short amount of time Smith was a first team starter for the Saracens and also played for the United States national team, helping them qualify for the 2011 Rugby World Cup. After playing his last national match in September, Smith began training for the NFL. Standing 6 feet, 6 inches tall with a 260 pound muscular frame, Smith certainly looked the part of an NFL athlete. Throughout tryouts he impressed five different teams (Jets, Saints, Lions, Redskins and Cowboys) by apparently running a 4.7 forty yard dash time. Smith's career officially began in April 2012 when he was signed by the New York Jets, where he spent a large majority of his first NFL season as a practice squad and bottom of the depth chart tight end. Former starting tight end Dustin Keller has departed for Miami, leaving the spot up for grabs after the Jets made no serious acquisitions to replace him. The training wheels are off of Smith coming into this training camp, as he will be given a large number of reps to prove his worth. Although he has shown virtually nothing on an NFL field to suggest he will produce, the potential is certainly there for numerous reasons. First, Smith is as athletic as any tight end in the league, including the current top two in Jimmy Graham and Rob Gronkowski. All three stand between 6-5 and 6-7, weigh between 255-265, and run in a 40 yard dash range of 4.55-4.7. While Gronkowski was a stand out in college football, Graham did not exactly post numbers guaranteeing future success. After four years of basketball at the University of Miami, he played on year of football where he caught 17 passes for 213 yard and five touchdowns. The Saints scouting department fell in love with Graham's potential, selecting him in the third round and the rest is history. Not only are Graham and Smith comparable athletically, but both possess the intelligence to pick up a high IQ sport such as professional football. Smith is a finance graduate while Graham double majored in Marketing and Management (he also attended grad school while playing college football). A very important factor to note with Hayden Smith is his development timeline. Jumping into the NFL with no previous football experience is difficult, as the Jets were rightfully patient with him last year. What should we expect from him in his second year picking up the game? Here's two former football players second seasons playing football competitively (counting both college and the NFL): Jimmy Graham, New Orleans Saints rookie season: 31 receptions for 356 yards and 5 touchdowns. *Antonio Gates, San Diego Chargers sophomore season: 81 receptions for 964 yards and 13 touchdowns *Gates was a stand out high school football player but chose to play college basketball instead Each of these tight ends had a great quarterback in Drew Brees throwing to them, aiding their success. Expectations for Smith should be kept realistic, whether it is Geno Smith or Mark Sanchez commanding the Jets offense. At this point, posting number's comparable to Graham's rookie season would be a very positive sign. The fan base is reasonably impatient with a lackluster offense, but Smith is a player who could possibly be another season from completely grasping the game. If he shows in training camp he's a respectable blocker with reliable hands, I would fully expect him to be splitting snaps with Jeff Cumberland on the first team offense.
Original Story:
http://turnonthejets.com/2013/06/will...
THE BACKYARD
BEST OF MAXIM
RELATED ARTICLES
Here at Turn On The Jets, we decided to take a page out of Robert Mays book over at Grantland (a polite way of saying rip his article idea off) by counting down the 115 days until the New York Jets kick off, with a daily reason to get excited about their return. Mays has the whole NFL to work with, we only have the Goddamn Jets…now there is a challenge, step your game up Mays...
According to bob Glauber of Newsday, New York Jets quarterbacks coach David Lee said that rookie quarterback Geno Smith isn't close to being ready to start for them. Jets QB coach David Lee says Geno Smith not close to being ready as starter. Smith still processing complexities of West coast offense. — Bob Glauber (@BobGlauber) June 12, 2013 I think it's too early to speculate...
According to Rich Cimini of ESPNNewYork.com, Jets head coach Rex Ryan told the media that they might develop a read-option package for rookie quarterback Geno Smith even if he's not the starter. Ryan said they could have a read-option package for Geno Smith even if he's the backup. Kinda like the … uh, Tebow plan. #Jets — Rich Cimini (@RichCimini) June 12, 2013 It does...
According to Rich Cimini of ESPNNewYork.com, the New York Jets haven't been very impressed with rookie quarterback Geno Smith so far this spring. Listen to Rex Ryan, and you come away with the impression he'd rather crochet a sweater than start Mark Sanchez at quarterback. Ryan's tone has been, um, less than enthusiastic. But guess what? He might have little choice. Judging...
If you listened to reports surrounding the New York Jets and their quarterback mess, you would assume Mark Sanchez only has a few practices left before he's released or shipped somewhere else. ESPN New York is saying not so fast to rumors oh Sanchez's demise.  Several reports that 2nd round pick Geno Smith has a ways to go, and some are suggesting that the Jets are not impressed...
Uh oh. Here we go again. It's my distinct pleasure to report this evening that the Jets are without a good option at quarterback -- again, and help is not on the way. Rich Cimini of ESPN New York reports that the New York Jets aren't impressed with what they're seeing from rookie quarterback Geno Smith. "Judging from what I've seen and heard, rookie Geno...
Mark Sanchez and Geno Smith are locked in a tight quarterback competition, with neither one pulling away so far. Rex Ryan and the New York Jets might not know who their starting quarterback is until sometime during training camp in August - and the coach is willing to be patient. Quarterbacks coach David Lee says Wednesday that ''we'll know when we know'' that...
Photo Credit: NewYorkJets.com More bad news for fans of the New York Jets who are tired of the Mark Sanchez era and want rookie Geno Smith to take the reins, as Sanchez took all of the first-team reps on the first day of the Jets' minicamp Tuesday. Sanchez, 26, completed four of eight passes with a sack and a near-interception, while Smith practiced with the second team, going...
Anyone who acts like their direct competition is their friend is usually full of it.  So, it should come as no surprise to anyone if Mark Sanchez and Geno Smith are becoming enemies this quickly into minicamp. I mean, lets be real here; Sanchez and Smith are in an actual competition for the starting job, so tensions could be running high.  It's not like the "competition"...
Mark Sanchez committed 52 turnovers over the past two seasons. His new quarterbacks coach is trying to stop the bleeding.The now fifth-year signal-caller's new positional coach, David Lee, has put together a drill specifically focused on not turning over the ball. It's only fitting Lee is referring to it as the "Sanchez drill." "Coach Lee threw me under the...
Mandatory Mini-Camp starts tomorrow (6/11), and there's plenty to keep an eye on, in direct relation to the team on the field come Week 1 against Tampa Bay.  QB Competition The most obvious storyline is the competition between Mark Sanchez and Geno Smith for the starting QB position. While I believe the battle will extend into training camp, mini camp should start to...
Jets thinking of Geno Smith-specific plays even if he isn't the starter (sound familiar?) wp.me/p14QSB-9bWK — ProFootballTalk (@ProFootballTalk) June 12, 2013 To take a tidbit out of the Kenan and Kel theme song... That's right. "Aww here it goes." Rex Ryan's reveal that Geno Smith could have a package in the offense, should Mark Sanchez...
NFL News

Delivered to your inbox

You'll also receive Yardbarker's daily Top 10, featuring the best sports stories from around the web. Customize your newsletter to get articles on your favorite sports and teams. And the best part? It's free!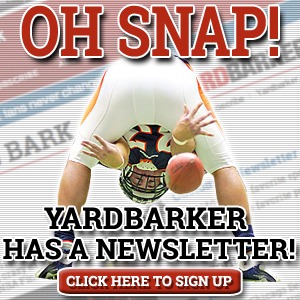 Latest Rumors
Best of Yardbarker

Today's Best Stuff

For Bloggers

Join the Yardbarker Network for more promotion, traffic, and money.

Company Info

Help

What is Yardbarker?

Yardbarker is the largest network of sports blogs and pro athlete blogs on the web. This site is the hub of the Yardbarker Network, where our editors and algorithms curate the best sports content from our network and beyond.