Found March 23, 2012 on Midwest Sports Fans:
During his impending year away from coaching the New Orleans Saints of the National Football League, for his suspension due to the bounty scandal, will Sean Payton entertain offers to become a pundit and prognosticator?
Should he be allowed to?
Sean Payton celebrates the Saints' Super Bowl title. (Photo by Derek Bridges via Wikimedia Commons)
How Will Sean Payton Spend His Year Away?
There's no law that he would be breaking, and it seems likely that he will get offers.  He is a Super Bowl-winning head coach.
He surely won't get any offers from the NFL Network, but what about ESPN or FOX?  How controversial would this be, or how inappropriate, if he were to take a job offer as an analyst?
He is due to lose $7+ million dollars, so he's going to need income.  He's probably going to lose endorsements or not gain new ones, so any money coming in is appreciated.
Is he going to get blackballed by TV networks and get no offers?  ESPN has already announced it has no plans to bring Payton on.
Could Payton ultimately end up getting fired for good by the Saints?
Maybe he lacks analyst opportunities for a year, then they come after the the scandal starts to wear down. Perhaps he gets his chance anew with a different team if the Saints let him go.  It's impossible to say for sure.
These are unprecedented waters for all involved.
And what about Gregg Williams? Does he end up going to the college game? Would any university take a chance on either of these guys after Penn St.?
Payton lost out for the same reasons as Paterno, lack of institutional control.
Payton as an analyst might rub a lot of people the wrong way.  There could be push back from advertisers.
Time will tell as the NFL world turns.
**********
Howard Alperin is Managing Editor of AmericanizeSoccer.com
Original Story:
http://www.midwestsportsfans.com/2012...
THE BACKYARD
BEST OF MAXIM
RELATED ARTICLES
A day after New Orleans Saints head coach Sean Payton received a one-year suspension -- given to him by the NFL -- fans have came up with a support system for their beloved head coach.A website -- Dirty Coast -- has created a "Free Sean Payton" t-shirt. Another website -- Fleurty Girl -- has also come out with t-shirts to support Payton that read, "Free Payton&quot...
Times may get hard for suspended New Orleans Saints head coach Sean Payton, as ESPN is reporting that the coach will lose up towards $5.8 million -- due to the NFL suspension he received from the league of his knowledge of the bounty program that was taking place with the Saints.Payton suspension will begin on April 1 with the suspension ending the day after Super Bowl XLVII, on...
Jay Glazer of FOX Sports made an appearance on the NFL Network and indicated that the New Orleans Saints and head coach Sean Payton are completely shocked regarding the punishments that were handed down by NFL commissioner Roger Goodell. "I did talk to him and he's stunned to say the least," Glazer said. "I think the entire team thought maybe there'd be a four-game suspension...
Saints defensive tackle Tom Johnson launched a passionate defense of Sean Payton, describing the head coach's league-imposed yearlong ban for his part in the bounty program scandal as "not right." "We knew there would be some type [of punishment], but not this," Johnson told the Sun Herald. The Super Bowl-winning coach was suspended by the NFL for the entire...
Sean Payton is gone for an entire season. Gregg Williams gets a Mike Vick-esq "indefinite" suspension. These are big-time penalties. That much is obvious. The hammer has been dropped. I want to go a different direction with this, though. I want to talk about the NFL players. The last major on-field, organizational incident involved the New England Patriots. That would be spy...
PRICKLY PUNTER
Opinionated Vikings punter Chris Kluwe believes that Saints linebacker Jonathan Vilma "should be banned for life" by the NFL for his alleged integral role in the team's bounty program.
After word surfaced that Sean Payton had been suspended for a full year as part of the punishment for the Saints bounty program, Warren Sapp accused Jeremy Shockey of being the "snitch." Sapp sent out a tweet despite the fact that he had absolutely no evidence for what he was saying, and Shockey was understandably furious over it. Jeremy blasted Warren for the tweet and we told...
It was Week 1 of the NFL season in 2007, when the view of the Patriots' pristine dynasty first began to crumble. Tom Brady and the Pats were paying a visit to the division rival Jets that week, and the reloaded roster was about to embark on one of the single-greatest seasons in sports history. But before the near perfect season was underway and even prior to all those broken...
Following the New Orleans Saints win in Super Bowl XLIV, NFL Commisioner Roger Goodell handed the Lombardi Trophy off to a clearly victorious Sean Payton. On Wednesday, Goodell handed down a very different fate to the Saints' head man. Payton and the Saints, who were recently accused of placing bounties on opposing teams players, were finally dealt their penalty for the alleged...
Yesterday, NFL star Warren Sapp accused former New Orleans Saints tight end Jeremy Shockey (currently a member of the Carolina Panthers) of being the snitch in the Saints' Bountygate scandal. Shockey vehemently denied the accusations, and today, even tweeted a screencap of a text message he just had with Sean Payton, the Saints' head coach who was suspended for the entire...
To those of you who believe Goodell's suspension of Sean Payton for a year is just, give me a break. This is football. These guys are already paid millions of dollars to do exactly what they were doing. Hit and hurt. /END Aaron Murray is not ashamed – Throw The Flag Sean Payton Suspended For A Full Year – The … Continue reading …
The NFL annual owners meeting is in Palm Beach, Florida this year, starting Monday and ending on Wednesday. Former President Bill Clinton is scheduled to speak Sunday to kick off the event. Several issues are on the table as usual. One hot button topic will surely be the Saint's Bountygate scandal. All 32 teams will be there, but we haven't received any word on whether recently...
Saints News

Delivered to your inbox

You'll also receive Yardbarker's daily Top 10, featuring the best sports stories from around the web. Customize your newsletter to get articles on your favorite sports and teams. And the best part? It's free!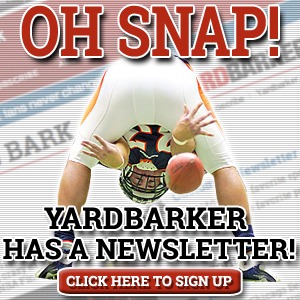 Latest Rumors
Best of Yardbarker

Today's Best Stuff

For Bloggers

Join the Yardbarker Network for more promotion, traffic, and money.

Company Info

Help

What is Yardbarker?

Yardbarker is the largest network of sports blogs and pro athlete blogs on the web. This site is the hub of the Yardbarker Network, where our editors and algorithms curate the best sports content from our network and beyond.