Found August 04, 2012 on isportsweb.com:
In this edition of Three Point Stance, we will be analyzing what the hindrances are to the Dallas Cowboys making the Super Bowl, and what components will contribute to the Cowboys making a Super Bowl run. The components will be based on their training camp performances, as well as career performances thus far. Three Points for Making the Super Bowl Improved Secondary: Dallas addressed a huge issue in the offseason, upgrading their porous secondary with the acquisition of Brandon Carr through free agency, and by obtaining Morris Claiborne with the 6th pick in the Draft. The secondary, as was the entire defense, was a point of weakness for the Cowboys last season, and alot of pressure was put on the linebacking core to perform because of the fallibility of the secondary. With a strengthened defensive back unit, this should allow the linebacking core and the front line to perform better. Opposing QBs may need more time in the pocket to find an open receiver, enabling more time to pressure the QB. And with one of the best defensive coordiantors in the game with Rob Ryan, he is quickly molding this defensive unit into what he wants. Outstanding offense: Tony Romo is playing better than he has ever played before, and is definitely the key piece offensively for the Cowboys. The receiving unit primarily stays the same, althoujgh the loss of Laurent Robinson in free agency might hurt them a bit. Even still, Witten, Bryant, and Austin remain formidable receivers for opposing defenses to deal with. Felix Jones is finally healthy, and will be a nice complement at the halfback position to the speedy and elusive DeMarco Murray. Jason Garrett could help or hinder the Cowboys' Super Bowl chances this year. Coaching stability: Jason Garrett is entering his second full season as Cowboys head coach, and with no replacements at any of the key coaching positions, every single player comes in knowing what the coaches expect of them and what the goals are that both the coaches and players want to fulfill. In a league like the NFL, where the turnover rate on coaches is very high, having the stability among coaching positions is key to developing team chemistry and garnering a deep playoff run. Recent examples of success with coaching stability are Bill Belichick with the Patriots and Tom Coughlin with the Giants. The Cowboys need this if they want any hope of making the Super Bowl. Three Points for Not Making the Super Bowl Competition: There have been vast improvements among division rivals of the Cowboys. The Redskins drafted Robert Griffin III, vastly improving their QB position. The Eagles still have a really great team on paper, and the Giants of course, are the Super Bowl champs. With 6 total games against each of these teams, plus facing the tough AFC North, which had 3 playoff teams last year, the Cowboys will have their hands full with their schedule. Granted, the Giants lost 7 games and still won the Super Bowl, but if things start going wrong for the Cowboys, they will be hard pressed to find even 7 wins on their schedule. Injuries: This is probably an obvious hindrance to any team's chances, but definitely needs to be addressed. DeMarco Murray is coming off of a broken foot, and it is reported that CB Morris Claiborne has a minor sprain in his right MCL, plus a lot of the Cowboys offensive line is banged up, including Bill Nagy and Kevin Kowalski. It's early, sure, and so there is still plenty of time for those injuries to heal, but if the Cowboys have to play with a revamped offensive line, and if the minor sprain in Claiborne's knee becomes a nagging issue or even gets worse, then the Cowboys will be hard pressed to perofrm at the standards they need to. It will be tough to protect Romo with a makeshift line, and the secondary will go back to being the same old secondary, if the injuries stick around. Game Management: This is probably the biggest issue for the Cowboys. Last year, they had horrible game management in various key situations. The Lions game comes to mind. Up 27 with 5 minutes left in the third, there was no need for Garrett to call passing plays. Just hand the ball off and run out as much clock as you can. Instead, Garrett called a passing play, Romo threw an INT that got returned for 6, and then instead of learning his lesson then, Garrett called another pass play on the very next possession, and that was picked and returned for 6. So by the end of the 3rd quarter, a 27 point Cowboys shellacking was a 13-point lead, and the Lions had all the momentum. Then there was the game against the Cardinals where the Cowboys needed a Dan Bailey field goal to win, and when he kicked it, it was on point and accurate, but Garrett called a time out, icing his own kicker. That made all Cowboys fans furious, and rightfully so. It is an idiotic move to ice your own kicker, and a timeout in that situation was unnecessary. Cowboys would lose that game in OT. It is situations like that in which the Cowboys need to improve. No senseless play calls from Garrett, no senseless INTs from Romo, and no senseless turnovers, and the Cowboys will be fine. But come on, these are the Cowboys. Stuff like this is bound to happen. And if it does, then the Cowboys could be their own hindrance to making the Super Bowl.
Original Story:
http://feedproxy.google.com/~r/isport...
THE BACKYARD
BEST OF MAXIM
RELATED ARTICLES
In the past few days, we have gotten a glimpse of the Jerry Jones that won three Super Bowls in the 90's. He boldly said that the Cowboys were going to beat up on the defending champion New York Giants. He also spoke about his own team. The old tenacious Jones surfaced this week, after initially being safe in choosing his words on the Dez Bryant saga; he now has shown that the...
Jerry Jones has been talking a lot junk lately about the Giants, they seem to be his main focus this season. "I want everyone on our team with their mind on the Giants because that's who we open up with," Jones said. "That's our first real deal, and that's why they're getting my attention." Funny thing is John Mara or the Giants aren't even concerned with...
Dallas Cowboys first round pick Morris Claiborne underwent an MRI on his sore right knee after Friday's afternoon practice, ESPN Dallas reported. The cornerback tried to practice during the session but trainers decided to hold him out. Coach Jason Garrett said the team does not think the injury is serious and that the MRI was a precaution. Claiborne felt soreness in the knee...
Just two days after quitting Cowboys camp, pondering whether to play professional football, wide receiver Cole Beasley has experienced a change of heart. Per the Fort Worth Star-Telegram, Beasley returned to training camp on Sunday and participated in the team's Blue-White scrimmage. VP Stephen Jones, who reportedly made "deliberate attempts" to convince the rookie wideout...
Dallas Cowboys wide receiver Miles Austin injured his hamstring during practice on Saturday and will sit out for at least a week (Credit: AP Photo/Gus Ruelas) After injuring his hamstring during practice on Saturday, it looks like Dallas Cowboys Miles Austin is going to miss at least a week. The team doesn't feel that the injury is as serious as either of the hamstring pulls that...
Photo by TMZ.com Former NFL player and current NFL Network analyst Deion Sanders is trying to sell his 5,000 square foot condo in Dallas as he continues during his current divorce proceedings with Pilar Sanders. TMZ.com has all the details below. Photos from TMZ.com "Deion listed the condo — located in the swanky celeb-filled Azure building — back in March … soon after...
Dallas Cowboys cornerback Mike Jenkins left training camp on Sunday to have his right shoulder examined, according to the team's official site. Jenkins had offseason shoulder surgery. He hasn't been cleared to play, and the team has offered no timetable for his return to the field. His contract, which expires after this season, will pay him a base salary of $1.052...
An MRI revealed Saturday that Dallas Cowboys rookie cornerback Morris Claiborne has a sprained MCL in his left knee. USA Today reported that the first-round pick could miss up to a week. Claiborne was pulled from practice Friday and could only watch the team's walkthrough practice in Oxnard, Calif., on Saturday. "I can't control this, so I'm not going to beat...
Getty Images According to Josh Ellis of DallasCowboys.com, Cowboys cornerback Mike Jenkins has left training camp to have his shoulder examined by Dr. James Andrews. He's expected to be back on Monday. Jenkins has been held out camp as he continues to rehab his shoulder after undergoing surgery this offseason. I don't believe there's a timetable for his return at this point.
Getty Images According to Todd Archer of ESPNDallas.com, Cowboys rookie cornerback Morris Claiborne will be out for the next week after suffering a sprained MCL. "A little bit disappointing," Claiborne said, "but it's not too much because I know it's not something serious. I know it's something I can come back from. You can't just get mad over something you can't...
Shale Briskin BGB Contributor Recently at the Dallas Cowboys' training camp, owner and general manager Jerry Jones told his fans, "Y'all should come to Cowboys Stadium and watch us beat the Giants' asses." The 5,000 Cowboys fans that attended cheered after hearing the remark. It's honestly amusing that the very outspoken Jones has already lit...
Cowboys News

Delivered to your inbox

You'll also receive Yardbarker's daily Top 10, featuring the best sports stories from around the web. Customize your newsletter to get articles on your favorite sports and teams. And the best part? It's free!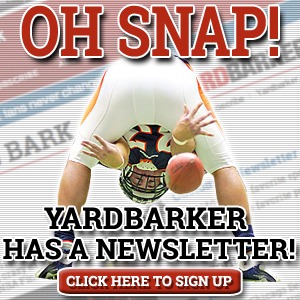 Latest Rumors
Best of Yardbarker

Today's Best Stuff

For Bloggers

Join the Yardbarker Network for more promotion, traffic, and money.

Company Info

Help

What is Yardbarker?

Yardbarker is the largest network of sports blogs and pro athlete blogs on the web. This site is the hub of the Yardbarker Network, where our editors and algorithms curate the best sports content from our network and beyond.