Found November 08, 2012 on Fox Sports:
There was no immediate to-do when Jason Witten set the Dallas Cowboys' career receptions record. Nor did the tight end expect it during a road game Sunday in Atlanta or afterward with his team having fallen to 3-5 following a 19-13 loss to the Falcons. In fact, Witten didn't even realize he had broken the franchise mark of 750 catches previously held by Michael Irvin when he made a 7-yard grab midway through the fourth quarter. Witten was more concerned with the next play as quarterback Tony Romo orchestrated a no-huddle attack. None of this diminishes the importance of what Witten has accomplished in 10 seasons with the Cowboys, or his gratitude to Dallas wide receiver Kevin Ogletree for giving him the football used on the play. Witten also is appreciative that Irvin contacted him with congratulatory voicemail and text messages. "One day when I look back at it, I want to show this record the respect it deserves," Witten told FOXSports.com in a telephone interview. "I am humbled to break it. A lot of great skill players have worn the (Cowboys) star on their helmets. "To say I'm the leading receiver is special, but my focus has always been on the team and helping us win." For Witten and Dallas, victory is essentially a must Sunday as the Cowboys visit the Philadelphia Eagles in the FOX America's Game of the Week (4:25 p.m. ET). Both clubs are 3-5 and on losing streaks. The one that doesn't win Sunday will be on the verge of playoff elimination, setting the stage for wholesale changes in 2013 that potentially include a new head coach. "We're still a confident group," Witten said. "We've had three or four really close games and were just barely on the losing end. We have to execute better, obviously. It's going to be a fight going to Philly because we know their backs are against the wall, too." Unlike against fellow NFC East opponents Washington and the New York Giants, Witten hasn't had a 100-yard receiving performance against Philadelphia in a nine-game span dating to September 2008. The Eagles, though, must do a better job of stopping Witten than they did Monday night against New Orleans tight end Jimmy Graham. He caught a team-high eight passes for 72 yards and one touchdown in a 28-13 victory. Before that, Philadelphia had done a nice job keeping quality tight ends like Atlanta's Tony Gonzalez (three catches for 29 yards), Detroit's Brandon Pettigrew (three for 38) and Pittsburgh's Heath Miller (four for 41) in check. "They've done a couple different things (coverage-wise)," Witten said. "Sometimes, they play regular zone, but they've got a lot of confidence in their safeties being able to cover the tight end. And, at times, they've used (cornerback) Nnamdi Asomugha inside." Pressed to assess his season from a personal standpoint, Witten allowed that 2012 is one of his "better years." Although he's only scored one touchdown and is on pace to finish with his lowest per-catch average (9.3 yards), Witten still leads all NFL tight ends with 58 receptions for 538 yards. Witten also has enjoyed two games that have added to his Cowboys legacy. The first was playing in the season-opening win against the Giants despite not being fully recovered from a serious spleen injury. The second was catching a franchise-record 18 passes during a 29-24 loss in the Week 8 rematch. "I've played well," Witten said. "I had a couple of drops early on after my spleen injury, but since then, I've put that behind me. Tony and I are completing a high percentage of passes between us. I'd like to have more opportunities in the red zone to score, but I feel like we're locked in." As the list of personal accolades and records continues to grow on what may be a Hall of Fame resume, Witten hasn't lost sight of what matters most to him. "Ultimately at this point in my career, success is finding ways to win games," said Witten, a 2003 third-round draft choice. "There is disappointment among the core group of guys on this team. We've got a good group of great leaders and a team that's done a good job of being accountable. "We understand what the expectations are for this organization, and that all rides on us. We have to focus on grabbing this opportunity." When he does ultimately reflect on the past in retirement, Witten won't have to wonder "what if" about playing tight end. As chronicled by ex-Cowboys personnel chief Gil Brandt, Witten agreed to attend the University of Tennessee as long as he remained at defensive end. But when injuries ravaged the tight end position, Witten agreed to switch to the other side of the ball. "Yeah, it's pretty amazing how the story goes," said Witten, 30. "I've been blessed to have my grandfather as my high school coach and a lot of people who believed in me and taught me the game. "I love playing. That's the thing I'm most passionate about. It's not the records. Every week, I just want to give everything I have out there. I think something like that shows."
Original Story:
http://msn.foxsports.com/nfl/story/Ja...
THE BACKYARD
BEST OF MAXIM
RELATED ARTICLES
The Dallas Cowboys are entertaining if they are not anything else. As the team tries to rebound from their current 3-5 dilemma, there are no shortages of critics that are firing shots at everyone from coach Jason Garrett, to quarterback Tony Romo to the at-times rambunctious wide receiver Dez Bryant.   Please Click Here To Read This Story
A tale of two cities. A tale of two head coaches fighting for their jobs. One will triumph. One will scratch their heads as they look at their dismal 3-6 record. It's Desperation Bowl 2012. The outcome of this game will undoubtedly force one of these teams to make some tough decisions going forward, and former Dallas head coach Jimmy Johnson doesn't like what he sees...
Former Dallas Cowboys coach Jimmy Johnson says Cowboys owner Jerry Jones takes way to much credit as being the general manager during the team's Super Bowl years in the 1990s. "That is completely a bunch of crock," said Johnson on the Dan Patrick Show Wednesday. "Jerry started putting all those titles on himself after I left. He didn't call himself general...
The season that once looked so promising for the Dallas Cowboys is halfway done. After losses in four of their last five games, the Cowboys have plenty work to do just to have another .500 season. As for any chance of making the playoffs, that already seems like a big stretch since only one NFC team has won fewer games than Dallas (3-5) at this point. Cowboys executive vice president...
Contrary to what everyone was saying at the beginning of the season, this is not the Cowboys year to win the Super Bowl. After a massive win against the New York Giants in the first week of the season, the Cowboys took a quick fall and have lost four of their last five games. While their defense has stayed relatively consistent throughout the year, their offense needs to get on track...
Anyone else getting the feeling that the Cowboys haven't been forthcoming about the injury to Demarco Murray. He hasn't even practiced since going down with a foot injury in week 6. It's a frustrating situation for owners who invested a first or early second round pick in Murray. The Cowboys get to face a sad Eagles team with a terrible coach and a lack of heart this...
Dallas Cowboys great Roger Staubach believes owner Jerry Jones needs to delegate his role as general manager. "Jerry is trying real hard," Staubach told ESPN Radio's Mike & Mike on Friday.. "He goes back to the old days when they won three Super Bowls. I think the formula is he's got to find a medium ground and delegate more authority." Jones already made it clear...
One of the problems with the Cowboys is that they are like alcoholic who continuously denies they have a problem, so they can never get the proper help. Take these comments from Jerry Jones' son Stephen Jones for example via the Cowboys Corner. Is Jason Garrett coaching for his future? "I won't even comment on that. Period. That's ridiculous," Jones said. What...
Dallas Cowboys owner Jerry Jones intends to keep the title of general manager, he said during his twice-weekly radio show. "We're not structured that way," Jones told KRLD-FM on Tuesday. "We didn't structure it that way with my ownership. There's no way that I would be involved here and not be the final decision maker on something as important as players...
BALTIMORE, MD – OCTOBER 14: Quarterback Tony Romo #9 hands the ball off to running back DeMarco Murray #29 of the Dallas Cowboys during the first half against the Baltimore Ravens at M&T Bank Stadium on October 14, 2012 in Baltimore, Maryland. (Image credit: Getty Images via @daylife) Tony Romo is currently on pace to set personal records for attempts, completions, and yards...
Prior to Monday night's debacle in New Orleans, the Eagles were listed as -2.5 point favorites over the visiting Dallas Cowboys (3-5) for this Sunday...but now the Vegas money is pouring in for the Cowboys, making the Birds a 1-point underdog in their own house. Perfect. In a game which features two teams struggling to score points on offense, and two quarterbacks who...
I finally got it it Juan… TE PPR Rankings Rank Player (matchup) ECR™ vs ECR 1 Rob Gronkowski (NE vs BUF) 1 0   Rank Player (matchup) ECR™ vs ECR 2 Jimmy Graham (NO vs ATL) 2 0   Rank Player (matchup) ECR™ vs ECR 3 Jason Witten (DAL at PHI) 3 0   Rank Player (matchup) ECR™ vs ECR 4 Antonio Gates (SD at TB) 6 -2   Rank Player (matchup...
NFL News

Delivered to your inbox

You'll also receive Yardbarker's daily Top 10, featuring the best sports stories from around the web. Customize your newsletter to get articles on your favorite sports and teams. And the best part? It's free!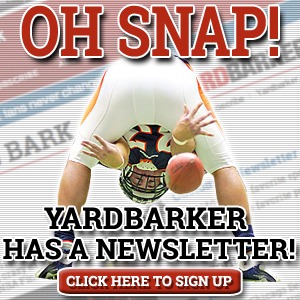 Latest Rumors
The Backyard

Today's Best Stuff

For Bloggers

Join the Yardbarker Network for more promotion, traffic, and money.

Company Info

Help

What is Yardbarker?

Yardbarker is the largest network of sports blogs and pro athlete blogs on the web. This site is the hub of the Yardbarker Network, where our editors and algorithms curate the best sports content from our network and beyond.