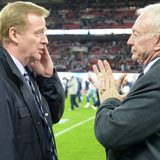 Front Five: The top stories that shaped both sports & politics this week "I've been dealing with this commissioner for almost 28 years, as an employee of the NFL. Zeke's been involved here a year, a year-and-a-half. Those are really separate issues as to Zeke. The policy that we have that has impacted Zeke is more of my issue with the commissioner, more so than Zeke's particular...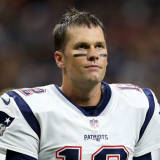 Tom Brady did not appear inclined to discuss at any length former New England Patriots teammate Aaron Hernandez when asked about the late tight end during a Monday radio interview."I don't think about him very often," Brady said of Hernandez on WEEI radio, via the Boston Herald.Hernandez was 27 when he committed suicide in prison on April 19 while serving a life sentence for murder...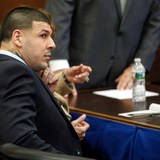 The doctor who discovered chronic traumatic encephalopathy, the brain disease better known as CTE, is convinced that the condition is what drove former New England Patriots tight end Aaron Hernandez to take his own life.Hernandez's fiancee Shayanna Jenkins filed a lawsuit against the Patriots and the NFL on Thursday, claiming the former tight end had a severe form of CTE and the...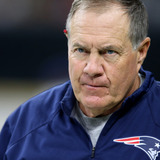 New England Patriots head coach Bill Belichick on Friday wasn't interested in fielding questions about the discovery that former player Aaron Hernandez had CTE, nor the subsequent filing of a lawsuit, indicating such medical and legal questions are not his area of expertise.A report Thursday revealed Hernandez, who played for the Patriots from 2010 to 2012, suffered from a "severe...
The family of the late Aaron Hernandez is suing the New England Patriots, claiming the former tight end had severe CTE and the team failed to protect him from it.Boston University's School of Medicine examined Hernandez's brain, and one of the professors, Dr. Ann McKee, concluded that Hernandez had Stage 3 CTE, which is one step below the most severe form — Stage 4. They also determined...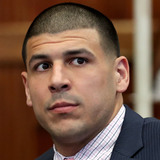 A former fourth-round pick of the New England Patriots, Aaron Hernandez was once one of the brightest offensive stars in the league. That came to a crashing halt when he was charged — and ultimately convicted — of first degree murder charges stemming from the 2013 death of friend Odin Lloyd.Serving out a life sentence Souza-Baranowski Correctional Center in Massachusetts, Hernandez...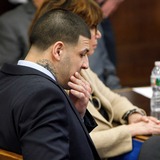 The New England Patriots have maintained all along that they had no knowledge of any of the criminal activity Aaron Hernandez was involved in while the late former NFL tight end was with them, but lawyers are still calling for the team to pay damages.Lawyers for the plaintiffs in a wrongful death lawsuit filed against Hernandez's estate said in court Tuesday that the Patriots should...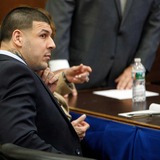 When former NFL tight end Aaron Hernandez was found dead due to suicide in his jail cell, three notes were left behind.One that has just been revealed is a note to Hernandez's fiancee in which he tells her near the end "you're rich." This news comes courtesy of TMZ Sports who obtained a copy of the note. Here is the complete text of the note. "Shay, You have always been my soul-mate...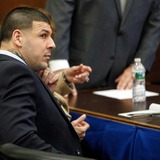 Aaron Hernandez committed suicide on Wednesday morning, days after being acquitted in a double murder trial. People have been looking for answers to the questions about why he killed himself after the legal system began working in his favor.While we don't have answers just yet, we do have some more information surrounding his death.According to WBZ in Boston, Hernandez had the bible...
MORE STORIES >>
NFL News

Delivered to your inbox

You'll also receive Yardbarker's daily Top 10, featuring the best sports stories from around the web. Customize your newsletter to get articles on your favorite sports and teams. And the best part? It's free!