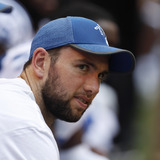 The injury to Andrew Luck's shoulder resulted in the Indianapolis Colts having to throw away their entire 2017 season, and there are now concerns that it could prove even more costly for the franchise going forward.David Kaplan of NBC Sports Chicago reported this week that the Colts were "all in" on hiring former Kansas City Chiefs offensive coordinator Matt Nagy as their next coach...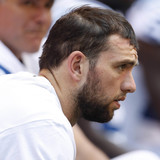 The Chicago Bears introduced Matt Nagy as their next coach on Tuesday, but according to one report the coach was very nearly the next head coach of the Indianapolis Colts instead.So what caused Nagy to choose the Bears over the Colts? According to the report, the health of Andrew Luck had something to do with it, along with the notion that Chicago's overall roster is set up better...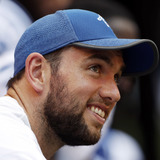 Andrew Luck spent time in the Netherlands recently for additional rehab on his troublesome throwing shoulder, and the Colts quarterback addressed his status Friday. Luck plans to resume throwing soon and has a considerably lofty recovery goal. Going into his seventh NFL offseason, Luck does not expect to miss any of it — not OTAs, minicamp or training camp — as he prepares for a...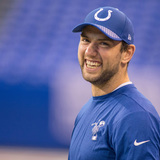 Andrew Luck on Friday spoke with the media for the first time since he was shut down for the 2017 season, and he gave Indianapolis Colts fans some reasons to be optimistic heading into 2018.Luck, who just returned from rehabbing in Amsterdam, does not anticipate needing another surgery on his throwing arm. As of now, he is planning to be ready for all of the Colts' offseason training...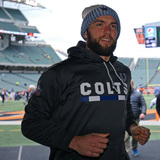 Andrew Luck should be back on American soil sometime next week following an extended stay in Europe, where he was seeking treatment for his ailing shoulder.A new report from Stephen Holder of the Indianapolis Star indicates there is some positive news behind his decision to remain overseas a bit longer than anticipated. Holder also doesn't discount the possibility that Luck has already...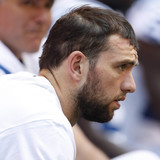 Indianapolis Colts head coach Chuck Pagano aptly described the rocky road quarterback Andrew Luck has been traveling on during his press conference Tuesday. Pagano said Luck has "been through hell," noting he has "done so much for this organization the last five years," per Stephen Holder of the Indianapolis Star.Pagano also said Luck has yet to return to the team facility since...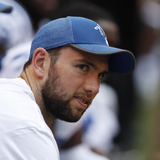 At this point, we have absolutely no idea when Indianapolis Colts quarterback Andrew Luck will return to the football field.Luck has not suited up for a game since New Year's Day and underwent shoulder surgery on a torn labrum later that month.While Indianapolis anticipated Luck to return early this season, that neve came to fruition. He suffered a setback while throwing on the side...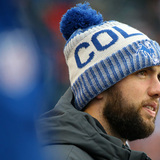 Andrew Luck has been receiving treatment on his shoulder in Europe for more than a month and is reportedly optimistic about how his rehab is going, but there is still a possibility that he could have to go under the knife again.Sources told ESPN's Chris Mortensen that Luck will resume throwing in the near future, and it will be at that point that he will make a determination about...
The hits just keep coming for the Indianapolis Colts this season. Or, perhaps more appropriately, quarterback Andrew Luck.Of course, Luck hasn't played all season long, and currently finds himself on season-ending IR. But now, things are starting to look even murkier. Suddenly, health is becoming a real long-term worry for the franchise QB. In 2015, Luck would only play in seven...
Andrew Luck remains on the shelf after offseason shoulder surgery, missing the Indianapolis Colts' 46-9 thrashing by the Los Angeles Rams in Week 1. It's been a frustrating process presumably for both Luck and the Colts, and now there reportedly is a "growing sense" that Luck in unhappy in Indy.Mike Greenberg of ESPN's "Mike & Mike" weighed in the rumors during Wednesday's edition...
MORE STORIES >>
Colts News

Delivered to your inbox

You'll also receive Yardbarker's daily Top 10, featuring the best sports stories from around the web. Customize your newsletter to get articles on your favorite sports and teams. And the best part? It's free!