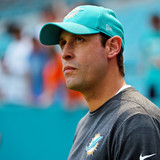 In advance of March 14, the start of free agency in the NFL, Pro Football Rumors will detail each team's three most glaring roster issues. We'll continue this year's series with the Miami Dolphins, who missed the playoffs with a disappointing 6-10 record. Depth Chart (via Roster Resource) Pending Free Agents: Walt Aikens, CB Nate Allen, S Lamin Barrow, LB Jake Brendel, C (ERFA...
New York Jets tight end Austin Seferian-Jenkins discusses his thoughts on the controversial call that overturned his touchdown against the New England Patriots on Sunday.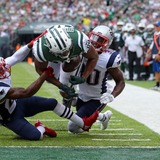 Many may blame NFL officiating for playing a role in the New York Jets' loss to the New England Patriots on Sunday, but tight end Austin Seferian-Jenkins only blamed himself.Seferian-Jenkins was ruled to have fumbled just shy of the end zone on a play that would have cut New England's lead to 24-20 in the second half, though the play was originally ruled a touchdown and many observers...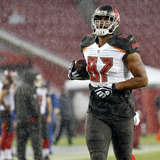 Austin Seferian-Jenkins could be in for a big season after changing around his life.The former Tampa Bay Buccaneers second-round pick has a history of drinking problems that have led to two DUIs in his life. One came while he was in college at Washington, and the other occurred in Sept. last year, leading to the tight end's release by the Bucs. The New York Jets ending up picking...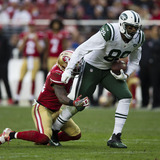 The Tampa Bay Bucs couldn't get tight end Austin Seferian-Jenkins to stay in shape, and after a DUI arrest last year, the team ended up releasing him.Their loss was the Jets' gain, as New York was more than willing to take a flyer on the former second-rounder, who has all the tools to be a productive tight end, but hasn't been able to string it all together.Seferian-Jenkins, however...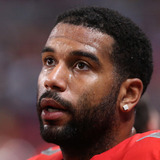 The New York Jets reportedly have claimed Austin Seferian-Jenkins off waivers. ESPN's Adam Schefter reports the news about Seferian-Jenkins, who was released last week by the Tampa Bay Buccaneers the same day he was arrested for a DUI. Seferian-Jenkins was a second-round pick by the Bucs in 2014 and has caught seven touchdowns during his career. He only saw limited games due to...
TAMPA, Fla. (AP) -- The Florida Highway Patrol says a tight end for the Tampa Bay Buccaneers has been arrested on suspicion of driving while under the influence.Sgt. Steve Gaskins said in a news release that Austin Seferian-Jenkins was arrested Friday morning.According to the release, Trooper Tabarie Sullivan was traveling in his cruiser when he saw Seferian-Jenkins enter southbound...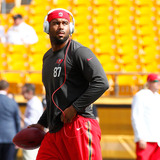 Tampa Bay Buccaneers tight end Austin Seferian-Jenkins was kicked out of practice on Thursday for not performing well enough. Seferian-Jenkins was spotted walking off the field early, and Bucs head coach Dirk Koetter later revealed that he told the 23-year-old to leave. BUcs coach Dirk Koetter said he sent @Aesj88 off the field in OTAs Thurs. indicated he "didn't know what he...
While Tampa Bay Buccaneers tight end Austin Seferian-Jenkins has missed the last five games with a shoulder injury, he's badly hoping to get back into the action this Sunday against the New York Giants.The good news? Seferian-Jenkins is making sure that if he gets out there to play, that he's at 100 percent and can help this team win games, according to Greg Auman of The Tampa Bay...
The Tampa Bay Buccaneers are feeling good and are fresh off an impressive 26-19 road victory over the New Orleans Saints. Apparently, they didn't get out of the game without a few bruises along the way. As Roy Cummings of the Tampa Tribune reports, Seferian-Jenkins suffered a shoulder injury during the victory. With his status being unknown, it's definitely a cause for concern. The...
MORE STORIES >>
Jets News

Delivered to your inbox

You'll also receive Yardbarker's daily Top 10, featuring the best sports stories from around the web. Customize your newsletter to get articles on your favorite sports and teams. And the best part? It's free!