The NFL is reportedly not planning to fine players who wore cleats on Sunday that honored the victims and responders of the 9/11 terrorist attacks. After he announced his plan to wear 9/11 remembrance cleats, Tennessee Titans linebacker Avery Williamson was contacted by an NFL official who told him he would be fined if he chose to violate the league's uniform policy. At the urging...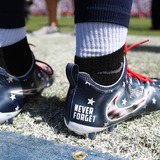 Tennessee Titans head coach Mike Mularkey has offered to pay any fine the NFL might impose on Avery Williamson after the linebacker wore custom 9/11 remembrance cleats on Sunday. In fact, Mularkey said he would have been "disappointed" if the threat of a fine stopped Williamson from wearing the kicks. "I said, 'I'm going to shoot you straight like I shoot everybody straight: If...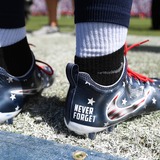 Tennessee Titans linebacker Avery Williamson detailed why he changed his mind over the custom 9/11 remembrance cleats he had made for Sunday's game. The NFL threatened to fine Williamson if he wore the cleats, but he defied that and wore them anyway after receiving wide support. "I just felt like I got so much support across the country, and especially when the New York and New...
With Sunday being the 15th anniversary of the September 11 terrorist attacks, expect to see lots of tributes on the opening Sunday of the NFL season. One thing you won't be seeing is Avery Williamson's custom footwear. The Titans linebacker had planned to wear star-spangled custom cleats with "Never Forget" on them, but he backed down when informed by the league that doing so would...
NASHVILLE, Tenn. (AP) The Tennessee Titans are already thin at linebacker, and now starter Avery Williamson is questionable for Sunday's game against the Miami Dolphins with an injured hamstring. Williamson was hurt late in last week's 14-13 loss to the Buffalo Bills while on punt coverage. He did not practice Wednesday and was limited Thursday and Friday. ''It's progressing a little...
Tennessee Titans middle linebacker Avery Williamson is only in his second season in the NFL, but he's already earned the respect of his teammates to the point where he's now considered the leader of the defense. "I told him, 'It's your defense. Just run it. You've got the say-so. You've got the power. We listen to you. You don't listen to us,'" fellow linebacker Zach Brown said,...
After choosing a biggest disappointment, it is time to end the week on a happier note by choosing a biggest surprise for the 2014 Tennessee Titans. It may seem incongruous to choose a surprise in a good way for a team that goes 2-14 and ends the season with the second overall pick. As with the offensive and defensive most valuable players, plus the rookie of the year, that a team...
View image | gettyimages.com   One of the things I stressed in selecting my offensive and defensive most valuable players is being on the field. It's the same reason I selected Chance Warmack as my 2013 rookie of the year even though I ended that post with a request to play a lot better in 2014. Applying that same rule makes picking a 2014 Tennessee Titans rookie of the year...
Scheduling note: I'm skipping over Marqueston Huff and coming back to him. As a reported visitor whose three game videos I'd already watched, I had a reasonably informed take on Avery Williamson when I wrote up his selection. In watching his games in more detail, I could think more seriously about his specific traits and his potential role on the team (though I still have more Ray...
Growing up in Milan, Tenn., Avery Williamson became a Tennessee Titans fan at a young age. After being slected in the fifth round of the draft, Williamson now is in the very building that housed many of the players he lists as favorites – Eddie George, Steve McNair, Jevon Kearse, Albert Haynesworth. The list goes on and on. His favorite Titans linebacker? It's a telling statement...
MORE STORIES >>
Titans News

Delivered to your inbox

You'll also receive Yardbarker's daily Top 10, featuring the best sports stories from around the web. Customize your newsletter to get articles on your favorite sports and teams. And the best part? It's free!