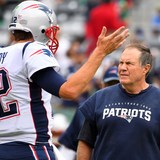 It could be argued that Bill Belichick has never exhibited any touchy-feely tendencies in his entire Hall of Fame coaching career. So, the notion that he appeared to shut down Tom Brady's attempt at a bro-hug last Sunday really isn't all that surprising.Locker room footage has surfaced of the New England Patriots celebrating a 24-17, Week 6 victory over the New York Jets. As Belichick...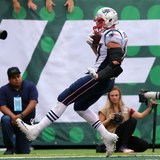 A touchdown is a touchdown no matter how gracefully the player puts the ball into the end zone. Last week, New England Patriots tight end Rob Gronkowski was the prime example of a player that did not exactly waltz in for a score against the New York Jets. But, it doesn't matter. Endearingly, Gronk has earned the nickname "Twinkle Toes" from head coach Bill Belichick. The cool thing...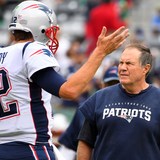 Tom Brady and Bill Belichick are now in their 18th season together, and they comprise one of the best quarterback-head coach duos in the NFL.The two recently treated us to a funny moment, when Brady tried to show some love for his coach, and Belichick was not having it.Brady initiated a handshake, which Belichick was good with, but when he leaned in to finish it off with a hug, that...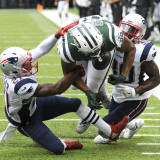 The NFL has instituted a new referee hotline, where players, coaches, and mascots can lodge complaints, ask for explanations, and whine about calls without fear of a fine. It's like 411 means 4th-and-11. Here, we've compiled the best of the week's questions and responses, which are about as authentic as Jay Cutler's love of football. We know when the hotline blings, that can only...
Bill Belichick busted out a sublime Belichick-ian mini-rant about "fantasy football or some garbage" when bemoaning how the New York Jets (3-2) aren't getting their due respect after an unexpectedly strong start.The New England Patriots head to MetLife Stadium Sunday to take on the upstart Jets. And Belichick cannot understand why there isn't more buzz around a team that many predicted...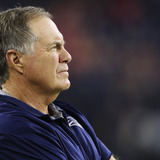 The New England Patriots played Thursday night, narrowly defeating the Tampa Bay Buccaneers — thanks to three missed field goals by Nick Folk — by a score of 19-14. Thanks to the midweek game, Bill Belichick had some free time on his hands this weekend.So, what did the Patriots head coach Bill Belichick elect to do on Saturday? Hole up in his office and review game film? Nope. Not...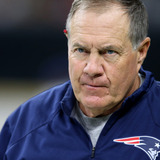 The Patriots under Bill Belichick have been one of the smartest teams in football. They rarely commit mental mistakes or take costly penalties to make things easier for their opponents.But they did that during Thursday night's game against the Bucs, and Belichick went nuts on the sideline afterwards.On the final play of the first half, the Patriots were called for a roughing the...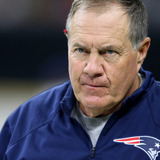 New England Patriots head coach Bill Belichick on Tuesday sidestepped inquiries from the media about the team's national anthem protest last Sunday by incorporating a familiar refrain he often uses to move on from a particular issue.Sixteen Patriots players knelt during the anthem prior to the team's 36-33 victory over the Houston Texans at Gillette Stadium. Belichick was asked during...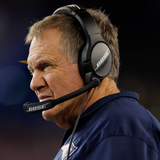 New England Patriots coach Bill Belichick was not in a pleasant mood after his team's 42-27 season-opening loss at home to the Kansas City Chiefs, and the media did little to improve his mood.Belichick was particularly critical of a question relating to a 2014 Week 4 loss to Kansas City, a game which brought about Belichick's famous "on to Cincinnati" press conference — and saw the...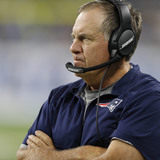 Bill Belichick is back at it again with the deadpan humor.Speaking with reporters on Sunday, the New England Patriots head coach addressed the trade that sent Jacoby Brissett to the Indianapolis Colts for Phillip Dorsett. When asked why he decided to deal Brissett, Belichick replied matter-of-factly, "To acquire Dorsett," per Ryan Hannable of WEEI."If you want something you have...
MORE STORIES >>
Patriots News

Delivered to your inbox

You'll also receive Yardbarker's daily Top 10, featuring the best sports stories from around the web. Customize your newsletter to get articles on your favorite sports and teams. And the best part? It's free!