Brian Urlacher — the same intimidating, bald Brian Urlacher that was one of the most ferocious linebackers in the NFL for 13 seasons — is now rocking a full head of hair. In an exclusive interview with WGN News this week, Urlacher spoke about a hair restoration procedure he recently underwent. No, this is not a "Saturday Night Live" skit. Yes, it is incredibly bizarre. ...
The Chicago Bears are a difficult franchise to forecast. The team is only partially in a rebuilding mindset while it's also obvious that some of the pieces for a solid football team are in place. Even so, one of the Bears' greats isn't back, and now, he's hoping his former team doesn't go and win a championship without him. "I'm still rooting for them," Bears...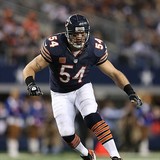 The Chicago Bears already said good bye to Brian Urlacher, but the former great didn't decide to call it a career until yesterday (Wednesday). Personally, I didn't see him really hanging it up; I thought he was likely going to drag his feet filing his papers and as soon as someone got hurt and teams had a need he would be back. After reading some of his comments in the Chicago...
This is Brian Urlacher's official explanation for his NFL retirement: "Although I could continue playing, I'm not sure I would bring a performance or passion that's up to my standards," Urlacher wrote Wednesday when announcing his decision on Twitter. "When considering this, along with the fact I could retire after a 13-year career wearing only one jersey for such a storied franchise...
MORE STORIES >>
Raiders News

Delivered to your inbox

You'll also receive Yardbarker's daily Top 10, featuring the best sports stories from around the web. Customize your newsletter to get articles on your favorite sports and teams. And the best part? It's free!