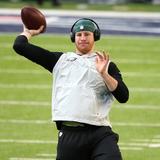 The Philadelphia Eagles are Super Bowl champions. And while quarterback Carson Wentz would carry them a long way, he didn't get to see it out. But that's what 2018 is all about. Coming off a season-ending ACL injury isn't going to make him change things up, however."I definitely won't change, so to speak. That has what made me successful this last season and my whole career. It is...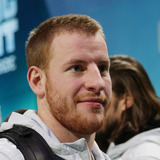 Carson Wentz made an appearance on Philly radio Tuesday morning and provided an update on how his rehabilitation following a knee injury is progressing.Most interestingly, Wentz said the goal remains for him to be on the field with his Philadelphia Eagles teammates at the onset of the 2018 NFL season. "That is definitely my goal. Timetables and all those things are always such a...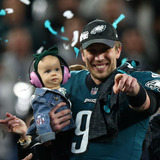 It appears as though congratulations are once again in order for Nick Foles. No, not because he's the Super Bowl LII MVP. Not even because he led his team to their first-ever Super Bowl championship. Though, those factors probably don't hurt. No, it's because that over the weekend, Foles would become an NFL owner! Isn't that exciting?But not just an owner of any NFL team. It's not...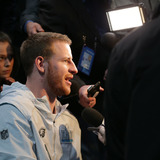 This is very cool. According to a report by TMZ Sports, Philadelphia Eagles quarterback Carson Wentz got called to fill in for Vice President Mike Pence at Thursday's National Prayer Breakfast.Can anyone imagine receiving such a call? Pence will not be available due to his presence being required for the start of the Winter Olympics in South Korea.So, the next man up will be Wentz...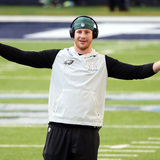 It had to have felt bittersweet for Carson Wentz to stand on the sidelines on Sunday while his teammates defeated the New England Patriots in the Super Bowl, but all in all it has been a pretty good week for the star quarterback — both in his career and personal life.On Tuesday, Wentz announced that he proposed to his girlfriend Maddie Oberg. She said yes. Despite the torn ACL that...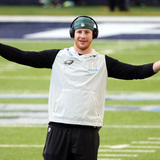 Eagles quarterback Carson Wentz tore his ACL in December, and he has been progressing in his recovery since that time.Apparently he's still throwing passes, which fans at U.S. Bank Stadium for Super Bowl LII saw before the game kicked off. His knee may still be an issue, as he obviously isn't really driving off his leg, but man, he can still sling it.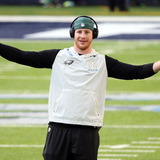 Carson Wentz will not play in Super Bowl LII. But that didn't keep the Philadelphia Eagles quarterback from tossing some passes around on Super Bowl Sunday.Wentz even ran some play action, faking a handoff to nobody. Wentz suffered a torn ACL in Week 14 and has been out ever since. In fact, a report surfaced on Sunday saying that he may not even be ready for the 2018 season.But looking...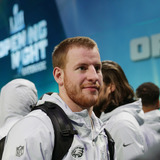 As his Philadelphia Eagles prepare to take on the New England Patriots in Sunday's Super Bowl, quarterbak Carson Wentz continues his long rehab.An MVP candidate for the vast majority of the 2017 season, it's now well known that Wentz went down with a devastating torn ACL back in Week 14. While Nick Foles has performed well in his stead, Wentz is the true franchise quarterback in...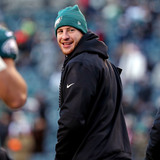 This Friday brings some good news for the Philadelphia Eagles and their fans. Quarterback Carson Wentz was spotted without his cane for the first time since being mobile enough attend team practices. Since his injury, Wentz has still been very much involved with the team. He has fortunately been present at the Eagles' last two games to work with quarterback Nick Foles.Foles discussed...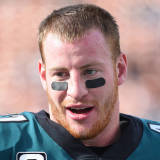 Philadelphia Eagles quarterback Carson Wentz took to Twitter to issue a response to critics who took offense to a tweeted photo of his dog from a hunting trip.The tweet, which featured two photos of Mama Henley, his Golden Retriever — one as a puppy and another of her sitting behind a lineup of shot geese — was posted on New Year's Day to celebrate the canine's birthday. While most...
MORE STORIES >>
Eagles News

Delivered to your inbox

You'll also receive Yardbarker's daily Top 10, featuring the best sports stories from around the web. Customize your newsletter to get articles on your favorite sports and teams. And the best part? It's free!