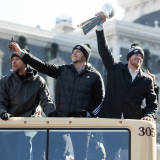 While the Eagles might not name an offensive coordinator, they have likely found their next quarterbacks coach. Assistant quarterbacks coach Press Taylor is expected to be promoted to the primary role, tweets Ian Rapoport of NFL.com. Taylor will replace John DeFilippo, who was hired as the Vikings' new offensive coordinator over the weekend. The 30-year-old Taylor joined Philadelphia...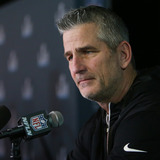 First it was QB coach John DeFilippo going to the Minnesota Vikings to be their offensive coordinator. Now it's offensive coordinator Frank Reich taking over as head coach of the Indianapolis Colts. But Eagles' head coach Doug Pederson knows this is how things work. And he couldn't be happier for both DeFilippo and Reich. He especially knows how deserving Reich is to get his own...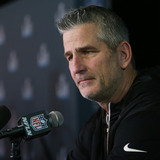 The Indianapolis Colts have reportedly agreed to a deal to make former Philadelphia Eagles offensive coordinator Frank Reich their next head coach.According to Mike Garafolo of NFL Network, Reich and the Colts have reached an agreement on a five-year deal. Reich was considered the favorite as soon as Josh McDaniels abruptly changed his mind about taking the Indy job. The 56-year...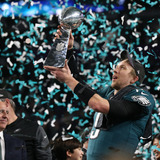 Actor Matthew McConaughey bleeds Texas. A native of the small Texas town, Uvalde, and current resident of Austin, the Academy Award winner graduated from the University of Texas before starting his acting career.Needless to say, McConaughey was pretty pumped when fellow Texas native Nick Foles led the Philadelphia Eagles to a Super Bowl LII win over the New England Patriots last...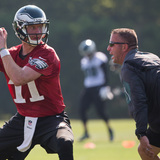 The Minnesota Vikings have a lot to address this offseason. But now they appear to have their new offensive coordinator. And to put it simply, he was very highly sought after. But the Vikings are now set to hire Eagles' QB coach John DeFilippo."Vikings are hiring former Eagles' QB coach John DeFilippo as their OC, per source. Super Bowl brain drain underway in Philadelphia."That...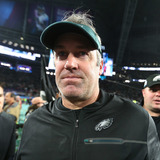 While NBA fans were busy losing their minds during a wild trade deadline, fans in Philly were losing their minds at the Eagles' championship parade.The Eagles defeated the Patriots for their first Super Bowl in franchise history, which had Philly fans going nuts and pulling off crazy stunts. Thursday was the team's parade, and the antics continued. Even head coach Doug Pederson got...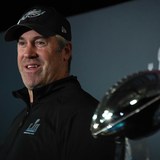 The Philadelphia Eagles are riding high after earning their first Super Bowl title in franchise history with a win over the New England Patriots this past Sunday. With the city of Philadelphia preparing for what should be a lively parade on Thursday, head coach Doug Pederson had some parting words for his team. Pederson might want to talk about this being the new norm, but his presence...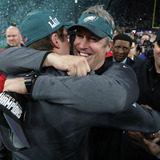 On the NFL's biggest stage with a backup quarterback, Doug Pederson called an aggressive game for the Philadelphia Eagles. The decision seemed bold, but the result was a Super Bowl victory.According to Peter King of the MMQB, Pederson said he deployed the attacking strategy because playing scared only leads to average results."Playing quarterback, watching a lot of teams, a lot of...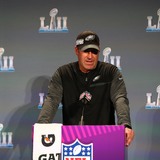 The Eagles had unfinished business heading into Super Bowl LII, but they emerged victorious in the big game, and are now world champions.Eagles head coach Doug Pederson appeared to believe that the team did what it sought out to do, judging by his postgame speech in the locker room."Are we done?" Pederson asked.The Eagles players responded with an emphatic "Yes!", which then led...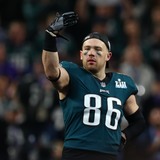 Zach Ertz had some words for NFL voters after his Philadelphia Eagles won the Super Bowl on Sunday.The Eagles tight end blasted the voters for not naming Doug Pederson NFL Coach of the Year, calling it "embarrassing." If postseason play factored into the voting, Pederson certainly would have won Coach of the Year. But because it's based on the regular season, Sean McVay was a very...
MORE STORIES >>
Eagles News

Delivered to your inbox

You'll also receive Yardbarker's daily Top 10, featuring the best sports stories from around the web. Customize your newsletter to get articles on your favorite sports and teams. And the best part? It's free!