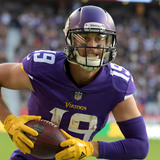 With four teams on their bye there are 14 matchups on the slate in NFL Week 11, including a Sunday Night Football showdown between two NFC East rival teams. The Philadelphia Eagles are smoking hot and will be traveling to Dallas to take on the Cowboys, who might have trouble producing a single star.Out in Houston, the Arizona Cardinals will be trotting out their third-string quarterback...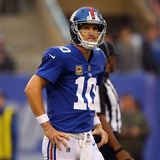 The New York Giants have been a total disaster this season, so it is no surprise that there have been questions about when the team will move on from Eli Manning. While Manning is certainly inching closer to retirement age, there is no reason to think he will lose his job in 2017.According to Ian Rapoport of NFL Network, the Giants have no plans to bench Manning this season "barring...
We've got our eyes set on a handful of teams that could pull off upsets heading into the NFL Week 10 schedule, and one will likely surprise you.Can the Buffalo Bills slow down the freight train that is the surging New Orleans Saints? Do the Green Bay Packers have any hope of scrounging their way to a win over a NFC North rival? Will A.J. Green and the Cincinnati Bengals find a way...
New York Giants quarterback Eli Manning is most certainly in the twilight of his Hall of Fame career, and it's been a brutal season for Big Blue. But there's a bit of a silver lining among all the clouds for Manning this Sunday as his Giants travel to face the winless San Francisco 49ers at Levi's Stadium.Manning is going to tie his brother, Peyton Manning, for second place all time...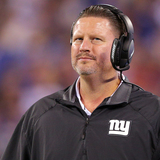 The Giants' 2017 campaign has been a disaster up to this point. New York has a 1-7 record, and the wheels are beginning to fall off for the team.That's stirring up a lot of criticism toward head coach Ben McAdoo. McAdoo, who is now in his second year as the team's head honcho, was a bit of an experimental hire to begin with, as he was formerly an offensive coordinator. And things...
The time has not yet come for Eli Manning to step down as the starting quarterback of the New York Giants, but it is drawing nearer.Although general manager Jerry Reese and head coach Ben McAdoo remain committed to Manning this season, it's become apparent that the 36-year-old Manning is on the downside of his remarkable career. And while many of the team's offensive struggles can...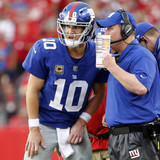 Giants quarterback Eli Manning could soon lose his starting job if he doesn't improve his play on the field, but he doesn't seem to be feeling the pressure.Manning, who has completed 63.2 percent of his passes this season, isn't the main reason the Giants have a 1-7 record, but the 36-year-old's lack of mobility isn't doing wonders for the offense, either.Head coach Ben McAdoo told...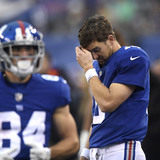 The New York Giants are bad. And right now, they can't really change that. Eli Manning is doing the best he can. However, the season is all but lost. After falling to the Los Angeles Rams 51-17 on Sunday, the Giants would move to 1-7 on the season. With that loss, they are three games out of third—in the division.Simply put—the postseason is not a possibility. It's not happening...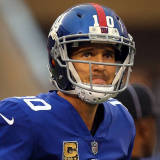 The New York Giants were destroyed by the Los Angeles Rams at home on Sunday, and Ben McAdoo was so frustrated afterwards that he put everyone on notice — including Eli Manning.McAdoo said following the 51-17 blowout loss to the Rams that he would look to get some players reps. He was asked whether that includes the quarterback position, and he said "that includes everybody." Manning...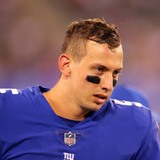 It's been a disastrous season for the New York Giants. Following a blowout loss against the Los Angeles Rams to move New York to 1-7, coach Ben McAdoo seemed to imply that Eli Manning may be benched.In his post game press conference, McAdoo made it known that all jobs are on the line, including Manning's. Based on his performance, it's hard to argue with this. Manning is far from...
MORE STORIES >>
Giants News

Delivered to your inbox

You'll also receive Yardbarker's daily Top 10, featuring the best sports stories from around the web. Customize your newsletter to get articles on your favorite sports and teams. And the best part? It's free!