JOHN HARBAUGH MONDAY PRESS CONFERENCE: WEEK 3 Opening statement: "Thanks for coming out; I appreciate it. In studying the game, I'm really happy with the effort. I thought it was outstanding throug...
Head Coach John Harbaugh gave a status report on guard Marshal Yanda, shared his impressions after watching the tape of cornerback Brandon Carr and rookie linebacker Tim Williams, and gave an update on London native Jermaine Eluemunor.
BALTIMORE RAVENS Head Coach John Harbaugh (opening statement) "We're number one in the league in game presentation – the fire coming out of the ravens [in the pre-game introductions] truly was awes...
The Baltimore Ravens have receive terrible news after their 24-10 victory over the Cleveland Browns. Star lineman Marshal Yanda is out for the season. John Harbaugh said Yanda suffered an ankle fracture.
The first week of NFL season brings on a mountain of overreactions. One game is too small a sample size to draw serious conclusions. But after a long offseason, hot takes become an impulse for fans and writers alike. Over the next few weeks, most of those will be proven wrong. The New England Patriots will be fine, the Jacksonville Jaguars aren't Super Bowl contenders, etc.There...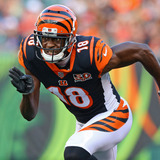 The Baltimore Ravens and Cincinnati Bengals will do battle in Week 1 of the NFL season on Sunday. Much like every division battle in the AFC North since John Harbaugh took over as the Ravens' head coach back in 2008, it's been a bitter rivalry.This doesn't mean that Harbaugh himself fails to have admiration for those his squad suits up against.In talking to the media in the...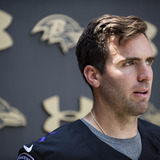 Cutdown day is usually a day full of difficult news across the NFL. The opposite was true for the Baltimore Ravens on Saturday.Quarterback Joe Flacco returned to practice on Saturday. The team shared video of Flacco stepping onto the practice field: Flacco has been out since camp opened in July because of a disk issue in his back. All along Ravens head coach John Harbaugh said Flacco...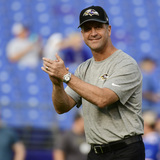 John Harbaugh has received a little more long-term job security from the Baltimore Ravens.The Ravens on Monday announced that they have extended Harbaugh's contract with the team, which originally ran through 2018. Both NFL Media's Ian Rapoport and ESPN's Adam Schefter said the extension is for one year and carries Harbaugh's contract through 2019.Harbaugh, 54, has been the...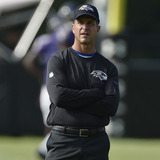 Baltimore Ravens head coach John Harbaugh has long been a staunch supporter of American military forces. So it's not surprising he canceled practice Monday to take his team to the Pentagon and the Tomb of the Unknown Soldier.Of particular note for this field trip is that Naval Academy graduate Keenan Reynolds and former Marine Otha Foster will be participating in a ceremony at...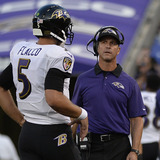 The Baltimore Ravens expect to see Joe Flacco return to the field this preseason, and head coach John Harbaugh is encouraged by the health reports he's getting.Speaking to reporters Wednesday, Harbaugh couldn't say exactly when Flacco will return. However, he did say, "All indications from Joe and our trainer Mark Smith have been very positive," per ESPN's Jamison Hensley...
MORE STORIES >>
Ravens News

Delivered to your inbox

You'll also receive Yardbarker's daily Top 10, featuring the best sports stories from around the web. Customize your newsletter to get articles on your favorite sports and teams. And the best part? It's free!