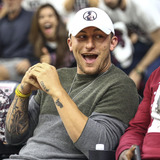 Johnny Manziel and his representatives have forced the hand of the Canadian Football League. It is now debating whether to allow the former NFL quarterback to sign with the Hamilton Tiger-Cats, or any other CFL team. This is happening because Manziel's representatives recently activated the 10-day window for the Tiger-Cats to either sign, trade or release him. The CFL issued a...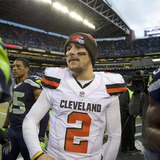 It wasn't too long ago that Johnny Manziel stated he had interest from Canadian Football League teams, but that he was confident a National Football League would reach out with an offer.That didn't happen, though.So now it seems Manziel is ready to humble himself and check out life outside of the NFL. He doesn't appear to be an Arena Football League guy, so that leaves the...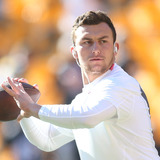 It appeared earlier this week that Johnny Manziel missed out on the latest chance to resurrect his professional football career. The Canadian Football League's Hamilton Tiger-Cats reportedly declined to sign Manziel following a workout last week over "too many red flags" involving the unemployed signal-caller.But a new report indicates that talks are ongoing between Manziel...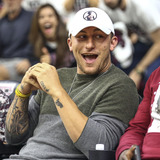 The Hamilton Tiger-Cats of the Canadian Football League worked out Johnny Manziel last week, per a TSN report, but the team reportedly opted to pass on the former NFL quarterback."Too many red flags," a source told TSN.The Tiger-Cats put Manziel through a workout as well as mental tests in Buffalo during their Aug. 23-24 bye week. The workout reportedly was attended by Tiger...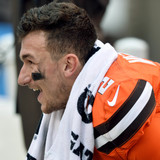 Art Briles apparently wasn't the only controversial figure the CFL's Hamilton Tiger-Cats were interested in bringing in this season, as the team reportedly worked out former NFL quarterback Johnny Manziel last week.According to TSN, the Tiger-Cats worked Manziel out during their bye week on Aug. 23 and Aug. 24 and put him through "a series of physical and medical tests."...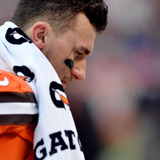 Will we ever see Johnny Manziel back in the NFL as a player again? Jon Gruden doesn't think so.Gruden was serving as the analyst for the Monday night preseason football game between the Cleveland Browns and New York Giants. During the game, ESPN showed a graphic of all the quarterbacks who have started for the Browns in the last two decades. Manziel was shown in the graphic, which...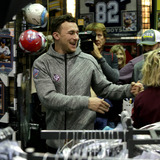 Former Browns quarterback Johnny Manziel is still attempting to work his way back into the NFL, and while it seems unlikely that he'll be fighting for a job in training camp this year, crazier things have happened.Another free-agent quarterback — Colin Kaepernick — is currently on the market looking for a team to offer him a deal as well.And for some reason, even though Manziel...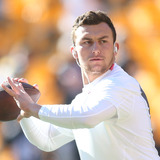 Johnny Manziel has given some thought to what he will do in his life if he never gets a chance to play professional football again. The former Heisman Trophy winner says he would want to work in sports, likely as a coach at the college level.Manziel was down at an international football betting conference in Costa Rica and appeared on a panel for a Q&A hosted by Clay Travis....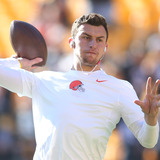 Johnny Manziel has not found himself in the news or tabloids for quite some time, and that is probably a good thing. Does it mean he is any closer to being given another shot in the NFL?Not exactly, but never say never.Mike Freeman of Bleacher Report was told that Manziel's representatives are the ones who have reached out to NFL teams recently and that there "remains little...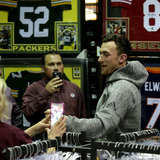 Could Johnny Manziel make his NFL return this year? Maybe not, but he's been talking to a couple of teams about it, according to Jon Machota of the Dallas Morning News. It's hard to imagine these conversations are anything more than cursory at this point.While we have been hearing about how Manziel has stopped drinking and is dedicating himself to the game again, his history...
MORE STORIES >>
NFL News

Delivered to your inbox

You'll also receive Yardbarker's daily Top 10, featuring the best sports stories from around the web. Customize your newsletter to get articles on your favorite sports and teams. And the best part? It's free!