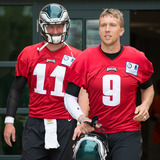 Quarterback Nick Foles has bounced around the league so much the past few seasons, he is now back with the Philadelphia Eagles team that originally drafted him in 2012.A rocky history with one team in particular, had Foles contemplating retirement at one point. He shared this about losing his passion to continue playing football."A lot of people don't know this — I'm going to share...
Nick Foles is returning to the Philadelphia Eagles to play the role of backup quarterback, the team announced on Monday.Foles was originally drafted by the Eagles in the third round in 2012, and current head coach Doug Pederson was the quarterbacks coach for the team at the time. He went 14-4 in 18 starts with the Eagles, including a memorable 2013 season in which the former Arizona...
Nick Foles is out on the open market after being released by the Rams Wednesday. Foles asked to be released knowing that he wasn't in the Rams' future plans after they drafted Jared Goff with the first overall pick. Foles threw seven touchdown passes and 10 interceptions in 11 games for the Rams last year, eventually losing his job to Case Keenum. Once upon a time, Foles threw...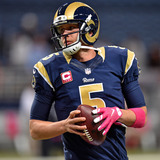 The Los Angeles Rams put an end to the Nick Foles era on Wednesday, releasing the quarterback after one season. Foles, who the Rams acquired in a trade with the Philadelphia Eagles last offseason, had requested his release, unhappy that the team used its No. 1 overall pick this year to select quarterback Jared Goff. The Rams had hoped to get the 2013 version of Foles when they...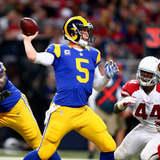 The Los Angeles Rams still hope to find a trade partner for quarterback Nick Foles, but they plan on bringing him into camp at this time, Vincent Bonsignore of the Los Angeles Daily News reports. FYI on #Rams QB Nick Foles:Barring a last-second trade, plan is to bring him to camp and wait out a QB vacancy/trade partner elsewhere — Vincent Bonsignore (@DailyNewsVinny) July 17...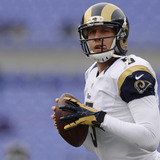 If Nick Foles needs a shoulder to cry on, he should probably give Sam Bradford a call. Jim Trotter of ESPN.com reports that Foles has not attended any Los Angeles Rams practices since the team drafted Jared Goff with the No. 1 overall pick. Foles reportedly skipped the start of organized team activities on Tuesday, which is odd considering he was at almost every offseason workout...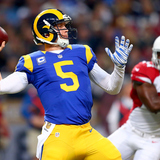 Don't expect Nick Foles to hang around the Los Angeles Rams. Foles, who is the odd man out in the Rams' quarterback carousel, is likely to be moved before training camp starts and a certainty to be off the roster before week one, according to ProFootballTalk's Mike Florio. Florio notes that the Rams are in no real hurry, however, as Foles's $6 million roster bonus kicked in last...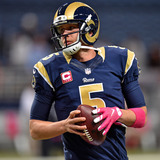 The Rams are back in Los Angeles next season, possibly with a new quarterback. Nick Foles, who the team acquired in a trade with the Philadelphia Eagles last spring, lost the starting quarterback job to Case Keenum about halfway through the 2015 season. And when Keenum had to sit because of a concussion, Foles was beyond terrible over a two-game stretch, throwing four interceptions...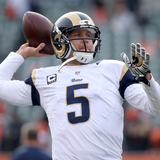 Philadelphia Eagles fans might not want to hear this, but their team reportedly has interest in bringing Nick Foles back for the 2016 season, per Adam Schefter of ESPN: A name to watch with Eagles' off-season QB maneuvers: Nick Foles. Eagles' HC Doug Pederson drafted Foles and is interested, per NFL sources. — Adam Schefter (@AdamSchefter) February 7, 2016 It's kind of funny...
The St. Louis Rams are handing the quarterback reins over to Case Keenum, but head coach Jeff Fisher emphatically denied that the franchise regrets acquiring Nick Foles. According to ESPN's Nick Wagoner, Fisher said "by no means" are the Rams having second thoughts about giving Foles a two-year, $24.5 million extension before he even stepped on the field. "By no means do we regret...
MORE STORIES >>
Eagles News

Delivered to your inbox

You'll also receive Yardbarker's daily Top 10, featuring the best sports stories from around the web. Customize your newsletter to get articles on your favorite sports and teams. And the best part? It's free!