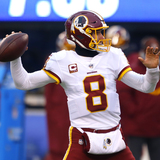 Things in Denver are about to get interesting once the Broncos are able to pursue quarterback Kirk Cousins or any other free agents on March 14.Broncos players have been trying to make a push for a new quarterback to improve their team. All the while, the Broncos current quarterbacks, who are not deaf or blind, know what is going on around them. Their time as starters for Denver...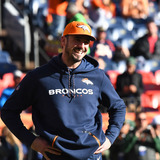 The Broncos have suffered through another down season in 2017. However, the team will get one final look at second-year quarterback Paxton Lynch in their final regular season game, according to Mike Klis of 9News (Twitter link). Head coach Vance Joseph confirmed to reporters on Tuesday that he plans to start Lynch this weekend. Klis passes along that Joseph thinks Lynch's injured...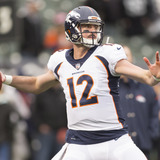 The Denver Broncos need to seriously consider picking a quarterback in the 2018 NFL Draft, but they want one final look at Paxton Lynch this season.According to Aric DiLalla of the team's official site, head coach Vance Joseph suggested Lynch will play if healthy."Our goal is to see him play, so absolutely. If he's ready to go next week, he will probably play for us."Lynch has been...
Denver Broncos quarterback Paxton Lynch took some shots for getting emotional on the sideline after being knocked out of Sunday's game, and his agent came to his defense.Leigh Steinberg said Lynch's reaction to the injury was a sign of his passion for the Broncos, and hit out at those labeling the quarterback a bust midway through his second season. Cameras caught an emotional Lynch...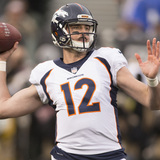 The first start of 2017 for Denver Broncos quarterback Paxton Lynch did not go according to plan. He was 9-of-14 for only 41 yards with no touchdowns and an interception in a loss to the Oakland Raiders. Lynch also left with an ankle injury, which will sideline him for 2-4 weeks.After a lackluster first year in which he struggled in his limited opportunities, it's not been a great...
Although Denver Broncos quarterback Paxton Lynch was wearing a walking boot after Sunday's loss to the Oakland Raiders, the ankle injury he suffered during the game was reportedly not serious.According to Ian Rapoport of NFL Network, the Broncos consider Lynch day-to-day. Lynch was knocked out of Sunday's game in the third quarter, and he appeared to be overcome with emotion after...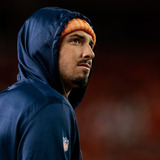 Denver Broncos quarterback Paxton Lynch left Sunday's game against the Oakland Raiders early with an ankle injury. After he was pulled, Lynch was seen on the sidelines with tears in his eyes. It's hard to not feel for Lynch after this.This was only the third start of Lynch's career and the first of the season. Even before the injury, things were not going his way. Lynch finished...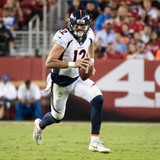 The reasons for the Denver Broncos' pursuit of Brock Osweiler are increasingly clear with the news of Paxton Lynch's injury.NFL Network's Ian Rapoport reported Saturday that Lynch is likely to miss five weeks with a bruised shoulder, though no stint on injured reserve will be necessary. With Lynch out, at the start of the day, Kyle Sloter was the Broncos' lone healthy backup, and...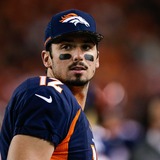 As one would expect from a young quarterback, Paxton Lynch is still dealing with growing pains.The second-year Denver Bronco was characterized by 9 News's Mike Klis as "a work in progress" after the OTA period. Klis also believes the pending quarterback competition will depend less on Trevor Siemian and more on how good Lynch can be.Klis seems to characterize Lynch as inconsistent...
MORE STORIES >>
Broncos News

Delivered to your inbox

You'll also receive Yardbarker's daily Top 10, featuring the best sports stories from around the web. Customize your newsletter to get articles on your favorite sports and teams. And the best part? It's free!