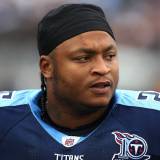 Former NFL running back LenDale White estimates he suffered 20-30 concussions during his playing career.White was a star at USC, former a successful duo with Reggie Bush on the Trojans. He then became a 1,000-yard rusher with the Titans in the NFL, teaming with Chris Johnson.White was interviewed by the Los Angeles Times' Zach Helfand recently as a preview to this weekend's USC...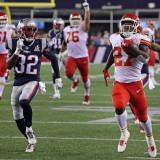 Congratulations if you drafted Chiefs rookie running back Kareem Hunt in your fantasy league. Through exactly one game played, you are a certified genius.The third-round pick out of Toledo didn't just have a solid debut. After fumbling on his first carry, Hunt then proceeded to shred the Patriots to the tune of 246 total yards from scrimmage along with three touchdowns on his way...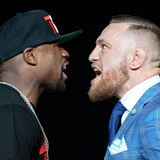 Floyd Mayweather Jr.'s victory over with MMA champion — and boxing rookie — Conor McGregor captivated audiences due to its novelty, gambling, trash-talking and relentless hype. While boxing promoters are the masters of over-hype, here's a look at some of the most over-hyped events in sports history. Hyped events that lived up to the billing are excluded — this is for the events...
The Texas Rangers got quite the return in exchange for reliever Ernesto Frieri — enough to buy two tacos from their local Jack In The Box.According to a report by the Associated Press on Tuesday, the Rangers traded the right-hander Frieri to the Seattle Mariners for the whopping sum of $1.The 32-year-old Frieri had gone 0-1 with a 5.14 ERA in six appearances for Texas this season...
Some people might think that Reggie Bush already has retired. Not only has he not retired, but he plans to keep playing. The 32-year-old running back isn't ready to call it a career just yet even if the statistics suggest he doesn't have much left in the tank. Bush ran the ball 12 times for minus-3 yards for the Bills last season with one touchdown. Despite those numbers, he says...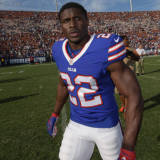 Free agent running back Reggie Bush is a player that has not been in news headlines in a while. Bush, who turned 32 in March, came out of the woodwork and said he still wants to play."That's my plan," Bush said on NFL Network's Up To The Minute Live, per Kevin Patra of NFL.com. "Going into year 12, I still feel like I have a lot left to prove, a lot left to give this...
Reggie Bush is heading to the East Coast to play with the Buffalo Bills for the 2016 NFL season as a backup to LeSean McCoy. Jason La Canfora had the scoop first, with NFL Media's Ian Rapoport confirming the report a few minutes later with these details: The #Bills are signing RB Reggie Bush to a 1-year, incentive-laden deal, source said. Physical was fine, he'll likely practice...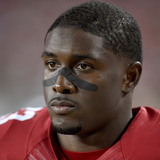 The Buffalo Bills are getting close to signing free agent running back Reggie Bush, according to a report. Vic Carucci of The Buffalo News cites a source who says Bush's agent and the Bills are discussing the details of a deal. #Bills and RB Reggie Bush's agent "working out the deal points" of a contract, according to an #NFL source. — Vic Carucci (@viccarucci) July 26,...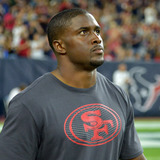 The Buffalo Bills are dealing with some major uncertainty at the running back position less than two weeks before training camp itself opens. With Karlos Williams suspended the first four games of the season and LeSean McCoy coming off an injury-plagued 2015 campaign, Buffalo is definitely in need of some depth in the backfield. Enter into the equation a veteran running back in...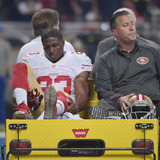 Reggie Bush is still considering legal action against the operators of the Edward Jones Dome over the injury he suffered after slipping on concrete around the field. Bush suffered an meniscus tear after slipping on the concrete track surrounding the turf on November 1. He hired a lawyer almost immediately with the intention of pursuing some sort of legal action, but he hasn't...
MORE STORIES >>
Bills News

Delivered to your inbox

You'll also receive Yardbarker's daily Top 10, featuring the best sports stories from around the web. Customize your newsletter to get articles on your favorite sports and teams. And the best part? It's free!