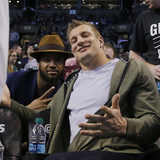 Following Rob Gronkowski's ambivalent statements regarding his future in the NFL after the Patriots' Super Bowl loss to the Eagles, tight end may become a position of need for the team this offseason.Tom E. Curran of NBC Boston explores how Gronkowski's retirement would shake up the Patriots' roster and what options they would have to replace him. Along with Gronkowski, Dwayne Allen...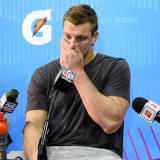 When New England Patriots tight end Rob Gronkowski refused to commit to playing next season shortly after Super Bowl LII, it threw a lot of people around the league for a loop. Was the emotions of losing a hard fought game against the Eagles getting the best of Gronk? Maybe he is indeed serious about retiring.According to ESPN's Jeff Darlington, Gronkowski had mentioned to teammates...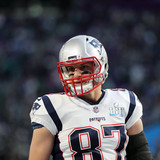 If Rob Gronkowski doesn't want to return to the football field, it looks like he has a deal waiting for him with WWE. According to Dave Meltzer, talks have already commenced."28, Gronkowski has been a five-time first-team All-Pro tight end with the New England Patriots. Including in the just concluded season where they just lost in the Super Bowl to the Philadelphia Eagles."But that...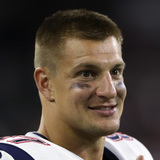 New England Patriots tight end Rob Gronkowski on Tuesday paid a visit to three children's hospitals to present checks totaling $75,000 in donations. The three hospitals that received the checks — courtesy of the efforts by the Patriots star's Gronk Nation Youth Foundation — were The Barbara Bush Children's Hospital at Maine Medical Center, Hasbro Children's Hospital in Rhode Island...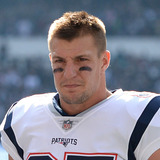 The 2018 offseason of Gronk has him feeling in a charitable mood. According to TMZ Sports, New England Patriots tight end Rob Gronkowski will visit three children's hospitals all within 24 hours.Even better than Gronkowski just making visits, is he is donating $25,000 to each hospital. Per the report, the money was raised when Gronk and his brother and father raffled off tickets...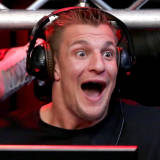 At least one Hollywood star would love to see New England Patriots tight end Rob Gronkowski quit his NFL career to pursue acting. Gronk wouldn't commit to playing in 2018 after the Super Bowl, and it's been rumored he could try his hand at a Hollywood career.David Arquette was approached by TMZ Sports about this subject."I would cast him in a freaking second," Arquette said.When...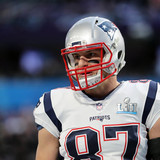 Rob Gronkowski doesn't have anything left to prove in the NFL. But now there's reason to believe the All-Pro tight end might actually be retiring after all. In fact, rumors are swirling that Gronkowski is set to pursue acting after his football career is over. This is according to Bill Burt of the Eagle Tribune."Gronkowski, nicknamed "Gronk," has been told by two Hollywood superstars...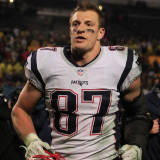 Rob Gronkowski was surprisingly noncommittal when he was asked after the Super Bowl if he will return to the New England Patriots in 2018, but could that actually mean the star tight end is considering a career change?According to a report from Bill Burt of local Massachusetts newspaper The Eagle-Tribune, Gronkowski is thinking about giving up football to pursue a career in acting...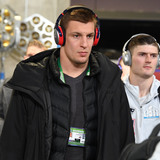 A rough week got a little bit worse for Rob Gronkowski when he returned to Foxboro on Monday, as the Patriots tight end reportedly discovered that his home had been burglarized.FOX 25 news in Boston obtained video footage of police arriving at Gronkowski's home on Monday after they received a call of a break-in. According to the police audio recording, a dispatcher said the homeowner...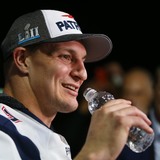 Rob Gronkowski knows what he's doing. Now officially cleared for Super Bowl LII on Sunday, the party boy is making sure everyone understands the implications of his invite list. Sixty-nine people. That number is not an accident. Here's a dude that said he would be willing to pay $69,000 to wear a No. 69 jersey after he scored his 69th career touchdown. This is not fake news.Let's...
MORE STORIES >>
Patriots News

Delivered to your inbox

You'll also receive Yardbarker's daily Top 10, featuring the best sports stories from around the web. Customize your newsletter to get articles on your favorite sports and teams. And the best part? It's free!