Found January 02, 2013 on Section 303:
#2: Preds take two games in Detroit, knock off their arch-rival in five Ever since the Nashville Predators joined the NHL in 1998, the Detroit Red Wings have been the benchmark. Since the Preds' first took the ice, all Detroit's done is win two Stanley Cups, three Western Conference championships and a whopping 10 Central Division titles. Easy to see why they were the benchmark, eh? So, for 15 years, the Predators have been chasing them. On April 21, 2012, they caught them. And beat them. The Red Wings had lost just seven games at home all season long yet the Predators found a way to beat them at Joe Louis Arena in games three and four to come home to Music City poised to win the series. Pekka Rinne was stellar, as usual. He collected just 21 saves but was solid when he needed to be, stopping pucks through traffic, making key saves at key times and even taking abuse from Tomas Holmstrom without giving it back and taking a needless penalty. "The big guy between the pipes was unbeliev...
Original Story:
http://www.section303.com/303s-top-12...
THE BACKYARD
BEST OF MAXIM
RELATED ARTICLES
Wearing #13 in a uniform that resembles the Red Wings' whites in every facet except for the logo on the front and pulling off a nifty move in a shootout will have Wings fans yearning for Pavel Datsyuk.  But instead of Datsyuk on the Joe Louis Arena ice, it came from Gustav Nyquist on the Van Andel Arena ice in Grand Rapids. Nyquist would most likely be playing for the Wings (and...
from Peter J. Wallner of Mlive, Riley Sheahan hopes his latest scoring surge and temporary promotion to the No. 1 line on the Grand Rapids Griffins is a sign 2013 will be a better year. The 21-year-old Detroit Red Wings prospect said he is "embarrassed" about his "superdrunk" arrest after a traffic stop in downtown Grand Rapids last fall. "I have two...
from a Braehead Clan press release, As you may be aware, Braehead Clan have been lucky enough to have NHL player and Detroit Red Wings star Drew Miller on the Clan Roster for the last few months, thanks to the NHL lockout. As talks around the table between NHL owners and the NHL Players Association continue, it looks like a resolution may be on the cards, and the NHL season...
When the Nashville Predators took Saginaw Spirit forward Josh Shalla in the fourth round of the 2011 NHL Entry Draft, they probably envisioned him in a Milwaukee Admirals sweater, cutting his teeth and learning the speed and skill of pro hockey. But, due to the lockout, they find their prospect tearing up the East Coast Hockey League, the NHL's "AA" league, instead. As a result...
#3: Preds ownership group puts their money where their mouth is Before July 1, the ownership group went on record saying they would match any offer for Nashville Predators captain Shea Weber. On July 24, they kept their word. When Weber signed a 14-year, $110 million deal with Philadelphia on Wednesday, July 18, he was basically saying, "I will be a Flyer for the rest of my career...
#5: Poile rolls the dice at the trade deadline Even after the trade deadline, there was one glaring need for the Nashville Predators. Of course, there's always been this one certain need for the Predators. A dynamic, scoring winger. The closest Nashville ever was to possessing a scoring winger was in 2008, the last season they had Alexander Radulov before he bolted for his native...
We didn't get to see the Detroit Red Wings and Toronto Maple Leafs outdoors at the Big House on New Year's Day, but soon well have a chance to witness the next best thing. Or, in this case, the next weirdest thing. January 6, in Portage, Mich., just outside of Kalamazoo, there will be an outdoor basketball game on ice. The game will feature the team that has played just...
Red Wings GM Ken Holland, a huge component to the Wings' continued success for over a decade when he took over the role in 1997 was booed this past Sunday during the Lions' 26-24 loss to the Chicago Bears from Ford Field. The booing by many of the 65,000 occurred when Holland was shown on the Ford Field big screen as the Lions were in the wake of another disappointing weekend...
via Michael J. Happy of FoxSports Detroit, On Sunday at Ford Field, not far from the Red Wings' home at Joe Louis Arena, Holland was booed by many of the 65,000 fans attending the Lions-Bears game.  He didn't fumble or throw an interception for the Lions, either. All it took for fans to let him have it was a big-screen image of him sitting in a stadium suite and...
#4: NHL lockout may have killed Nashville's momentum There are two major professional sports teams in Nashville, Tennessee. And one of them, the perennial fan favorite, was terrible. The Tennessee Titans recently closed out their abysmal NFL season 6-10. Things were so awful, they lost to a horrendous Jacksonville Jaguars team in a week 12 game that was critical for their playoff...
#1: Codey and Jeremy become dads DISCLAIMER: We've been calling it "303′s Top 12 Moments of 2012″ for a reason. As you know, Codey and I run this site. Codey sits in 303 and is the voice of the fan while I sit on blogger's row where I can bring you access to the players and coaches. Not only are we partners-in-crime at the rink, but we're good friends away from the rink...
NHL News

Delivered to your inbox

You'll also receive Yardbarker's daily Top 10, featuring the best sports stories from around the web. Customize your newsletter to get articles on your favorite sports and teams. And the best part? It's free!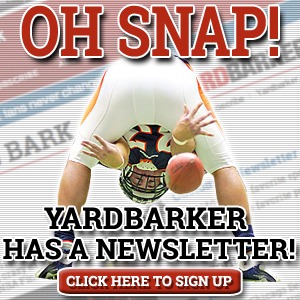 Latest Rumors
Best of Yardbarker

Today's Best Stuff

For Bloggers

Join the Yardbarker Network for more promotion, traffic, and money.

Company Info

Help

What is Yardbarker?

Yardbarker is the largest network of sports blogs and pro athlete blogs on the web. This site is the hub of the Yardbarker Network, where our editors and algorithms curate the best sports content from our network and beyond.