Found January 31, 2013 on Shutdown Line:
The development of former Carolina Hurricanes first round pick Zach Boychuk has been scrutinized heavily in recent seasons. This is his fifth year in the organization and in that time, he has been able to succeed in the AHL but that hasn't translated to success at the next level as Boychuk has played only 73 games in the NHL, scoring seven goals and 18 points during that span. This year was sort of seen as a "final chance" for him with the Hurricanes because he was extended on a one-year contract and he is nearing the age where most high end prospects either reach their peak or fizzle out. Despite leading the AHL's Charlotte Checkers in scoring and entering this season with a lot of promise, it appears that history has repeated itself for Boychuk because he was waived yesterday morning while Andreas Nodl was called up.  Boychuk has only gotten to play one game with the Hurricanes this season where he was placed on the first line and failed to make much of an impact. He was benched the next game in favor of enforcer Kevin Westgarth and hasn't been used in the lineup since then. You can argue that Boychuk was never given much of a chance with the Hurricanes and this is a valid point because he was stuck on the fourth line for most of Paul Maurice's tenure and was abruptly bench and sent down to the minors after playing a few games with Kirk Muller as head coach. I'd like to think that Boychuk could succeed if he's given top-six minutes but it is clear that opportunity isn't going to happen for him in Carolina and he might be better served either in the AHL or getting a fresh start with a new team who will give him top-six minutes. It seems like the team was hesitant to waive Boychuk for awhile in fear of him getting claimed off waivers. No team ever wants to lose their players for nothing, especially a former first rounder, but it isn't fair to Boychuk to keep him on the bench for the rest of the year when he could still provide a lot of help to another organization. Boychuk getting claimed off waivers wouldn't be the worst thing in the world either since the Hurricanes weren't using him (although it's a bad reflection on the team's drafting history). Some say that he may have fetched a decent return in a trade but the time to deal him was either one or two years ago when his value was still somewhat high. No one is going to give up much for a player they could have on waivers for nothing. I still think he has a future as an NHL-er, but it's clear that he wasn't a fit in Muller's system and would be better off somewhere else. Whether that place is the AHL or the NHL is to be determined. The whole Boychuk situation has been frustrating for awhile because his previous track record in the AHL hasn't been terrible in terms of his ability to drive the play forward and the door is somewhat open for him to make the NHL. Boychuk could probably still have a shot at being a third-liner on the Hurricanes with the starts that Chad LaRose and Jussi Jokinen are off to but like I said earlier, Muller does not see him as a fit for his system which is why he was sitting the last few games and why Nodl was called up. Nodl is a player who Muller knows pretty well and fills a need for this team as a defensive forward and someone who can kill penalties. He would thrive in a third or fourth line role while Boychuk has always needed top-six minutes to succeed. If Boychuk manages to pass through waivers without anyone claiming him, then that's a plus for the Checkers since they get their leading scorer back but what happens if he continues to tear it up in the AHL? If he receives yet another call-up will this whole process be again? Or better yet, will the Hurricanes keep him in the AHL and possibly use him as trade bait in another month or so?  Either way, it will be interesting to see what happens with him in the next 24 hours and I wish him the best.
Original Story:
http://www.shutdownline.com/hurricane...
THE BACKYARD
BEST OF MAXIM
RELATED ARTICLES
From the Carolina Hurricanes: RALEIGH, NC – Jim Rutherford, President and General Manager of the National Hockey League's Carolina Hurricanes, today announced that the Pittsburgh Penguins have claimed forward Zach Boychuk on waivers. Boychuk, 23, appeared in Carolina's season opener against the Florida Panthers and was a healthy extra for four games. The Airdrie, Alb...
You probably already know this already, but the Pens have claimed Zach Boychuck off of waivers from Carolina. He's a former first-round pick. There's some speculation that he may be given a shot alongside Malkin and Neal. Boychuck has seven goals and 11 assists in 73 career NHL games. He wears number 11, which is probably why Carolina didn't want him any longer...
One of the reasons why the Hurricanes acquired Jordan Staal this summer is because he is the type of player who can make the rest of your roster better. We've been over this hundreds of times before, but J. Staal's ability to drive the play and create offense despite playing the toughest minutes on the team allows Kirk Muller to free up some of his other lines to easier minutes...
After coming off an emotional win against the Carolina Hurricanes on Monday night, the Bruins will have to rally once again on Tuesday against the Devils. Playing in their first back-to-back of the year, the Bruins will be tested in a way that they haven't yet on the season, while the Devils should be a bit more rested for the game. Still, the B's have been on a roll, and they'll...
Jamie McBain's goal on Monday night's game against the Boston Bruins was a bit of a milestone for the Hurricanes. Not only was it the young defenseman's first goal of the season, but it was also the first time all year that the Hurricanes scored in the first period. That's right, it took five games into the year for the Hurricanes to finally score in the first period...
The Penguins picked 23 year old Carolina Hurricanes Left Winger Zack Boychuk off of waivers today.  Boychuk was a first round 14th overall pick in the 2008 entry draft. Boychuk saw on average 9 minutes playing time in the 16 games he played for Carolina last year and got to play all of 1 game with them this year.  My guess is that Dustin Jeffrey who was about to see time on Malkin's...
Patrice Bergeron was fighting mad Monday night, which is something you just don't see every day. The Bruins forward was fired up about what he perceived to be a slew-foot from Carolina's Jeff Skinner. Bergeron went after Skinner in the waning seconds of the B's 5-3 win over the Hurricanes, attempting to get a piece of Skinner, before the two players were separated by officials...
Last night's 5-3 loss to the Boston Bruins was easily the most frustrating loss for the Hurricanes in this young season. The team got off to a poor start and fell in a 2-0 hole but managed to battle back and had the Bruins right where they wanted them at the second intermission. Unfortunately, they could not capitalize on this opportunity and came out flat for the third period...
Ottawa Senators at Carolina Hurricanes PNC Arena, 7 p.m. TV: FS-Carolinas, Sportsnet-East The sense of optimism in Raleigh after their back-to-back sweep of the Buffalo Sabres didn't last long as the feelings of gloom and doom returned after the Hurricanes 5-3 loss to the Boston Bruins on Monday night. A bad third period performance is usually a good way to lose confidence...
Hurricanes News

Delivered to your inbox

You'll also receive Yardbarker's daily Top 10, featuring the best sports stories from around the web. Customize your newsletter to get articles on your favorite sports and teams. And the best part? It's free!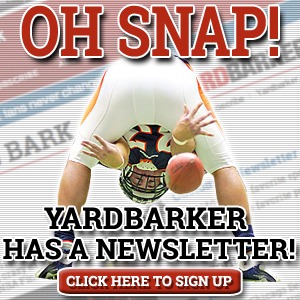 Latest Rumors
Best of Yardbarker

Today's Best Stuff

For Bloggers

Join the Yardbarker Network for more promotion, traffic, and money.

Company Info

Help

What is Yardbarker?

Yardbarker is the largest network of sports blogs and pro athlete blogs on the web. This site is the hub of the Yardbarker Network, where our editors and algorithms curate the best sports content from our network and beyond.