Jake Guentzel and Zach Aston-Reese each scored twice as the Pittsburgh Penguins beat the Ottawa Senators 6-3. ---------------------------------------------- Subscribe to Sportsnet on YouTube - http://sprtsnt.ca/2paAT2L Visit Sportsnet.ca for more sports news and highlights - http://www.sportsnet.ca Follow Sportsnet on Facebook - http://sprtsnt.ca/YTFB Follow Sportsnet on Twitter...
PITTSBURGH (AP) — Jake Guentzel scored twice, Zach Aston-Reese scored his first two NHL goals and the Pittsburgh Penguins beat the Ottawa Senators 6-3 on Tuesday night. Evgeni Malkin scored his 31st and Kris Letang his fourth for the Penguins, who have won seven of nine and 12 of their last 16. Sidney Crosby, who scored his 400th career goal on Sunday, finished with three assists...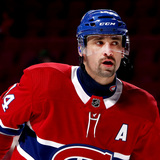 With the trade deadline approaching, we will be profiling several players in the weeks ahead that have a good chance to be dealt by February 26th.The Canadiens went into the season hoping that center Tomas Plekanec would be in line for some sort of resurgence and that he would be able to pick some of the slack to cover their offseason departures. While that hasn't happened, Plekanec...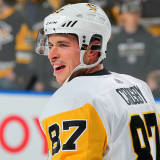 The Pittsburgh Penguins already acquired an Atlantic player when they acquired center Riley Sheahan from the Detroit Red Wings earlier this year. Could GM Jim Rutherford double-dip into the division for yet another center? There are plenty of options available.As everyone knew they would, the Penguins have rebounded from some serious early season struggles and are back in the playoff...
Pittsburgh Penguins forward Jake Guentzel gets a great feed from Phil Kessel and scores a sweet goal to tie the game up at 1-1 against the Vancouver Canucks.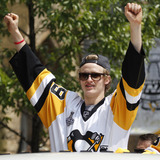 Penguins rookie Jake Guentzel burst onto the Stanley Cup Playoffs scene and led all players in scoring.As such, he was a huge hit at the Stanley Cup parade in Pittsburgh on Wednesday.At one point, he was seen interacting with a group of Pens fans, one of which asked him to autograph a beer."I sign it — you chug it," Guentzel commanded.Sure enough, that's exactly how it went down. Well done.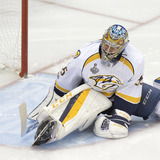 The Nashville Predators system is working. They have dominated five-on-five play and puck possession in the first two games of the Stanley Cup Final. Surely they have a formula for winning, yet they are 0-2 and now face the enormous task of winning four of the next five games against the defending champion Pittsburgh Penguins.Goalie Pekka Rinne is not working. In Game 1, the Penguins...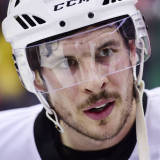 In a wild and whacky first round, the Eastern Conference competitors spent long shifts and more overtimes than we could count trying to tear each other to pieces. In Round 2, however, nuanced ways to settle old rivalries took shape. Now, just two squads remain. One team, the underdog from the previous round. The second, the defending champs. Here is a look at the rosters gearing...
Drafted 77th overall in the third round of the 2013 NHL draft, Jake Guentzel has made an impressive entrance into professional play, scoring four points in his first four games. Guentzel is also now the owner of being the fastest player in Penguins history to score his first career goal, 62 seconds into the first period of his first game. Guentzel played three years of college hockey...
There have been a number of players who have scored an NHL goal. Only a handful of those players have scored their first in their first NHL game. Even less have scored their first goal in their first game on their first shot. But only a select few have scored their first goal in their first game on their first shot in their first shift. Jake Guentzel can now be added to that select...
MORE STORIES >>
Penguins News

Delivered to your inbox

You'll also receive Yardbarker's daily Top 10, featuring the best sports stories from around the web. Customize your newsletter to get articles on your favorite sports and teams. And the best part? It's free!