Found February 01, 2013 on The Awesome Boston:
    A.B. As a dog lover I truly believe they are man's best friend. Dogs are loyal and loving and are happy to see you every time you come home. That being said, dogs can also be bastards. Sometimes they rip apart your couch, sometimes they eat their own poop and sometimes they just won't leave you alone. But Tyler Seguin's brown lab has taken being a "bad dog' to a whole different level. If my dog followed me to the bar on my 21st birthday and started tweeting pictures of me in a Fireman's jacket, I would be pissed. No walks for a week, at least. Follow Tyler's dog on twitter, here. Sidenote – The chick in the bottom left looks like The Scream
Original Story:
http://theawesomeboston.com/according...
THE BACKYARD
BEST OF MAXIM
RELATED ARTICLES
Tyler Seguin turned 21 on Thursday, and he celebrated by playing against the Buffalo Sabres. He also celebrated with 200,000 or so of his closest friends on Twitter, with hundreds and hundreds of fans sending along well-wishes and the occasional marriage proposal. NESN Nation's Dan Duquette dove into the Bruins forward's mentions to find some of the best. Check it out in the...
With the Bruins on the power play, Tyler Seguin was looking to add to Boston's 1-0 lead against Toronto on Saturday. His slap shot from the right circle fooled Leafs goalie James Reimer, but the netminder was able to turn the shot away — in very unusual fashion. The Amica Coverage Cam shows Seguin's shot deflecting off the knob of Reimer's stick and sailing over the net....
BOSTON — The Bruins are a defensive team with a defensive-minded coach who has instituted a system rooted in playing defensive hockey. If you watched the Bruins play the Sabres on Thursday night, though, you would think those statements are nothing more than bold-faced lies. The B's had by far their worst showing of the year Thursday in a 7-4 loss to Buffalo. It was an uncharacteristically...
With the (at least temporary) departure of Tim Thomas, Tuukka Rask is making the most of his opportunity to prove he's a true No. 1 goaltender. The netminder has started five of the Bruins' first six games this season and has yet to lose, compiling a 4-0-1 record and a very impressive .932 save percentage in the process. Of course, given the Bruins' tight defensive system,...
BOSTON — The anticipation and the build-up leading into Thursday night's Bruins-Sabres game was undeniable. Much of that surrounded the possibility of some hand-to-hand combat between two increasingly bitter rivals. However, not much came of that, aside from one quick first-period scrap that might leave the Bruins without one of their toughest players moving forward. Shawn Thornton...
It wasn't always pretty on Saturday night, but a win's a win for the Bruins. Tuukka Rask earned his first shutout of the year, and the B's ran their winning streak to seven games against the Leafs. Chris Bourque scored the lone goal of the game, and the Bruins bounced back in a big way after enduring one of their worst defensive efforts in quite some time their last game. NESN...
The Boston Bruins knew they weren't going to earn a point in all 48 games this season, though the fashion in which their streak ended was a bit discouraging. That's quite the opposite feeling they had after each meeting with the Toronto Maple Leafs last season. Boston heads to Toronto looking to get back to its winning ways with a seventh consecutive victory in this series...
It seems as if each time the Boston Bruins face the Buffalo Sabres the rivalry between the two teams intensifies. In case you've forgotten what brought the rivalry to a boil back in 2011, here's a video reminder of the Milan Lucic hit on Ryan Miller. The two clubs still have plenty of anger brewing in 2013. When they squared off on the final day of January, the Sabres...
Awful. Just awful. We didn't expect the Bruins to go undefeated obviously but damn that was awful. If the Maple Leafs scouts only saw that game, not even they would trade for any of the Bruins defense. That game was the worst thing I've watched since Pearl Harbor. By comparison, Pearl Harbor is one of the greatest films of our time. I am too mad at the Bruins defense to even...
"Yeah, [Lindy Ruff] wants to be a big shot, and that's not the best play to do.  That's pretty disrespectful.  If he wants to be like that, that's fine. We just have to move on." - Brad Marchand, after Ruff called a timeout with 14 seconds left in last night's 7-4 Buffalo win over Boston. I don't know about you, but I'm certainly relieved.  It's good...
Any time the Bruins travel to Toronto, Peter Chiarelli must have a tiny smirk on his face. In September of 2009 Chiarelli, sent forward Phil Kessel (and his six million dollar contract) to the Leafs for their first-round picks in 2010 and 2011, with a second-round pick tossed in for good measure. The next year, Boston drafted former Plymouth Whalers forward Tyler Seguin with the...
Bruins News

Delivered to your inbox

You'll also receive Yardbarker's daily Top 10, featuring the best sports stories from around the web. Customize your newsletter to get articles on your favorite sports and teams. And the best part? It's free!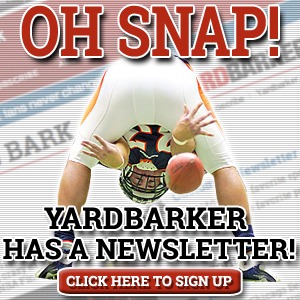 Latest Rumors
Best of Yardbarker

Today's Best Stuff

For Bloggers

Join the Yardbarker Network for more promotion, traffic, and money.

Company Info

Help

What is Yardbarker?

Yardbarker is the largest network of sports blogs and pro athlete blogs on the web. This site is the hub of the Yardbarker Network, where our editors and algorithms curate the best sports content from our network and beyond.