Found June 19, 2012 on Kukla's Korner:
from Terry Koshan of the Toronto Sun, Of all of the uncertainties that are bound to spill out of the National Hockey League draft in Pittsburgh this weekend, there are a couple of storylines that might have a little more solidity. One, if Rick Nash finally is traded by the Columbus Blue Jackets, it's unlikely that it will be to the Maple Leafs. Two, Leafs general manager Brian Burke is entering the most crucial time of his tenure in Toronto, one during which he has to be just about perfect in every move he makes. If the Leafs don't make the playoffs in 2013, and let's assume for now that the 2012-13 season will go off without a hitch, possible work stoppage be damned, Burke should be done as Toronto's general manager. By next April, he will have had more than enough time to reshape, rebuild, retool the Leafs, whatever word might apply. In fact, he already has reshaped the Leafs, but has not constructed a team that is good enough to win. So Burke, who has been blasting away at th...
Original Story:
http://www.kuklaskorner.com/index.php...
THE BACKYARD
BEST OF MAXIM
RELATED ARTICLES
It's expected that the Columbus Blue Jackets will trade their only true All-Star player and face of the franchise Rick Nash on or before the upcoming NHL Entry Draft on June 22nd.  Rumored trade discussions and speculated trading partners have been flying almost as quickly as trying to keep the hottest of DVDs on a Blockbuster store shelf. And while some pundits and local observers...
The Red Wings badly need goal-scorers, and Nash's experience and grit would be welcome additions. Continue reading →
With the NHL season over and the free agency period just two weeks away, it's time to shift our focus on the fun world of NHL rumors.  I don't claim to own a magic ball or have any inside sources that feed me information, I'm going based on what I see are team needs and hunches.  Nonetheless, it's fun to discuss and debate. Today, we're going to look at Rick Nash of the...
from Don Brennan of the Ottawa Sun, The Senators have apparently made a strong pitch for Rick Nash. Multiple solid sources have confirmed rumblings of Ottawa's interest, saying GM Bryan Murray has indeed talked with the Columbus Blue Jackets about acquiring the two-time 40-goal scorer. One insider went a step further by telling Sun Media the players the Senators proposed to send...
By Alexander Monaghan "He's gonna be a good player. And we don't trade kids." – Glen Sather on Chris Kreider Following the New York Rangers' demoralizing Eastern Conference Finals loss, the team's president and general manager remained true to the cause. His team finished the season with 12 homegrown studs and an average age of 28. If he stays the course, his Rangers...
from Darren Dreger of TSN, The future of superstar forward Rick Nash headlines all pre-draft trade speculation. The Columbus Blue Jackets know Nash would prefer a deal get done sooner rather than later, but if Zach Parise becomes a free agent, the Blue Jackets may have to wait beyond July 1 to get a true sense of what the trade market is willing to offer. All seven Canadian NHL...
Oh my god, you guys... you'll never believe what has been said... Ottawa apparently... (fanning my face with my hands)... Ottawa has... (bites lip)... called the Blue Jackets organization to inquire on Rick Nash. Speaking on the Blue Jackets Sunday Morning Skate on WBNS Columbus 97.1 The Fan, Jeff Rimer, the Blue Jackets' play-by-play broadcaster for Fox Sports Ohio, indicated...
from Bob Hunter of the Columbus Dispatch, When Dave King spoke of the Blue Jackets' future in 2000-01, during the team's first season, I remember thinking how unfortunate it was that he wouldn't be around for it. It was clear that he knew his stuff, and just as clear that he couldn't possibly coach an NHL expansion team to enough success to keep from eventually getting fired…...
After another disappointing season that saw the Columbus Blue Jackets at their worst, finishing last in the NHL and seeing their playoff chances disappearing as early as Thanksgiving, the clubs marketing department is putting out a rally cry for fans to get behind. Ladies and gents, the clubs got a new marketing campaign going into a 2012-13 season that may not include Captain Rick...
from Frank Seravalli of Frequent Flyers, At the beginning of one of the most crucial weeks of the offseason, Flyers general manager Paul Holmgren held a press conference on Monday to discuss the team's draft and free agency plans. Here's a few quick hits from Monday's press conference: —Holmgren laughed and said he "knew nothing" when asked about a rumor circulating...
As the offseason ramps up and we get closer to the draft, trade rumors take center stage. While many writers –MSM and bloggers alike– will try to stir up the conversation by using the E.K.L.U.N.D. rumor strategy to try to convince people they are true insiders, we won't even bother with that. We are not insiders. We do not post fake rumors or even "logical" rumors. We take...
If last week's teasers and subtle message-sending by general managers, player agents and even players themselves who may or may not be playing the media to skirt tampering rules whetted your appetite for pre-draft rumors, you're going to love this week and weekend. With the Board of Governors meeting on Tuesday, the NHL Awards on Wednesday and the Entry Draf…I mean Draft taking...
NHL News

Delivered to your inbox

You'll also receive Yardbarker's daily Top 10, featuring the best sports stories from around the web. Customize your newsletter to get articles on your favorite sports and teams. And the best part? It's free!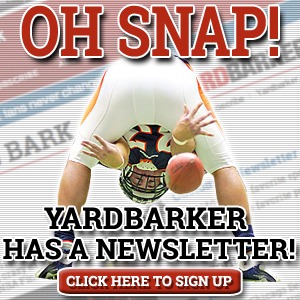 Latest Rumors
Best of Yardbarker

Today's Best Stuff

For Bloggers

Join the Yardbarker Network for more promotion, traffic, and money.

Company Info

Help

What is Yardbarker?

Yardbarker is the largest network of sports blogs and pro athlete blogs on the web. This site is the hub of the Yardbarker Network, where our editors and algorithms curate the best sports content from our network and beyond.