Posted April 09, 2013 on AP on Fox
Cory Schneider has taken the reins as the Vancouver Canucks' No. 1 goaltender, and it doesn't appear he'll be relinquishing them any time soon. He'll make his 12th straight start Wednesday night when Vancouver seeks a fourth consecutive victory visiting the Calgary Flames. Schneider entered the 2013 lockout-shortened season as the team's starting netminder after supplanting Roberto Luongo during Vancouver's first-round playoff loss to Los Angeles. Though Schneider struggled at times to begin this campaign, he has made 25 starts for the Canucks (22-11-6) while posting a 2.06 goals-against average that ranks among the best in the league. Since Luongo made his last start March 18, Schneider is 9-2-0 with a 1.29 GAA and four shutouts, and needed to make only 19 saves in Monday's 2-0 win over Phoenix. Schneider has a 1.63 GAA while winning each of his three starts versus Calgary this season, stopping 36 shots in Saturday's 5-2 victory. "It's just finding ways in games where you are not seeing a lot of shots and your team is playing well that you don't have that brain cramp, or that stand-around moment when you haven't seen a shot in 10 minutes and all of a sudden one sneaks through,'' Schneider said. ''Part of it has just been me learning this year how to avoid those.'' Vancouver has outscored opponents 11-2 during its three-game winning streak and holds a slim lead on Minnesota for the Northwest Division lead. It got Ryan Kesler back Monday after the forward missed 20 games with a fractured foot. Kesler, who scored in the first period, said he's looking forward to contributing during the Canucks' playoff run. "I'm another piece to the puzzle," Kesler said. "There's a lot of pieces on this team and once we have them all together we're a good team." Defenseman Dan Hamhuis, who also scored, said the return of Kesler and recent addition of center Derek Roy have made Vancouver a more dangerous team. ''With Kesler and Derek coming in, it was a lot more balance throughout our lines,'' Hamhuis said. "It makes it easier and more fun, and as a team we're going to have way more puck possession with those guys in the lineup." Calgary, meanwhile, has struggled. It had dropped five straight before Monday's 3-1 victory at Colorado, and it hasn't beaten anyone but the NHL-worst Avalanche since a win over St. Louis on March 24. "Looking at our last two games against Vancouver and San Jose, I thought we could have won," coach Bob Hartley said. "I thought we could have deserved better, but if that's the price of learning then so be it." Mike Cammalleri scored and Roman Horak added two assists for the Flames (14-20-4), who are likely to miss the playoffs for a fourth straight season. ''I don't want to say it was one of those games that we had to win, but we are obviously extremely happy, and hopefully we can get a winning streak going,'' Horak said. ''It was huge for us.'' Joey MacDonald made a season-high 39 saves Monday, but Miikka Kiprusoff could be back in net for this matchup. He lost each game during the previous losing streak while posting a 4.14 GAA. Kiprusoff is 3-8-1 with a 3.96 GAA over his last 12 starts versus the Canucks, who have lost three straight at Calgary.
Original Story:
http://msn.foxsports.com/nhl/story/Ca...
THE BACKYARD
BEST OF MAXIM
RELATED ARTICLES
YouTube sensation Dancing Jack is back at the Canucks game tonight. I went to a hockey game and dancing with the stars broke out. Ryan Kesler scored in his return from a broken foot and Cory Schneider made 19 saves as Vancouver won its sixth straight home game...and we had a cool kid groovin. http://www.youtube.com/watch?v=mLr_6ncQMVY The Return of Dancing Jack (Apr 8, 2013...
Third period outburst nets another win for the Canucks It didn't start out as a great night tonight in Calgary. First Cory Schneider, who had started 11 consecutive games for Vancouver, was scratched with the flu. Then we witnessed 30 minutes of really dull and boring hockey, then all of a sudden we had some life. Maxim Lapierre snapped a tie at 12:37 of the 3rd period...
Canucks walking wounded adding up as now Higgins & Tanev both out indefinately At Coach Alain Vigneault's press conference today he said "Both Chris Higgins and Tanev have lower body injuries and will not join us on the road trip." This can't be good news for the team. They pulled out a 2-0 win last night over the Coyotes and finally had their full forward...
Good day to be Cory Schneider...no more flu. The official twitter account for the Vancouver Canucks just tweeted this beauty out. Cory Schneider feels better, especially since getting this gift from @RSherman_25 @Seahawks pic.twitter.com/71dEoGknuz Twitter / VanCanucks: Cory Schneider feels better, ... twitter.com Instantly connect to what's most important to you. Follow...
Ryan Kesler could play tonight?! The OFFICIAL Vancouver Canucks twitter account just tweeted that all Canucks players are currently on the ice today except Chris Tanev. Speculation is running rampant now that Kesler looks good out there, and it begs the question, could he play tonight? Kes of course has been out for a while. He played in seven games, then went back on the IR...
VANCOUVER, British Columbia (AP) -- Ryan Kesler scored in his return to the lineup after a 20-game absence, Cory Schneider made 19 saves and the Vancouver Canucks defeated the Phoenix Coyotes 2-0 on Monday night. Kesler returned from a foot fracture he sustained in his first game back after shoulder and wrist surgeries last summer. Kesler scored at 7:26 of the first period on what...
Wednesday Canucks vs. Flames Preview Vancouver puts its 10-4-1 divisional record on the line tonight in Calgary versus the Flames. Ryan Kesler returned from a broken foot to score the deciding goal in Vancouver's 2-0 victory over Phoenix on Monday. The Flames snapped a five-game losing skid on Monday with a 3-1 road victory over Colorado. Yesterday the Canucks found out Chris...
The Flame game Hockey against Calgary isn't pretty these days is it Vancouver Canucks fans? This game had all the hallmarks of a team desperate for the end of the season to finally come, playing out as an exercise of two teams on very opposite ends of the spectrum. Love 'Em 1. Oh Lu Roberto Luongo was the surprise starter thanks to Cory Schneider's flu, and his first game...
Phoenix Coyotes (17-15-6) at Vancouver Canucks (21-11-6) Preview With eight wins in their last 10 games (8-2-0), the Vancouver Canucks are strengthening their hold on the Northwest Division. After a relatively quiet March (22 combined points in 16 games), brothers Daniel and Henrik Sedin are enjoying a solid start to April, combining for nine points in three games. Matchup...
For the Gamblers! In a battle of the best and worst of the Northwest Division, the Vancouver Canucks, winners of three straight games head to Calgary to take on the dismal Calgary Flames who beat Colorado last time out to avoid the basement in the Northwest Division. While the playoffs appear to be a foregone conclusion for the Flames, the Canucks still have a ton to play for...
Roberto Luongo, in a surprise start, made 40 saves and Maxim Lapierre scored the go-ahead goal as the Vancouver Canucks beat the Calgary Flames 4-1 on Wednesday night. Andrew Ebbett centered a pass that Lapierre swatted behind Miikka Kiprusoff from the top of the crease, breaking a 1-1 tie with 9:23 left in regulation. Up until that goal, most of the play in the third period was...
from Tony Gallagher of the Vancouver Province, Perhaps the NHL has finally reached the level of the NBA in that all the distractions of dancing girls, mascots, contests in that league have been matched by the number of gimmicks at a hockey game. The actual on-ice affair was a sham of entertainment, the only artistry on display coming from the artful officials Kyle Rehman and...
NHL News

Delivered to your inbox

You'll also receive Yardbarker's daily Top 10, featuring the best sports stories from around the web. Customize your newsletter to get articles on your favorite sports and teams. And the best part? It's free!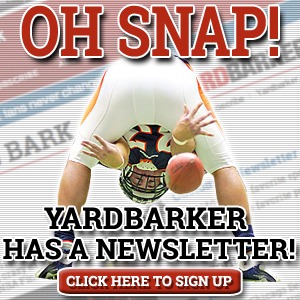 Latest Rumors
The Backyard

Today's Best Stuff

For Bloggers

Join the Yardbarker Network for more promotion, traffic, and money.

Company Info

Help

What is Yardbarker?

Yardbarker is the largest network of sports blogs and pro athlete blogs on the web. This site is the hub of the Yardbarker Network, where our editors and algorithms curate the best sports content from our network and beyond.