Found July 13, 2012 on Blue Seat Blogs:
PLAYERS:
Michael Haley
,
Rick Nash
,
Bobby Ryan
,
Shane Doan
,
Stu Bickel
,
Michael Sauer
,
Dan Girardi
,
Ryan McDonagh
,
Marc Staal
,
Anton Stralman
,
Steve Eminger
,
Jeff Woywitka
,
Tim Erixon
,
Dylan McIlrath
,
The Undertaker
,
Michael Del Zotto
TEAMS:
Columbus Blue Jackets
,
Anaheim Ducks
,
Arizona Coyotes
,
New York Rangers
,
St. Louis Blues
The conversations this summer have mainly focused on the Rangers forwards. With three forwards departing, three (four if you include the AHL-bound Michael Haley) coming on board, and the never-ending discussions about Rick Nash, Bobby Ryan, Alex Semin, and Shane Doan, it's easy to see why the focus is on scoring and depth.
However some of the biggest concerns during the postseason were about the depth on defense. Stu Bickel was barely playing, and the five other defensemen were struggling to keep their legs under them while playing shorthanded throughout the playoffs. The Rangers need depth or growth. With Michael Sauer out, and no major signings pending, the answers appear to have to come from within.
The Locks: Dan Girardi, Ryan McDonagh, Marc Staal
These guys are a given and will likely play on the top-four.
The Almost-Locks: Anton Stralman, Michael Del Zotto
Stralman filed for arbitration, almost guaranteeing he will be back with the Rangers for one more season. Del Zotto is an RFA, and unless he is traded (unlikely), he will be back next year. Combined with Girardi, McDonagh, and Staal, this gives the Rangers five locks for defensemen. The last spot is likely going to a right-handed shot, as the Rangers are currently lacking one.
The Incumbent: Stu Bickel
Bickel was a bit of a revelation last season. The last man cut from the roster in October, and the main call up from Connecticut when Sauer, Steve Eminger, and Jeff Woywitka went down with injuries, Bickel played his way into a permanent roster spot during the regular season. During the postseason his foot speed and skating ability were exploited by deeper and quicker teams. If he wants to keep his spot, he will need to work at it.
The Question Mark: Michael Sauer
Will he return? Can he be what he was? If the answer to those two are yes, then he plays, and then it's Stralman who is on thin ice.
The Up-And-Comer: Tim Erixon
Many penciled him into the lineup last season, only to see Erixon play a grand total of 18 games over three separate stints with the Rangers. He wasn't ready for the NHL last year, but yet many still have him penciled in for this year. As a left-handed shot, he will need to impress a lot of people to get that chance on Broadway.
The Dark Horse: Dylan McIlrath
The Undertaker has a few things going for him: He's a right-handed shot, and he's a physical force that can help assuage the loss of Sauer. McIlrath's biggest issue was skating, but he has made tremendous progress in that area. He likely needs another year, but a strong preseason could prove otherwise.
In the end, I'd expect Bickel to get the last spot to break camp, and the Rangers to sign a veteran free agent to fill in as a depth defenseman. Erixon will be the first injury call up, regardless of handedness, and at that point will be given every opportunity to stick. McIlrath will need a year of seasoning. As for Sauer, if he comes back, then the Rangers blue line is a force to be reckoned with.
Original Story:
http://www.blueseatblogs.com/2012/07/...
THE BACKYARD
BEST OF MAXIM
RELATED ARTICLES
For years I couldn't stand Glen Sather.  The man steadfastly refused to stop star chasing and as a result the Rangers failed to make any progress, stuck as a perennial borderline playoff team and incapable of putting together a true contender. Sather learned his lesson and now just as stubbornly refuses to abandon his plan of sticking with youth by including prized youngsters...
The New York Rangers didn't make a huge splash in free agency just yet, but that doesn't mean they've been completely quiet. Many faces have come and gone already this offseason as Glen Sather looks to build on a roster that came within two games of reaching the Stanley Cup Finals this past season. Exit [...]
Newly signed Taylor Pyatt has been on a few teams that made deep runs in the playoffs, and while he does admit that the Rangers were able to offer a more secure contract than the Coyotes, stuck in ownership limbo, were able to, it's clear that the state of the Rangers' organization also played a tremendous factor. As he told The Chronicle Journal, this might be his chance...
I get it. Henrik Lundqvist is perfect. Literally perfect. He's literally and metaphorically a rockstar, the backbone of the New York Rangers, and married to Swedish royalty. I am not at all afraid to publicly embrace my mancrush on Henrik Lundqvist. And thus, I don't hold it against anyone who feels the same way. But there's a certain boundary that can't be crossed...
The other day Adam Herman reported on the blog that Chris Kreider was going to participate in The Big Assist IV charity hockey game last night.Now, Julie Robenhymer over at HockeyBuzz reminds us why Kreider is such a special person on and off the ice by giving this great account from the game..."After the game, the players posed for a team picture and then headed towards the...
  Career AHL veteran Brandon Segal, who has appeared in over 500 games in the American Hockey League, has signed a new deal with the New York Rangers. A journeyman who has played for six AHL teams and three NHL teams, Segal was most recently a part of the Lightning organization, his second stint in Tampa [...]
Steve Zipay at Newsday reports that the Rangers are working on a multi-year deal with RFA Michael DelZotto....so much for Del Zotto being a part of any trade for Nash, Ryan or Weber. Although, if Del Zotto is wanted as the centerpiece of a deal for any one of those guys I could see Sather changing his mind....as I've said on this blog, I still think Del Zotto has the ability...
The New York Rangers continue to make moves to fill in the second-tier holes on their roster. The vacancies were left by the defections of a handful of key role players from the team that lost to the New Jersey Devils in the Eastern Conference finals. All along, the Blueshirts and their fans have had their eyes on something significantly grander. While the waiting game continues...
It came as no surprise to many Caps fans when George McPhee announced veterans Jeff Halpern and Mike Knuble would not return to the team. The only question remained was if an NHL organization would give the two players another shot. Halpern will be headed to the Big Apple after signing a one-year, $700,000 contract [...]
So what does Chris Kreider do for an encore two days after signing every autograph request during The Big Assist IV charity hockey game? Sign more autographs of course.The Rangers Facebooked out this pic of Kreider at today's NYR Youth Hockey Camp......and Columbus thinks the Rangers are going to trade this kid to them for Nash. I don't think so.Jim Cerny over at Blueshirts...
It's a slow day in NYR news, and NHL news overall, and I've gotten into a debate with several Rangers fans on Twitter over what a team should/would be willing to part with in a trade to improve itself.Obviously, you want to trade from an area of strength to improve the team's weakness i.e sacrificing an abundance of defense for some scoring. It's the lay of the land...
This is a historic musings, as it marks the first time that I have written the musings for two weeks in a row. Chris is still gallivanting around Europe, or wherever he is, so I get to continue writing the musings. Let's get right into it: There has been a lot of complaining about the Rangers signings this offseason, but let's look into this a bit deeper: The Rangers lost three...
NHL News

Delivered to your inbox

You'll also receive Yardbarker's daily Top 10, featuring the best sports stories from around the web. Customize your newsletter to get articles on your favorite sports and teams. And the best part? It's free!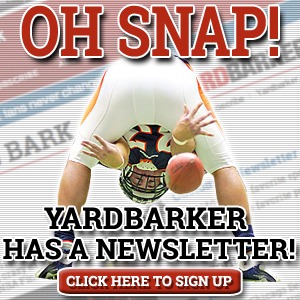 Latest Rumors
Best of Yardbarker

Today's Best Stuff

For Bloggers

Join the Yardbarker Network for more promotion, traffic, and money.

Company Info

Help

What is Yardbarker?

Yardbarker is the largest network of sports blogs and pro athlete blogs on the web. This site is the hub of the Yardbarker Network, where our editors and algorithms curate the best sports content from our network and beyond.