Found April 05, 2012 on Red Light District Hockey:
NASHVILLE – This week I caught up with Wild forward Cal Clutterbuck to talk about the season that was in Minnesota, Mike Yeo's first season behind the bench and more.
RLD: Let's talk about the tale of two halves for you guys. What went right in the first half?
Cal Clutterbuck: We were playing a certain way in our system, playing hard. We had a full lineup for the most part. We went through a tough stretch in December, something any team goes through. It was six or seven games went things weren't going well. We got out of that and looked to be on our way and then had a lot of guys go down to injury. That's what we've been dealing with for the rest of the year.
So you'd say the second half been more about injuries than anything else?
Yeah, we've been missing some key players. We've been trying to fight through and find a way. Lately we've sort of been healthy and the trade deadline we made some moves. It's been a disappointing season, really.
Is there anything you can take from this year going into next year?
I think when you go through a stretch like this and when things start going against you in the future, I think you'll know how to deal with it. From an everyday basis to learning how to get out of it to learning how to get out of it while you're in it. That's one thing we'll definitely have to take away from this season.
How has Mike Yeo been in his first year?
He's been good. It's been a tough situation for anybody. I think he's been helping us and trying to handle it the right way. It's been an extremely disappointing and tough year for us all. Next year it's going to be really important for us to really make a push, and I think we'll be able to.
Dany Heatley and Devin Setoguchi were viewed as two big additions in the off-season. What have they brought to the lineup this year?
'Seto' is a good, fast player that can shoot the puck. 'Heater' has obviously been around a long time and is a good guy to have around. He knows how to score goals, and he's scored some big goals for us this year. It's good to have those two around. Once we get together and healthy as a group and do the things we did at the start of the year, it will start to be fun for us again.
The last time you guys came in here, [Yeo] basically said Jared Spurgeon was the MVP of the defense. What makes him underrated or underappreciated?
He's smart. He's one of the smarter young players I've ever seen. He knows how to play the game, and you have to be able to know the game and play the game if you're that small for a defenseman. He's a big piece for us and we miss him right now quite a bit.
Third in the league in hits; you set the record a few years back. Is that something you take pride in at all?
It's a big part of my game, but I'm not hung up much on the number or whether I'm leading the league or not.
Talk a little bit about your hometown of Welland, Ontario…
It's town of about 40,000 people. I was born and raised there, played my Junior A and B hockey there. It's just a steel-town, really. There are seven or eight NHL players from there, which is pretty good for a town of that size. They love their hockey there. I spend my summers there, so I get back there every year. My wife is from there, her family is from there and we have a lot of friends there.
What's the story behind the 'stache?
It started two years ago in November for Movember. I just liked it. I had a pretty good Movember two years in a row. It's kind of a superstitious thing now and I do it for fun. It's definitely not like a George Parros thing (with the fans). It's just something I do for fun every once in a while.
Who's your roommate on the road? Any bad habits?
My roommate is Darroll Powe. He's a pretty quiet, pretty standard roommate. He's good to have around, good to have conversations with. He's not a weirdo or anything.
In this room, who is the least likely to pay for dinner on the road?
[Long pause] … I would probably say Niklas Backstrom. It's going to piss him off if he hears about [this].
Best and worst trash talker in the league right now?
Scott Hartnell. He's outside the box. Goofy. Silly. Says things you wouldn't expect. Worst? There are a lot of bad ones. Too many to name.
Photo credit: Getty Images
Original Story:
http://www.rldhockey.net/2012/04/conv...
THE BACKYARD
BEST OF MAXIM
RELATED ARTICLES
THURSDAY'S STORY LINE: With Clayton Stoner out with an upper-body injury for Thursday night's game against the Chicago Blackhawks, defenseman Tyler Cuma will make his long-awaited NHL debut. Cuma, 22, was Minnesota's first-round pick in 2008 and has battled countless injuries and setbacks over the past few seasons, including a torn ACL last season. The defenseman was...
ST. PAUL, Minn -- The Minnesota Wild will be without defenseman Nate Prosser for their final game of the season Saturday night against Phoenix. Prosser was suspended one game by the NHL on Friday for his headbutt of Jamal Mayers at 18:19 of the first period during Minnesota's Thursday win against the Chicago Blackhawks. Prosser got just one game because Mayers wasn't seriously...
The Minnesota Wild have recalled defenseman Tyler Cuma from their minor league affiliate for the final days of the regular season. They made the move on Wednesday under emergency conditions. The Wild have a long list of injured players, with two more games left. They host Chicago on Thursday and Phoenix on Saturday. If he plays, Cuma will become the latest first-round draft pick...
ST. PAUL, Minn. When a team is down to six defensemen, one making his NHL debut, the last thing a coach wants is to see one of those players getting ejected in the first period. That's exactly what Wild coach Mike Yeo witnessed on Thursday night at the beginning of Minnesota's 2-1 shootout win over the Blackhawks, but Nate Prosser's ejection for head-butting Jamal Mayers...
Minnesota Wild defenseman Nate Prosser has been suspended for a game because he head-butted Jamal Mayers of the Chicago Blackhawks on Thursday night. The NHL says Prosser will forfeit more than $3,800 for the hit at 18:19 of the first period. Prosser was given a major penalty and a game misconduct. The Wild's next game is the regular-season finale Saturday night against Phoenix...
Minnesota Wild defenseman Nate Prosser has been suspended for one game for his head-butt on Chicago Blackhawks forward Jamal Mayers in Minnesota's 2-1 shootout win on Thursday.Prosser was assessed a five-minute major penalty and a game misconduct in the first period after he used his helmet to cut Mayer's lip in a scrum."I was shocked to have that happen," Mayers...
Minnesota Wild defenseman Nate Prosser is facing a likely suspension after giving a headbutt to the face of Chicago Blackhawks right winger Jamal Mayers during the first period of Thursday night's NHL game in Chicago. Prosser and Mayers were caught up in a scrum on the side of the Blackhawks net when Prosser nailed Mayers in the face with the top of his helmet. Prosser...
Prosser has a meeting today with the NHL for this head-butt.  He was penalized five for head-butting and a game.
via Michael Russo of the Star Tribune, The game began with a frightening incident when the skate of linemate Darroll Powe struck center Kyle Brodziak in the face. Blood fell and Brodziak rushed to the bench. "It was scary," Yeo said. "I think it shows you how much he's respected by our whole team. As soon as it happened, there was a lot of concern. We've got Mikko yelling...
By Seth Lake Heading into their final three games of the regular season in the midst of a fight for the fourth seed in the Western Conference and home-ice advantage in the first round of the Stanley Cup Playoffs beginning next week, the Nashville Predators took to the ice at Bridgestone Arena on Tuesday night facing a Minnesota Wild club that had fallen out of the playoff race, but...
Record Pts Div. Rank G/G GA/G PP% PK% Minnesota Wild (34-35-11) 79 4th Northwest 2.05 (30) 2.65 (14) 15.1% (26) 81.5% (19) Chicago Blackhawks (44-26-10) 98 4th Central 2.98 (5) 2.85 (23) 15.7% (23) 78.2%(28)   Minnesota Wild Top 5 Scorers: G A Pts 1. #15 Dany Heatley 23 28 51 2. #21 Kyle Brodziak...
NHL News

Delivered to your inbox

You'll also receive Yardbarker's daily Top 10, featuring the best sports stories from around the web. Customize your newsletter to get articles on your favorite sports and teams. And the best part? It's free!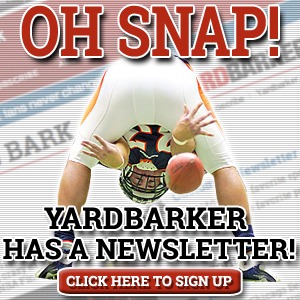 Latest Rumors
Best of Yardbarker

Today's Best Stuff

For Bloggers

Join the Yardbarker Network for more promotion, traffic, and money.

Company Info

Help

What is Yardbarker?

Yardbarker is the largest network of sports blogs and pro athlete blogs on the web. This site is the hub of the Yardbarker Network, where our editors and algorithms curate the best sports content from our network and beyond.