Found May 02, 2013 on Fox - The Hockey Guy:
The Vancouver Canucks appear to be lagging. Since the playoffs are underway, this is not good.They didn't show much fight during their 3-1 loss to San Jose in Game 1 of their series. It didn't help that No. 1 goaltender Cory Schneider was sidelined by what the team calls a "body" injury. Schneider will miss Game 2, too. But what about his big-name teammates? Will they show up?"A lot of us have to put in that extra five per cent, to get those better scoring chances," winger Daniel Sedin told reporters. "We didn't have enough great chances. It takes a little more, yes. Not much, but yes. At this time of year? More."Coach Alain Vigneault knows the old saying: You best players have to be your best players this time of the season. That was not the case in Game 1."We have to find a way to be better," Vigneault told reporters. "Not just with the twins, with everybody. There were some good moments . . . but I think – I don't think, I know – our top guys can play better than they did toni
Original Story:
http://www.yardbarker.com/blog/icemen...
THE BACKYARD
BEST OF MAXIM
RELATED ARTICLES
Roberto Luongo will start Game 1 for the Canucks We just out via Sportsnet Pacific's twitter feed that Roberto Luongo will get the start for the Canucks in game 1 vs. the Sharks. He said "It was good for me to get a couple starts in before the playoffs" What do you think Vancouver? It appears Schneider isn't ready to return just yet. Schneider, who played...
After watching goaltender Cory Schneider handle a full practice workload, Vancouver media types assumed he would regain his starting role for the playoffs. Schneider looked fully recovered from his undisclosed injury. Former starter Roberto Luongo got shelled at the end of the regular season.That was one of the ugliest games of his career. All this added up to a Game 1 start for...
After a loss in Game 1, coach Alain Vigneault is looking for more offense from the Canucks. ''I need more from the whole team,'' Vigneault said after a short practice Thursday. ''There's no doubt there. All our players understand we have to get better and we're going to get better.'' Vancouver's only goal in Wednesday's 3-1 series...
The Vancouver Canucks Green Men have become staples of the Stanley Cup Playoffs but the announcers for Comcast Sportsnet in San Jose weren't having any of it.  During the broadcast of the Cancuks-Sharks game one, the announcers Drew Remenda and Randy Hahn effectively called the Green Men 40-year-old virgins that live in their moms basement and collect snow globes.  It was a...
Canucks lose game 1 to the Sharks 3-1. Raffi on Corrado. SMACK. It was that kind of night. It started out well, but went downhill fast in the third. The Canucks struck first, but gave up three straight goals in a 3-1 loss Wednesday night in Game 1. After a scoreless first period in which San Jose outshot Vancouver 15-9, the Canucks got on the board at 12:26 of the second...
from Mike Hager of the Vancouver Sun, On the eve of the Vancouver Canucks first home playoff game, hundreds of below-face-value tickets were still available online and the team was offering lower-bowl seats at half price to its employees and select corporate partners. The discount code emailed to team and stadium staff offered lower-bowl seats for the first two home games...
The Vancouver Canucks Green Guys decided to up the intensity by performing a magic trick recently. (Badly.) And we wrote, "'A' for effort but...that's enough." -- Last night San Jose CNS announcers... Full story at Bob's Blitz ~ http://www.bobsblitz.com
There are few NHL fans more recognized than the Vancouver Canucks "Green Men" and while they are a joy to watch for many, some people aren't exactly the biggest fans. During last night's Canucks/Sharks game 1, Sharks announcers Drew Remenda and Randy Hahn decided to mock the duo multiple times during their broadcast: "40-Year-Old Virgins?".....
I suppose in today's world someone will take offense to this and probably will complain. To be honest with you, I hate the Vancouver Canucks, I think their a bunch of divers cry babies and frauds, so I am inclined to cut Wes Walz some slack. Plus, he's a former Bruins and Wild player.
from Mark Spector of Sportsnet, There are no secrets why the Vancouver Canucks are behind the San Jose Sharks 2-0 in this series, why their season hangs by a thread heading into the toughest building in the National Hockey League this season. It's production — or a lack thereof. It is, first and foremost, the waning Sedin twins. It's Alex Burrows. Whatever...
Thank the officials for putting away the whistles and letting the Sharks and Canucks take it to each other for the first two periods of play Wednesday night. The first 40 minutes of hockey were thrilling, gritty, physical hockey, and neither team disappointed. Neither team was able to score in the first period, with the Sharks out-shooting the Canucks 15-9. In the second period,...
The San Jose Sharks have searched for an identity on their journey through this lockout-shortened season. Meanwhile, the Vancouver Canucks don't know who their goaltender will be Wednesday night when they host Game 1 of this series as Cory Schneider tries to recover from an undisclosed injury in time to make the start. For the Sharks, there was the high-powered power play that...
Canucks News

Delivered to your inbox

You'll also receive Yardbarker's daily Top 10, featuring the best sports stories from around the web. Customize your newsletter to get articles on your favorite sports and teams. And the best part? It's free!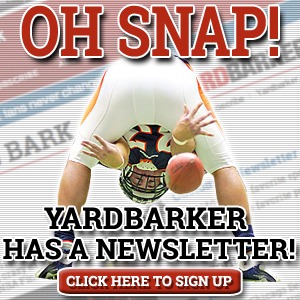 Latest Rumors
Best of Yardbarker

Today's Best Stuff

For Bloggers

Join the Yardbarker Network for more promotion, traffic, and money.

Company Info

Help

What is Yardbarker?

Yardbarker is the largest network of sports blogs and pro athlete blogs on the web. This site is the hub of the Yardbarker Network, where our editors and algorithms curate the best sports content from our network and beyond.