Found April 04, 2013 on Kukla's Korner:
from Michael Russo of Russo's Rants, Coach Mike Yeo, after a very abbreviated 20-second press scrum, indicated that Dany Heatley will out for awhile with what looked on replay to be a left wrist injury after an altercation he had with San Jose Sharks defenseman Marc-Edouard Vlasic after the game. Vlasic, Heatley's former teammate who had an ongoing battle with the veteran much of the third period, got into it with Heatley in front of the Sharks' net in the final seconds after Vlasic cross-checked Heatley. Vlasic slashed Heatley across the top of the back. Heatley got up and tried to connect with his stick and missed. Vlasic then two-handed Heatley across the forearm and jumped him. Vlasic got the shirt over top Heatley's head, lifted him and then violently one-last time drove him down to the ice. That appears to be when Heatley got hurt. He skated to the exit in pain. more plus watch the only video I could find of the incident below... Russo has the same video to...
Original Story:
http://kuklaskorner.com/hockey/commen...
THE BACKYARD
BEST OF MAXIM
RELATED ARTICLES
San Jose Sharks defenseman Marc-Edouard Vlasic was fined 8,378.38 by the NHL on Monday for his role in an altercation with Minnesota Wild forward Dany Heatley at the end of Wednesday night's 4-2 Minnesota loss. Heatley, who was injured on the play and could miss time, and Vlasic were battling near the goal when Vlasic cross-checked Heatley to the ice. Heatley got up and swung...
San Jose Sharks defenseman Marc-Edouard Vlasic has been fined for slashing Minnesota's Dany Heatley. The NHL fined Vlasic $8,378.38 for the infraction at the end of Wednesday's 4-2 victory over the Wild. Vlasic and Heatley were jostling in the closing seconds of the game. After Vlasic delivered a cross check, Heatley responded by swinging his stick at Vlasic. He missed...
Even though the game was already over, that didn't stop the Sharks and Wild getting into some extracurricular activities after the final horn sounded following Wednesday's Sharks win. Because postgame hockey altercations are the best hockey altercations. It was mostly minor stuff, just the usual exchanging of shoves and expletives. But there was one incident between former teammates...
NEW YORK (April 4, 2013) -- San Jose Sharks defenseman Marc-Edouard Vlasic has been fined $8,378.38, the maximum allowed under the Collective Bargaining Agreement, for slashing Minnesota Wild forward Dany Heatley in NHL Game No. 542 in San Jose on Wednesday, April 3, the National Hockey League's Department of Player Safety announced today. The incident occurred at 20:00 of the...
First off, Jose Sharks defenseman Marc-Edouard Vlasic needs to be suspended for a very long time by the Department of Player Safety for his vicious attack on Wild forward Dany Heatley. There is no way you can justify this attack. Sounds like Heatley could be out of the line-up for a while. Michael Russo does a pretty good job of drawing this up. S/t for the video by Andy Johnson...
Since when is it now permissible to cross-check your opponent multiple times in the NHL? The refs in this game should be punished the NHL's head of officials for their performance at the end of this game. After re-watching this video, I am more upset because the NHL officials are supposed to be the best in the world and should be held to a higher standard. This is kind of bush...
"Well you're the real tough cookie, with the long history, of breaking little hearts, like the one in me, that's ok, let's see how you do it, put up your dukes, let's get down to it, hit me with your best shot, why don't you hit me with your best shot, hit me with your best shot, fire away," are the lyrics to Pat Benetar's famous song Hit Me With...
NHL News

Delivered to your inbox

You'll also receive Yardbarker's daily Top 10, featuring the best sports stories from around the web. Customize your newsletter to get articles on your favorite sports and teams. And the best part? It's free!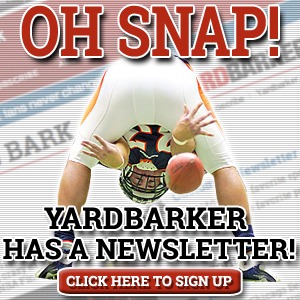 Latest Rumors
Best of Yardbarker

Today's Best Stuff

For Bloggers

Join the Yardbarker Network for more promotion, traffic, and money.

Company Info

Help

What is Yardbarker?

Yardbarker is the largest network of sports blogs and pro athlete blogs on the web. This site is the hub of the Yardbarker Network, where our editors and algorithms curate the best sports content from our network and beyond.