Found March 08, 2012 on NESN.com:
BOSTON -- Dennis Seidenberg doesn't lose his temper often. Tuesday night in Toronto, the Bruins defenseman showed why opponents would be wise to keep it that way. Seidenberg engaged in a rare fight that night against the Leafs, but his lack of experience didn't prevent Seidenberg from laying quite a beating on Toronto forward Colby Armstrong. It was a sight Seidenberg's teammates were still marveling at two days later as they prepared to face the Sabres on Thursday. "I've seen him fight a couple times, he kind of knows what he's doing," Bruins resident enforcer Shawn Thornton said after Thursday's...
Original Story:
http://www.nesn.com/2012/03/dennis-se...
THE BACKYARD
BEST OF MAXIM
RELATED ARTICLES
BOSTON – The Bruins will have their suddenly productive third line together again after all. Benoit Pouliot returned to the ice for Thursday's optional morning skate at the Garden and is expected to play against the Sabres after leaving Tuesday's game in Toronto early with a lower-body injury. "He looks good," Bruins coach Claude Julien said."He looks fine. He...
Milan Lucic was voted the NHL's toughest player, and is used to going toe-to-toe with some daunting competition on any given night. So sitting down for an interview with NESN Daily was no sweat for the big fella. Lucic discussed a number of topics during his appearance at the NESN studios in Watertown, resulting in a must-see interview for Bruins fans. Tune in to NESN Daily on...
Although hockey players try to inflict physical pain on each other when fighting, there's still some unwritten rules when it comes to dropping the gloves that are considered sacred throughout the sport. Lucic discussed some of these unwritten rules during his appearance on NESN Daily on Friday, saying that sometimes a bout starts with a simple, "Do you want to go?"...
The Bruins are in the midst of a difficult stretch, but with a win over the Sabres on Thursday, Boston was able to secure back-to-back wins for the first time in nearly two months. The B's picked up a 3-1 victory over Buffalo in a game that was close throughout. Boston actually trailed after the first period, but Gregory Campbell's goal turned things around for the Black...
The Bruins suffered through another tough stretch over the past week and are still showing the ails of a beaten down and injured bunch. Claude Julien's new line alignments appeared to be just the thing the Bruins needs to escape their late-season drought. But a back-to-back against the Islanders and the Rangers seemed to cause more concern than it quelled. David Krejci's...
Another week is in the books for the Bruins, and Tyler Seguin provided the Amica Coverage Play of the Week. Seguin tallied two goals against the Toronto Maple Leafs on Tuesday, and showed exactly why he's a threat to score every time he touches the puck. Zdeno Chara threw a shot attempt on goal, and Seguin tipped the puck into the back of the net as the Bruins pulled off a 5...
This is another perfect example of why the National Hockey League needs to "not" ban fighting. First you have a punk like Colby Armstrong, who has a history of being one of those players that plays on the edge and takes liberties on other teams star players. If you think that I am kidding go over to Youtube you will see that he has a hit parade of high questionable...
I ******* hate St. Patrick's Day jerseys. They're the ******* worst, especially when a team's color scheme has absolutely nothing to do with the color green or the Irish people. First, St. Patrick's Day has become some ****** up, drunken booze-fest where people use it as an excuse to get absolutely hammered and eat corned beef. Now sports are using it to have ugly...
By Kirk R DouglasShawn Thornton let the bomb go from the high slot. Gregory Campbell got a blade on it to direct it past Jonas Enroth and once again the Bruins fourth line lit the spark that ignited the Bruins to an impressive 3-1 win over the surging Buffalo Sabres last night. Whether it is a momentum changing fight, a scrappy goal, or a tenacious fore-check this fourth line...
Before I get all up in this recap's ass like I just took it out to Sonic on a hot date, for those wondering where the title of the recap came from:   @JustinDOY stop being the school yard bully. Do you feel good about yourself after ripping buffalo. I'd rather have our class then ur trophy — Michael Monaghan (@lifewithmikey52) March 8, 2012 If that's not the...
NHL News

Delivered to your inbox

You'll also receive Yardbarker's daily Top 10, featuring the best sports stories from around the web. Customize your newsletter to get articles on your favorite sports and teams. And the best part? It's free!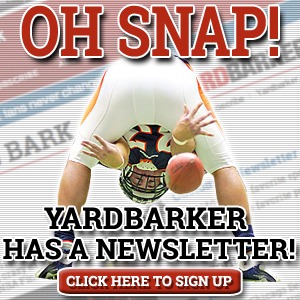 Latest Rumors
Best of Yardbarker

Today's Best Stuff

For Bloggers

Join the Yardbarker Network for more promotion, traffic, and money.

Company Info

Help

What is Yardbarker?

Yardbarker is the largest network of sports blogs and pro athlete blogs on the web. This site is the hub of the Yardbarker Network, where our editors and algorithms curate the best sports content from our network and beyond.