Found August 01, 2012 on The Hockey Guys:
PLAYERS:
Gustav Nyquist
,
Steve Yzerman
,
Sergei Fedorov
,
Brendan Shanahan
,
Martin Lapointe
,
Tomas Holmstrom
,
Kris Draper
,
Kirk Maltby
,
Darren McCarty
,
Vyacheslav Kozlov
,
Mike Knuble
,
Pavel Datsyuk
,
Boyd Devereaux
,
Henrik Zetterberg
,
Dallas Drake
,
Dan Cleary
,
Johan Franzen
,
Mikael Samuelsson
,
Mark Hartigan
,
Valtteri Filppula
,
Jiri Hudler
,
Nick Spaling
,
Zach Parise
,
Shane Doan
,
Todd Bertuzzi
,
Darren Helm
,
Patrick Eaves
,
Drew Miller
,
Jan Mursak
,
Cory Emmerton
,
Damien Brunner
,
Justin Abdelkader
TEAMS:
Detroit Red Wings
,
Washington Capitals
,
New Jersey Devils
,
Toronto Maple Leafs
,
Calgary Flames
,
Nashville Predators
,
Minnesota Wild
,
Arizona Coyotes
By Rhys Richards (@RREsq) The Detroit Red Wings have made 21 straight playoff appearances, the longest streak in professional sports. During that streak, the organization has regularly brought in veteran players to fill its top two forward lines while its prospects mature on the bottom two lines or in the farm system. Detroit's 1997 Stanley Cup Champion forward corps consisted of Steve Yzerman, Sergei Fedorov, Brendan Shanahan, Igor Larionov, Doug Brown, Tomas Sandstrom, Martin Lapointe, Joey Kocur, Tim Taylor, Tomas Holmstrom, Kris Draper, Kirk Maltby, Darren McCarty, and Vyacheslav Kozlov. The youngest was Lapointe at 22, but only five others were 25 or under. In 1998, Detroit's Stanley Cup Champion forward corps consisted of veterans Yzerman, Fedorov, Shanahan, Larionov, Brown, Kocur, LaPointe, Holmstrom, Draper, Maltby, McCarty, Kozlov, Mathieau Dandenault, Mike Knuble, Brent Gilchrist, and Dmitri Mironov. Dandenault was the youngest at 21, but only six others were 25 or under....
Original Story:
http://feedproxy.google.com/~r/TheHoc...
THE BACKYARD
BEST OF MAXIM
RELATED ARTICLES
The Red Wings announced via Twitter that the team's signed 2011 second-round pick Martin Frk to a 3-year, entry-level contract, and DetroitRedWings.com's Bill Roose spoke to Wings GM Ken Holland about the team's decision to sign a player who's been a member of the organization for all of five weeks: "He came to camp and our guys liked him in Traverse City," Red Wings...
Well that was fast, per the Red Wings' Twitter account: UPDATE: The Red Wings have signed forward Martin Frk to a three-year, entry-level contract. twitter.com/DetroitRedWing…— Detroit Red Wings (@DetroitRedWings) July 31, 2012
So what are we looking at right now in terms of defense heading into this next season?Kronwall-WhiteQuincey-EricssonSmith-KindlQuestion marks?  Sure.  But there are worse top 6 in the league...despite all of the complaining in the Red Wings' universe.  Remember Brett Lebda?  Remember Derek Meech?  Kyle Quincey had a mediocre (at best) end to the season...that doesn't...
Is Jay Bouwmeester Michigan-bound? According to the Calgary Herald, word has it the Detroit Red Wings have made a pitch for the Calgary Flames defenseman. Losing both Nicklas Lidstrom and Brad Stuart this offseason, the Red Wings have a gaping hole on the blue line and few decent free-agent options. GM Ken Holland has an excess of solid forwards to offer the Flames in exchange...
Four players from Detroit's ''Russian Five'' will be on hand when Red Wings alumni take on alumni from the Toronto Maple Leafs the day before the Winter Classic. Viacheslav Fetisov, Igor Larionov, Vladimir Konstantinov and Sergei Fedorov will participate in the festivities Dec. 31 at Comerica Park in Detroit. The next day, the current Red Wings and Maple Leafs...
Certain things have reminded me that I'm in the middle of an all-too-short vacation, including having to buy half a gazillion 12-packs of Diet Coke to last the mom for two days, my Uncle Joey proving that there's no wood wet enough that a quart of lighter fluid can't turn into a fire, staying up far too late at said fire, and having to tell the boss that this Tweet from RedWingsFeed...
Regardless of whether I've had to miss chunks of time due to health issues or more pleasant distractions like the vacation that's two days from its conclusion on a windswept morning in Grand Marais, I've found that the most difficult aspect of choosing to step away from the computer—or anywhere with a cell phone tower, as Wednesday's trip to the Hurricane River campground...
Upper Michigan weather—it's about 65 degrees here and we've got a chilly wind blowing in off Lake Superior at a good 20 miles an hour—has me wearing jeans and a flannel shirt a couple hundred miles north of a Metro Detroit area pushing 100 degrees, so I thought I'd wander into internet range and deliver you this Tweet from RedWingsFeed and then toss off some charity hockey...
I'm not going to lie and say that I have it all together when it comes to being a Red Wings fan. In fact, my fandom has gone on a roller coaster ride ever since the Wings lost in the 1st round back in April. Free agency (or lack of) hasn't helped. I have been slacking on writing lately partly because my hockey emotions have left me pretty numb. I care about this team just...
Paul here for George who is looking at some rocks today. (TOLEDO, OH) – The Toledo Walleye and the Detroit Red Wings have signed a two year affiliation agreement. The new deal is through the 2013-14 season. Toledo Walleye President and General Manager Joe Napoli, "I'm really happy to have the relationship continue through 2014 with one of the most respected franchises in...
George still on part-time vacation, his idea, not mine, so Paul here with your latest news… Detroit, MI… The Detroit Red Wings® and Toronto Maple Leafs® today announced the addition of nine total players that will participate in the festivities surrounding the 2012 Maple Leafs vs. Red Wings Alumni Showdown™ on December 31 at Comerica Park™, part of the 2012 SiriusXM Hockeytown...
NHL News

Delivered to your inbox

You'll also receive Yardbarker's daily Top 10, featuring the best sports stories from around the web. Customize your newsletter to get articles on your favorite sports and teams. And the best part? It's free!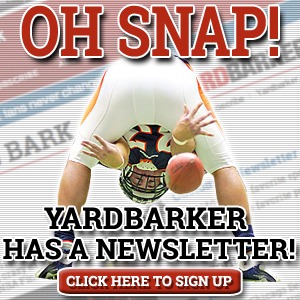 Latest Rumors
Best of Yardbarker

Today's Best Stuff

For Bloggers

Join the Yardbarker Network for more promotion, traffic, and money.

Company Info

Help

What is Yardbarker?

Yardbarker is the largest network of sports blogs and pro athlete blogs on the web. This site is the hub of the Yardbarker Network, where our editors and algorithms curate the best sports content from our network and beyond.