Found November 21, 2011 on Goon's World:
Apparently Dr. Mark Recchi has stirred up the Vancouver Canucks with a few of his comments he made on a radio show in Boston Last week.
You can hear Recchi's comments on the media file below. If my memory serves me right I also recall saying some of the same things about the Vancouver Canucks, " I have said in the past that the Vancouver Canucks are one of the most unlikable teams in the NHL (next to the Montreal Canadians and their fans)."
player.render('fileUrl=http://www.podtrac.com/pts/redirect.mp3/nyc.podcast.play.it/media/d0/d0/d0/dZ/dA/d4/d7/ZA47_3.MP3&name=Gresh & Zo: Mark Recchi In Studio&artist=Gresh and Zo&stationID=20629&configFile=config.xml&buttonColor=grey&buttonOverColor=blue&backgroundColor=#FFFFFF&guid=C8216A0ABDA8');
Below is the transcript of Recchi's comments below.
The Montreal Gazette --- Mark Recchi is retired, but his passion for the game is still evident.

Case in point — this week's appearance on Boston sports radio where he ripped into the Bruins opponents in last season's Stanley Cup final, the Vancouver Canucks.

"(In) 22 years they are the most arrogant team I played against and the most hated team I've ever played against," Recchi said on 98.5 the Sports Hub. "I couldn't believe their antics, their falling and diving. It was very frustrating, but at the same time as the series wore on we knew we were getting to them and we knew our physical play and our skating, I think it caught them off guard a little bit."

The Bruins won the Cup in seven games.
 Apparently the Vancouver Canucks didn't appreciate Mark Recchi's comments. In particular Vancouver defenseman
Kevin Bieksa was less than impressed with Recchi's comments as well. 
NESN.COM --- "Isn't he retired? What's he doing? Tell him to go play a round of golf or take a nap," Bieksa said, according to The Province.
Bieksa then insisted that you can call the Canucks a lot of things, but he doesn't think "arrogant" is one of them.

"The twins are so humble and you may not like playing against guys like Maxim Lapierre and Alex Burrows, but they're not arrogant," he said. "I just don't get it. Mark Recchi can go take a nap."
Really? In my opinion I think Alex Burrows and Maxim Lapierre are two of the biggest frauds in the NHL, when these two clowns aren't posing as punks on the ice they they are diving up and down the ice when ever the opposition breaths on them.
Related articles
Stanley Cup Champion Mark Recchi Calls Into K&M (wzlx.radio.com)
Classless in Victory: A Response to Mark Recchi's Comments About the Canucks (bleacherreport.com)
Vancouver's Defence Continues to Struggle (insidehockey.com)
Original Story:
http://feedproxy.google.com/~r/blogsp...
THE BACKYARD
BEST OF MAXIM
RELATED ARTICLES
Vancouver Canucks blogger C-Mac begs the question. Who is willing to be the figure that the Canucks can go to when that boost is needed for them? Imagine the possibilities of Trevor Linden and his right wing role fitting in seamlessly with Henrik Sedin and Daniel Sedin. Henrik at centre and Daniel in his customary left wing slot...
Oh beautiful British Columbia, how you are Canada's paradox. You are the land of the Super Natural. I've seen your majestic mountains, stunning ocean and beautiful urban parks. You have it all West Coasters; Gentle winters, liberal politicians, booming film industry, affluent citizens and a commendable appreciation for CFL. You even had the Olympics. You just got to show off...
Tyler Seguin was left off of the All-Star ballot this season. After all, who would expect a 19-year-old to lead the Bruins in points in his second year in the NHL? But fans are coming out in force to write in Seguin's name on the ballot. Early results for All-Star voting indicate that after one week, Seguin has received 41,443 votes. That's good for 24th of all forwards,...
Vancouver sports blogger Aidan Chafe weighs in with his Vancouver Canucks weekly three stars post. Here are the few noteworthy performers through Nov 22nd of the Vancouver Canucks 2011-12 campaign. Dan Hamhuis, Cory Schneider and Chris Higgins are the guys with great performances in the last 7 days.
Tim Thomas made 33 saves for his second straight shutout and the Boston Bruins extended their winning streak to nine games with a 1-0 win over the Montreal Canadiens on Monday night. Andrew Ference scored his second goal 15:41 in for Boston, which has not lost since dropping two in a row to Montreal from Oct. 27-29. Thomas got his third shutout of the season, including a 23-save...
 Reports have surfaced stating Mason Raymond will return sometime this week, maybe by the weekend, during Vancouver Canucks upcoming three-game road trip. Raymond is expected to line up on the left side with center Ryan Kesler and David Booth in his first game this campaign. The winger suffered a serious back injury during last season's Game 6 of the Stanley Cup final against...
I'm not sure when exactly this began, but it's pretty clear that the Vancouver Canucks are the most hated team in the NHL. We got more evidence of this when the recently retired Mark Recchi decided to offer this up: (In) 22 years they are the most arrogant team I played against and the most hated team I've ever played against. I couldn't believe their antics, their falling...
MONTREAL – Good morning from the Bell Centre, where the Bruins will attempt to stretch their winning streak to nine straight games. The Bruins haven't lost since Oct. 29, when they dropped a 4-2 decision to the Canadiens at this...
Connecticut Whale 3, Providence Bruins 2 (SO) By Brian Ring Providence, RI, November 20, 2011 - The Connecticut Whale recovered from a 2-0 third-period deficit to defeat the Providence Bruins 3-2 in a shootout Sunday at the Dunkin' Donuts Center. Carl Hagelin netted the shootout winner for the Whale, who won their second straight on the weekend after defeating the Bridgeport Sound...
UNIONDALE, N.Y. – The Bruins have checked out of their Long Island hotel. They are en route to Montreal for tomorrow's game against the Canadiens at the Bell Centre. They will not practice today. With a 6-0 thumping of the...
Tim Thomas made 33 saves for his second straight shutout and the Boston Bruins extended their winning streak to nine games with a 1-0 win over the Montreal Canadiens on Monday night.
When longtime rivals like the Montreal Canadiens and Boston Bruins get together the rivalry creates an added level of energy in the building.  Last night the fans took that one too far as there was a brawl in the stands late in the third period between fans of the two teams. Via Puck Daddy:
NHL News

Delivered to your inbox

You'll also receive Yardbarker's daily Top 10, featuring the best sports stories from around the web. Customize your newsletter to get articles on your favorite sports and teams. And the best part? It's free!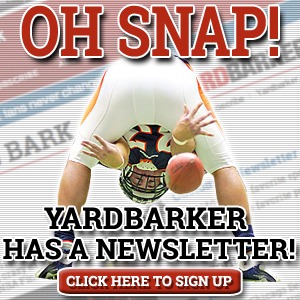 Latest Rumors
Best of Yardbarker

Today's Best Stuff

For Bloggers

Join the Yardbarker Network for more promotion, traffic, and money.

Company Info

Help

What is Yardbarker?

Yardbarker is the largest network of sports blogs and pro athlete blogs on the web. This site is the hub of the Yardbarker Network, where our editors and algorithms curate the best sports content from our network and beyond.