Found April 07, 2013 on Shutdown Line:
It was only a month ago when the Hurricanes were in the driver's seat in the Southeast Division and basically all they needed to do was gain points in a little under 60% of their games to make it in. Since that point, the Canes have gone 3-11-1 and are now in the running for a top-five pick rather than a playoff spot. This free fall was something that even I didn't see coming because, as I have often reiterated here, the Hurricanes have been one of the better teams in the NHL at controlling puck-possession this season. This is usually what leads to success in the NHL, but not all the time. Goaltending, shooting luck and injuries are going to keep some good teams out of the playoffs this year because there are fewer games to make up for lost ground. The Hurricanes have been hit especially hard by the injury bug this year, but they've also seen a lot of other things go wrong for them as of late. This is evidenced by taking a look at their PDO over the season.  For those who don't know what PDO is, it's the sum of a team's even strength shooting and save percentages and shows how lucky or unlucky a team has gotten. A PDO over 1.000 shows that a team has gotten very fortunate while a team with a PDO under 1.00 shows that they may have gotten a few bounces that have gone against them. Carolina's PDO has stayed stagnant for most of the year, but recently it has taken a nose dive. Looking at it over five-game segments shows this team's fall from grace pretty well. The Hurricanes PDO has been on a spiral downward over the last 15 games or so and it will probably be enough to knock them out of the playoffs. In a normal year, they could have been fine but there is less time to make up for lost ground with only 48 games. What they are going through now is nothing that other teams haven't experienced before. Both the Sharks and Kings went through spells of tough luck last season but were able to pull through and make the playoffs. Would the Hurricanes be able to do the same thing in a full year? Based on their underlying numbers, I would say they have a decent shot but there have been some things going on that have made an impact on their PDO. Injuries are probably the biggest. The Canes have gone through 37 players this year and many of the players they've lost have been those of high impact. This list is not limited to Cam Ward, Joni Pitkanen, Jeff Skinner, Justin Faulk and Tim Gleason. If you line up the Canes PDO to where each of these players got hurt, it reveals why they have struggled so much in certain parts of the season.  The Hurricanes PDO has taken a few bounces over the season and you can see that most of the downturns have come after injuries. The first one came around game 13-14 when Jeff Skinner, Tim Brent, Jamie McBain, Tim Gleason and Joni Pitkanen were all hurt, forcing the Canes to call-up a few AHL-ers to fill in for them. That obviously led to some bad games and some losses along with it. Once they got healthy, the team began to see more bounces go in their favor. Even after Cam Ward sprained is MCL in game 21, the Canes were still not experiencing much bad luck because the first line was scoring on over 15% of the shots they took while Ellis/Peters were doing enough to hold the fort down...and then Justin Faulk got hurt and Ellis went down the next game.  The Hurricanes were forced to start a third-string goaltender in front of a defense that was missing their best player. Simple logic should tell you that did not turn out well and the Canes PDO continued to sink along with the team's save percentage. Ellis' return on Tuesday night against Washington could have helped, but he has been very bad in all three of his starts and it's led to the Canes PDO continue to slide. Whether it's due to him being rushed back from his injury or simple regression is up for debate, but it's part of the reason why Carolina's season has continued to trend downward. Add in the top line experiencing some expected regression, Jordan Staal & Jeff Skinner not being able to buy a goal and the third and fourth lines not scoring at all and you have yourself a losing streak. So while PDO has played a role in Carolina's demise, it's been more than just bad puck luck that's doomed them. Injuries, a lack of scoring depth and not getting enough from the replacement players has also played a role. The team being "fragile" is also an issue since they tend to unravel whenever something bad happens, but that's something I have no idea how to fix other than by winning. Confidence usually follows results and nothing is going the Hurricanes way right now so I'm not sure what they can do about it this year other than stay the course and hope some bounces start to go their way. I'm not convinced that this team is as bad as their recent record, but in a shortened year, this kind of a slump is a killer and it happened to the Canes at the worst possible time. As for what happens the rest of the year, I think it could go either way. The Canes are still one of the better teams in the league at even strength and the goals will come if they continue to control puck-possession, but they are likely stuck with Peters and an injured Ellis for the rest of the season and that will impact how many games they win depending on how Peters plays. It's frustrating because this team should be a lot better than where they stand now but strange things tend to happen in a shortened year.
Original Story:
http://www.shutdownline.com/hurricane...
THE BACKYARD
BEST OF MAXIM
RELATED ARTICLES
Carolina Hurricanes goaltender Cam Ward ranks among the National Hockey League's most valuable players. We know this because his team collapsed after Ward suffered a MCL strain. The Hurricanes have lost four consecutive games overall and seven straight at home. They went 1-10-1 in their last 12 games overall to fall six points behind the Washington Capitals in the Southeast Division...
After going most of the season without a collective scapegoat, Hurricanes fans seemed to have found one in defenseman Jamie McBain. The entire team is struggling right now, but he has been taking a lot of heat from the fans ever since Carolina went on their brutal losing streak. The hate reached a new high after his brutal showing against the Winnipeg Jets two weeks ago where he...
15 goals. That is all the Hurricanes have gotten from players not in their top-six this season and it's probably even lower than that if you take away special teams goal. Scoring depth is something that I did not think would be a problem for the Canes this year, but it's a pretty big issue right now. Their top line has accounted for a little under 45% of the team's overall...
The ailing Carolina Hurricanes visited North Station on Monday night and this would be a prime opportunity for Boston to regain some of their confidence. Wearing their all black alternates, the Bruins took to the ice welcoming back Alternate captain…
In two games against the Carolina Hurricanes this season, the Bruins have scored 11 goals. After a five-goal effort in Raleigh back on Jan. 28, the B's tallied a season-high six goals on Monday, routing the Canes 6-2 at TD Garden. David Krejci didn't get on the scoresheet Monday night, but he played a major role in the teams' first meeting, scoring the game-winning goal with...
Last night's game was a good chance for the Hurricanes to get a win. They were going up against a Rangers team who just played an overtime game the previous night, had to travel and were starting the same goalie in a back-to-back situation on top of that. This seemed like a good chance for the Canes to right the sinking ship that is their season, but as you probably know, nothing...
This is coming a few days late thanks to Game Center Live's 48-hour blackout rule, but I just wanted to get the scoring chance numbers from the Washington game up so that everyone can see them. It was one of the few games of the losing streak that Carolina probably "deserved" to win but ended up on the losing end because of a terrible performance in net by Justin Peters...
Bruins 6, Hurricanes 2 Coming off a disappointing loss to the Canadiens in Montreal this weekend, the Bruins dug their skates back into the TD Garden ice in Boston and hosted the Carolina Hurricanes on Monday night. This wasn't exactly the same Bruins team that B's fans had grown accustomed to seeing this season – Claude Julien orchestrated some major line shakeups prior to...
The New York Rangers (18-15-4) visit the Carolina Hurricanes (16-18-2) at PNC Arena starting at 7:00 p.m. For a preview go to Yahoo! Sports. Rangers Game Notes TV: MSG; Radio: ESPN Radio (98.7 FM), XM 214 Live Stream (Don't click on ads in stream, may download virus): http://www.firstrow1.eu/watch/179309/1/watch-carolina-hurricanes-vs-new-york-rangers.html Probable...
Hurricanes News

Delivered to your inbox

You'll also receive Yardbarker's daily Top 10, featuring the best sports stories from around the web. Customize your newsletter to get articles on your favorite sports and teams. And the best part? It's free!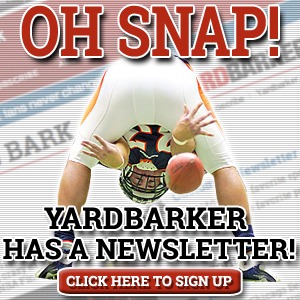 Latest Rumors
Best of Yardbarker

Today's Best Stuff

For Bloggers

Join the Yardbarker Network for more promotion, traffic, and money.

Company Info

Help

What is Yardbarker?

Yardbarker is the largest network of sports blogs and pro athlete blogs on the web. This site is the hub of the Yardbarker Network, where our editors and algorithms curate the best sports content from our network and beyond.