Found April 01, 2012 on NorthWest Sports Beat:
PLAYERS:
Roberto Luongo
,
Marc-Andre Gragnani
,
Maxim Lapierre
,
Henrik Sedin
,
Mike Cammalleri
,
Olli Jokinen
,
Cory Schneider
,
Andrew Ebbett
,
Dale Weise
,
Zack Kassian
,
Manny Malhotra
,
Alain Vigneault
,
Chris Higgins
,
Ryan Kesler
TEAMS:
Vancouver Canucks
,
Calgary Flames
,
Dallas Stars
25-8-7 since Jan 1st The Vancouver Canucks struggled to bring their playoff intensity on Saturday, but managed to make the most of their performance against the Flames, forcing overtime in a 3-2 comeback over Calgary on Hockey Night in Canada. Roberto Luongo had a shaky return to the crease after sitting out Friday's game with a sore neck and Marc-Andre Gragnani buried his first as a Canuck in the comeback. Bandwagon fans please hop on now. But please put down your panic buttons.
Only bandwagon fans have a panic button! RT @vancan19: #Canucks 7-2-1 in their last 10! Your panic button should be stowed away neatly — Northwest SportsBeat (@NWSportsbeat) April 1, 2012
The Hat Trick Lapierre's New Line Maxim Lapierre continued his scoring streak on Vancouver's top line alongside Henrik Sedin and Alex Burrows, burying the opening goal of the game after a beautiful passing play by his linemates. Alex Edler rushed the puck up ice and banked a pass to Henrik Sedin who saucered a sweet feed to Lapierre for the finish. The frustrating French Canadian has added an extra dynamic to Vancouver's top unit, bringing additional grit and emotion to the newly formed first line.  Cammalleri Claps Mike Cammalleri gave Calgary an early third period lead on Saturday, sizzling a shot past Roberto Luongo under a minute into the final frame after the Flames broke briskly into the Canucks' zone. The goal was the second shot of the night that beat Luongo thanks to lousy lateral movement after Olli Jokinen put one home early in the second period.
Luongo was less than sensational after Cory Schneider shut the door Friday facing the Dallas Stars. 
Ebbett Erupts Andrew Ebbett had a solid game in his return to Vancouver's fourth line against the Flames, tipping home the game-winning goal in overtime after a frantic final few minutes at Rogers Arena. The forward took the place of Dale Weise alongside Zack Kassian and Manny Malhotra on Saturday, sealing the win with another slick tip in overtime. The win was Ebbett's first game back returning from a broken collarbone suffered in Boston earlier in the season. Ebbett had a solid game and got the OT winner. - (Photo by Rich Lam/Getty Images) Ebbett's last 2 goals have been OT winners. The last one being Dec 28th at San Jose, and then again tonight. He now has 4 goals in his last 8 games, and made a case for more playing time down the stretch and into the playoffs. V's Thoughts The Canucks managed to sneak away with another two points after a poor performance on Saturday, stealing the extra point thanks to Andrew Ebbett's clutch return to Rogers Arena. Vancouver's third line was tremendous again against Calgary, keeping the Flames' forwards busy with their own brand of puck possession hockey that consistently conducted business in the Calgary zone. Quote
"Ebbett's had some challenges this year, he's healthy and tonight he pushed his way into more minutes. A big goal in OT." – Alain Vigneault was happy with the return of another depth forward to the lineup.
Three Stars 1st. Henrik Sedin - GOALS: 0| PTS: 3| ASST: 3 SOG: 2| PLUS/MINUS: 2
2nd. Maxim Lapierre - GOALS: 1| PTS: 3| ASST: 2 SOG: 3| PLUS/MINUS: 3
3rd. Chris Higgins - GOALS: 1| PTS: 1| ASST: 0 SOG: 3| PLUS/MINUS: 1 Recaps BOXSCORE | Q's POST GAME RECAP Vancouver 3, Calgary 2
When: 10:00 PM ET, Saturday, March 31, 2012
Where: Rogers Arena, Vancouver, British Columbia
Referees: Steve Kozari, Brad Watson
Linesmen: Bryan Pancich, Mark Wheler
Attendance: 18890 CLICK HERE CHECK OUT THE CANUCKS BLOG IN THE CLUBHOUSE TODAY! © Kevin Vanstone for North West Sports Beat, 2012. | Permalink | No comment | Follow NWSB on Twitter or join US on Facebook for real-time updates OR... | Share This on Twitter | Share NWSportsBeat.com on Facebook Post tags: 3 Flames, Aled Edler, Alex Burrows, Andrew Ebett, boxscore, Calgary Flames vs. Vancouver Canucks, Calgary vs. Vancouver, Canucks blogs, Canucks hockey blog, Canucks Recap, Cory Schneider, Dale Weise, Flames vs. Canucks, Flames vs. Canucks recap, Game 79 Analysis, Henrik Sedin, Manny Malhotra, Marc-Andre Gragnani, Maxim Lapierre, Mike Cammalleri, NHL Highlights, NHL recap, Olli Jokinen, Roberto Luongo, Ryan Kesler, Vancouver Canucks Blog, Zack Kassian
Original Story:
http://www.nwsportsbeat.com/canucks/h...
THE BACKYARD
BEST OF MAXIM
RELATED ARTICLES
The Canucks took back top spot in the conference Saturday night with a 3-2 win over the Calgary Flames. With only three games remaining in the regular season, the Canucks sit one point up on the St Louis Blues and tied in points with the New York Rangers for top spot in the entire league (although the Canucks would lose the tie breaker). So the question burning in my head right now...
Top 50 #Canucks friends to follow on Twitter Every day this week NWSB has been posting 10 of the top 50 follows in #Canucks nation in no particular order. It kept me busy too. I almost had not time to fire out my Canucks All Access for the week. But that is up to. Notice someone important (like yourself?) not on the list? Social Media: Canucks Add your honourable mentions in the...
Second Star of the week for me! The Canucks Goaltending Remember my goaltending rant in this column a few weeks ago? Me either. In fact, just to make sure it never was mentioned again, I had my editor remove it from the sites history. This week, Luongo and Schneider put on a show. Each had a shutout in tough 1-0 wins, and Luongo stopped 38 shots in a 3-2 win against Colorado...
Dark Roast The results are in and your Vancouver Canucks are officially ________! Fill it with what you will. With what happened this past week and Saturday night, the reactions are endless. Below is the customary list of best AND worst Canucks related writing from all over the interwebz the last few days. What are the HERMETIC NWSB staff saying? For the flat our best Canucks coverage...
Flames vs Canucks Game Recap Did you miss the Calgary Flames vs. Vancouver Canucks Saturday night on Hockey night in Canada? BOXSCORE | Q's POST GAME RECAP We've got the highlights for you. Flames vs. Canucks highlights courtesy NHL.com. CLICK HERE CHECK OUT THE CANUCKS CLUBHOUSE TODAY AT NWSB! © NWSports "Q" for North West Sports Beat, 2012. | Permalink | ...
Vancouver Canucks Playoff Chances - Sports Club Stats According to Sports Club Stats, it will be a team from the Pacific division. Can't really say any of those teams scare me, though none will be easy. If I had to rank them for preferability... Phx/LA/Dal/SJ?
A Slow Burn It's hard to find much fault with the Vancouver Canucks these days, which is obviously fantastic news with the post-season a week and a half away. The team has flipped the switch that so many thought would be impossible to achieve and more amazingly took over first place in the Western Conference last night thanks to Columbus somehow beating St Louis. Getting excited...
Canucks host the Not Out Flames Saturday night The Vancouver Canucks extended their win streak to five games last night and in the process they returned to the team that resembled the one that won the President's trophy last season. On Saturday night the Canucks host a Calgary team that saw their playoff chances all but disappear with their seventh loss in eight games on Friday...
Friday Night Full of Stars The Vancouver Canucks recent schedule has allowed them to play kingmaker in the race for the final playoff spots in the Western Conference. A run of games against Dallas, Colorado, and Los Angeles has helped the Canucks not only effectively eliminate the Avalanche from the race but also helped give the team a week long litmus test to see how they measure...
Well this is good…. The Canucks can score. The Canucks can score on the powerplay. The Canucks can put together a pretty impressive winning streak. To think that such a large portion of Canucks Nation was pressing the panic button not more than a week ago is comical. Sure there are still some kinks to be worked out but come on; any sane being could've foreseen them bumping the...
Loungo's in net, Ebbett is back from that collerbone injury suffered in the Boston game. Weise and Bieksa are out.
NHL News

Delivered to your inbox

You'll also receive Yardbarker's daily Top 10, featuring the best sports stories from around the web. Customize your newsletter to get articles on your favorite sports and teams. And the best part? It's free!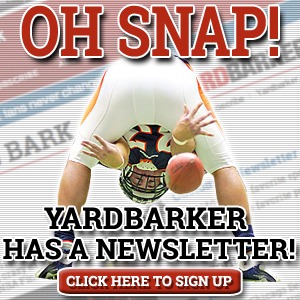 Latest Rumors
Best of Yardbarker

Today's Best Stuff

For Bloggers

Join the Yardbarker Network for more promotion, traffic, and money.

Company Info

Help

What is Yardbarker?

Yardbarker is the largest network of sports blogs and pro athlete blogs on the web. This site is the hub of the Yardbarker Network, where our editors and algorithms curate the best sports content from our network and beyond.