Found February 11, 2013 on Shutdown Line:
PLAYERS:
Evgeni Nabokov
,
Josh Bailey
,
Lubomir Visnovsky
,
Brian Strait
,
John Tavares
,
Kyle Okposo
,
Michael Grabner
,
Matt Moulson
,
Brad Boyes
,
Frans Nielsen
,
Jordan Staal
,
Jack Capuano
,
Eric Staal
,
Rick DiPietro
,
Dan Ellis
,
Tim Wallace
,
Tye McGinn
,
Tim Brent
,
Cam Ward
TEAMS:
Carolina Hurricanes
,
New York Islanders
,
Tampa Bay Lightning
,
New Jersey Devils
Carolina Hurricanes at New York Islanders 7 p.m., Nassau Coliseum TV: FS-Carolinas, MSG Plus Despite the Hurricanes "so-so" 5-4-1 start to the year, they are still in the thick of things in the Southeast Division and are faced with a great opportunity in the latter stages of this road trip. They are still only one point out of first place thanks to a four-game losing streak by the Tampa Bay Lightning and can leap frog them in the standings with a win tonight. I mentioned yesterday that this Carolina team has a better chance of improving after ten games than last year's club based on their play so far and they have a good chance to take advantage of a great opportunity these next couple of games. It won't come easy, though as their next two games are against teams who dominated them last year and tonight's opponent, the New York Islanders, won all four of their games against the Hurricanes a season ago.  This is obviously a different team and probably capable of beating the Islanders but they are going to need to play better than they have in their last couple of games in order to come away with a win tonight. Know Your Opponent: New York Islanders I'm not sure what to make of this Islanders team just yet since I haven't gotten a chance to watch many of their games. Their record is a mediocre 4-6-1, they are a bottom-10 team in terms of controlling shots at even strength and have been getting below-average goaltending from Evgeni Nabokov so far this year. However, they just received two big additions in center Josh Bailey and defenseman Lubomir Visnovsky who can make a big impact. The Islanders actually looked very good on Saturday night against Buffalo with these two in the lineup. They ended up taking the loss 3-2 but they outshot the Sabres 38-15 at even strength and looked like the better team in my eyes. Visnovsky can probably make the greatest impact as a somewhat lethal offensive defenseman and there is no doubt that he provides a huge boost to an Islanders defense corps that has been playing waiver claim Brian Strait for over 20 minutes a game. Overall, I'm ready to expect the unexpected with the Islanders tonight since their roster is pretty different than it was for most of the year, but one guy who you always have to watch out for is John Tavares. He absolutely dominated the Hurricanes last season by scoring six goals and 12 points in only four games played. The Canes need to find an answer for him or at least do their best to contain him because he is one of the best players in the NHL and can expose a bad matchup when given the chance. The Islanders entire top-six is actually pretty legit with him, Kyle Okposo, Michael Grabner, Matt Moulson, Brad Boyes and Frans Nielsen, but Tavares is still their catalyst and the key guy to focus on. Tentative Lines Tlusty - E. Staal - Semin Skinner - J. Staal - Dwyer Bowman - Jokinen - LaRose Wallace - Brent - Nodl Pitkanen - Faulk Gleason - Corvo Harrison - Sanguinetti Ward Ellis Out: McBain, Westgarth   Moulson - Tavares - Boyes Grabner - Nielsen - Okposo Ullstrom - Aucoin - McDonald Martin - Cizikas - Bailey Streit - Hickey Hamonic - MacDonald Strait - Visnovsky DiPietro Nabokov Out: Boulton, Reasoner, Finley Five Things to Watch For - I already mentioned Tavares but his name is obviously worth repeating because of how much he destroyed the Hurricanes last season. I'd expect Jordan Staal to match up with him for most of the game and that should be fun to watch because J. Staal has a lot of experience playing against him from his days in the Atlantic Division. I'm a little worried about how Faulk/Pitkanen (or whatever the shutdown pair ends up looking like) will fare against the Tavares line, though. The Hurricanes don't exactly have an ideal shutdown defense pair with Faulk & Gleason split up, so this could be a favorable matchup for the Islanders. Hopefully Staal's play can off-set him a bit. - The Islanders have another very talented center after Tavares in Frans Nielsen, who is their main tough minutes forward along with Michael Grabner. Nielsen has been one of the most underrated two-way centers int the league for quite awhile but his line has struggled quite a bit this season and are getting hemmed into their own zone a lot. Jack Capuano is probably going to match Nielsen up against Eric Staal's line, so this might be something that Staal can take advantage of if Nielsen continues to struggle. The first line is coming off two pretty awful performances, so they really need a good game to help turn things around. - Yes, you read the lines right. Rick Dipietro will in net for the Isles for this game. DP has played in only one game this season but Nabokov has struggled, so I can understand why the Islanders want to change things up here. DiPietro is far from an ideal option, though. His last "quality start" came all the way back in November of 2011 and the Hurricanes have had a lot of success against him in the past. That's largely a meaningless stat, but DP hasn't proven himself capable of being an NHL-quality goaltender in quite some time, so the Hurricanes can take advantage of this. On the Hurricanes end, Dan Ellis could get the start tonight since it's a back-to-back and I'm sure the Canes would rather have their #1 take on the red hot New Jersey Devils tomorrow. - There hasn't been any word of whether or not Tim Wallace will be facing a suspension for his hit on Tye McGinn on Saturday and there isn't much of a need for an enforcer against the Islanders, so I think this is a good time to get Nodl in the lineup. Tim Brent has actually been posting some very good underlying stats this year but he hasn't been able to make much of an impact because the fourth lines barely plays when Westgarth is active. The Islanders don't exactly have a ton of forward depth, so the Hurricanes might be able to expose that with their bottom-two lines if the right players are activated. - The Hurricanes haven't been getting many breaks at even strength but their PK has been getting incredibly the last three games. They haven't allowed a powerplay goal against since that beating they took against the Flyers last Saturday but they have given up way too many chances and have gotten bailed out by Cam Ward and the goalposts more times than not. The Islanders have a very good powerplay and a lot of firepower up front so it's possible that their luck will run out tonight. An easy solution to this is to "stay out of the box" but that's kind of hard to do when the officials are calling basically everything on some nights so a better solution would be to fix the penalty kill. That should hopefully come in due time but it's in a very troubling state right now. Again, these next two games represent a great opportunity for the Canes but they are going to need to show up for the full-sixty minutes tonight if they want to take advantage of it.
Original Story:
http://www.shutdownline.com/site/game...
THE BACKYARD
BEST OF MAXIM
RELATED ARTICLES
                  Two years ago Thomas was on top of the world, winning the Stanley Cup and Playoff MVP award, today he is a New York Islander. In an intelligent move to free up five million dollars in salary cap space, the Bruins have traded goaltender Tim Thomas to the New York Islanders for a conditional second round draft pick.  Thomas has already said that he is not...
The playoff races are beginning to heat up in the CHL and the good news for Hurricanes fans is that many of the team's prospects should be in the post-season this spring, which will give everyone a chance to get a closer look at their performance. One team that has already clinched a playoff spot in Keegan Lowe's Edmonton Oil Kings and Lowe himself has played a pretty big...
NEWARK, N.J. (AP) -- Jiri Tlusty and the Carolina Hurricanes concluded a grueling six-game road trip with a satisfying win over the Eastern Conference leading New Jersey Devils. Tlusty scored two goals in the third period and Cam Ward made 26 saves as the Hurricanes beat the Devils 4-2 on Tuesday night, snapping New Jersey's five-game winning streak. The Hurricanes had every...
UNIONDALE, N.Y. (AP) -- This one had the look of another frustrating Carolina Hurricanes loss to the New York Islanders. Then the third period came, and everything changed. Alexander Semin netted his 200th NHL goal, and Jiri Tlusty scored twice and had two assists in the decisive final frame for the Hurricanes, who overcame three deficits and a poor night of penalty-killing to...
Let's face it, the Hurricanes do not have a history of playing well against the Flyers, and this goes back to when the franchise was relocated to Raleigh. Since 1997, the Hurricanes have won only 30 of their 115 games against the Flyers and have earned points in a little over 36% of those games. Given that bit of information, some might be thankful that the Canes were able to...
I recently acquired a fantastic card with an even better story. 2005-2006 Upper Deck Rookie Update featured Rookie Inspirations Dual Autos from a great class of rookies. My main man Ryan Getzlaf is thankfully in the set, and when I came across the below beaut of him paired with Hurricanes' center Eric Staal, I couldn't pass it up. I out-waited high prices and eventually nabbed...
Carolina Hurricanes at New Jersey Devils 7:00 p.m, Prudential Center TV: FS-Carolinas, MSG+ The Hurricanes have a chance to end this six-game road trip on a high note by winning four out of six games and taking home nine out of a possible 12 points with a win tonight over the New Jersey Devils. At the beginning of the year, I said that the Hurricanes need to make it out of...
In 2006, Rick DiPietro was poised to become the next great American goaltender.  Just six years (and countless injuries) later, his fifteen-year contract has become a sterling example of the type of contract the NHL now forbids.  Aside from absurd duration, under the previous collective bargaining agreement (CBA), teams could also aggressively structure these multi-year deals to...
NHL News

Delivered to your inbox

You'll also receive Yardbarker's daily Top 10, featuring the best sports stories from around the web. Customize your newsletter to get articles on your favorite sports and teams. And the best part? It's free!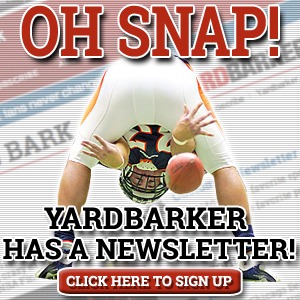 Latest Rumors
Best of Yardbarker

Today's Best Stuff

For Bloggers

Join the Yardbarker Network for more promotion, traffic, and money.

Company Info

Help

What is Yardbarker?

Yardbarker is the largest network of sports blogs and pro athlete blogs on the web. This site is the hub of the Yardbarker Network, where our editors and algorithms curate the best sports content from our network and beyond.