Found March 07, 2013 on Shutdown Line:
PLAYERS:
Cam Ward
,
Max Pacioretty
,
Brendan Gallagher
,
David Desharnais
,
Jordan Staal
,
Carey Price
,
Riley Nash
,
Eric Staal
,
Justin Peters
,
Raphael Diaz
TEAMS:
Montreal Canadiens
,
Carolina Hurricanes
Montreal Canadiens at Carolina Hurricanes 7 p.m., PNC Arena TV: Sports South, TSN-Habs Carolina will be coming into tonight's game against the Canadiens in a similar situation to the last time they took on Montreal. If you don't remember (it's probably better if you don't anyway), the Canes were riding a three-game win streak head into that game but suffered a barrage of injuries over the span of four days and ended up getting shut out 3-0 by the Habs. This time, Carolina will be riding a four game win streak but are still missing quite a few players from their lineup including goaltender Cam Ward. The injuries didn't seem to stop them from taking care of the Sabres on Tuesday night, but the Canes will be taking on a much better team this evening in the Canadiens. Many of the problems that were surrounding the Habs last season appear to be gone as the Habs are currently sitting atop of the Eastern Conference and have won six of their last 10 games. Carolina has been outshot and outchanced in three of the four games they've won, but they have also established early leads in all of those games so  I'm not ready to say that it is a problem just yet. However, it is worth noting that three of their last four wins came against bad teams in Florida and Buffalo, so tonight's game will be a much tougher test. Carolina is still pretty banged up, but most of the team's best skaters healthy, so I think their performance against Montreal will give us an idea of how good they are/can be. Know Your Opponent Montreal SF/60 28.3 SA/60 26.6 EV Sv% 0.925 EV Sh% 9.7% FenClose 52.36 (8th) PP SF/60 50.8 (10th) PP% 20% (10th) PK SA/60 41.3 (6th) PK% 81.3 (15th) Montreal looks to be a pretty good team this year. They've been controlling play at even strength well, are getting good goaltending and both of their special teams units are in the top-10 in terms of shot creation & suppression respectively. The Canadiens kind of took people by surprise after how bad they were last year, but they had a fairly decent team that ran into injury problems and bad luck for the first half of last season. Their play then took a nose-dive after Randy Cunneyworth took over for Jacques Martin and they fell into draft lottery territory. Now that most of their players are healthy again, things have been much better for the Canadiens and they appear to be in a good position to at least make the playoffs this season. Tentative Lines Tlusty - E. Staal - Semin Dwyer - J. Staal - Skinner Wallace - Jokinen - Bowman Sutter - Welsh - Westgarth Harrison - Faulk Gleason - Corvo Sanguinetti - McBain Peters Ellis Out: Nash (illness, GTD), Pitkanen, Brent, Ward, LaRose, Ruutu Pacioretty - Desharnais - Gallagher Prust - Plekanec - Ryder Galchenyuk - Eller - Gionta Moen - White - Armstrong Markov - Emelin Weber - Subban Gorges - Bouillon Price Budaj Out: Kaberle, Bourque, Diaz Five Things to Watch For - Remember how Max Pacioretty scored on Cam Ward on that dribbling shot from center ice for his first goal of the season? Well, he has scored seven more goals since then and has been a beast at driving possession along with Brendan Gallagher and David Desharnais. I would expect Muller to get Faulk/Harrison and Jordan Staal's line out against this unit as often as he can as they are by far the most dangerous line Montreal has to offer. They've been playing well all season, a few of them were just running cold on shooting percentage but that eventually regressed and now they appear to be firing on all cylinders now. Kind of like another first line we may know. - Montreal's penalty kill has done a fantastic job at preventing shots, but they rank only 15th in the NHL in penalty kill percentage because neither Carey Price or Carey Budaj have been able to stop much when their team is down a man. PK save percentage has shown to be very random over the years, so I would expect these two to get better (especially Price), but they appear to be vulnerable now so this could be a chance for Carolina's powerplay to get things going a little. - Word is that Riley Nash will be a game-time decision tonight due to having flu-like symptoms and if he can't go, then Patrick Dwyer will be returned to the second line. It will be tough to break up this third line, but returning Dwyer to the top-six was probably the right move. He has performed the strongest out of all the candidates for this spot and is a great fit with Staal and Skinner. Dwyer can skate well, is responsible defensively and his puck-handling is pretty underrated. I'd expect the second line to have a good performance if he stays on this unit. - I don't really see a favorable match for Carolina against any of Montreal's lines since they seem to have things spread out all over the place. We'll have to see what happens with Jordan Staal matched up against Desharnais, but I think that Eric Staal's line against Plekanec's could go either way. His linemates aren't exactly golden, but Pleks has been very good at driving the play forward against tough competition this year so he may pose an interesting matchup for Carolina's first line. I'm not sure how much Prust will drag down this line, though. - Carolina's penalty kill has gotten a lot better after it's abysmal start to the year, as they've successfully killed off 88% of their penalties in the last 11 games. However, they are still among one of the worst teams in the league in shot prevention, which is a cause for concern with Justin Peters in net. Over his career, Peters has had trouble with coming up with saves on the penalty kill and this could be an issue if the Hurricanes continue to allow shots and chances while playing shorthanded. The Habs are going to be without one of their key puck-moving defensemen tonight in Raphael Diaz, but they still have Markov and Subban, which makes their powerplay very dangerous. Carolina's success against the Northeast Division has been well-documented this year as they are 7-2-0 against the division but one of their two losses are against these Montreal Canadiens, so it will be nice for them to get a win tonight. It will not only pad their lead in the Southeast, but defeating one of the top teams in the conference does a lot for the team and fan's morale which is never a bad thing.
Original Story:
http://www.shutdownline.com/hurricane...
THE BACKYARD
BEST OF MAXIM
RELATED ARTICLES
RALEIGH, NC -- The second period of the Carolina Hurricanes' 4-2 home loss to the Montreal Canadiens on Thursday night may have been the team's best of the season. Unfortunately, it wasn't enough to propel Carolina to a victory. But, it was evidence of this team's potential explosiveness, and if it can figure out a way to play with more consistency, the Hurricanes...
On the stat sheet, last night's 4-2 loss to the Montreal Canadiens looks like a game that the Hurricanes could/should have won but ended up losing thanks to running into a hot goaltender. They put up 43 shots against Carey Price but came away with only two goals while Montreal had only 28 shots and were outchanced 21-15. It's true that the Hurricanes had a huge advantage...
Sometimes the most frustrating losses are the ones when the team plays a solid game but ends up with nothing to show for it because of a few bone-handed mistakes. This was the case for the Hurricanes in their 4-2 loss to the Canadiens tonight. They outshot Montreal 43-28 and played arguably their best 20 minutes of the season in the second period but ended up taking the loss due...
The Hurricanes have gone through a lot of lineup changes this season but I don't think any position has been more of a revolving door as the right wing spot on the second line. With Tuomo Ruutu out until at least mid-April, Kirk Muller has tried out just about every weapon in his arsenal to find a suitable linemate for Jordan Staal and Jeff Skinner. The second line has had it...
RALEIGH, N.C. (AP) -- Brandon Prust and Lars Eller each had a goal and two assists to lead the Montreal Canadiens to a 4-2 win over the Carolina Hurricanes on Thursday. Eller's goal at 6:09 of the third gave Montreal the lead for good and P.K. Subban added a power-play goal at 7:56 to make it 4-2. The Canadiens, playing their third game of a five-game road trip, were outshot...
Carey Price has been through enough in his NHL career to work his way out of a slump. I don't know if two bad games in a row legitimately constitutes as a slump, but in Montreal that's enough to get a goaltender crucified, especially one that's considered elite. So, if you're already growing weary of the "sky is falling" type of talk around Montreal...
Unfortunately, Buffalo still lost -- 4-3. **Follow us on Twitter or Facebook. Subscribe, or Return to BobsBlitz.com.Follow us on Twitter. Subscribe or Return to Bob's Blitz. Full story at Bob's Blitz ~ http://www.bobsblitz.com
The Montreal Canadiens were mired in their longest losing streak of the season when they arrived in Tampa last month. The Eastern Conference leaders are playing much better as they make their final visit of 2012-13. Montreal will try to earn points for the 13th time in 14 games on Saturday night when the slumping Lightning look to avoid their first four-game home losing streak...
Yesterday, I wrote about my concerns of the Hurricanes first line experiencing some regression because they are currently producing at a ridiculous rate that is boosted by a high on-ice shooting percentage. these three continued to laugh in the face of even strength shooting regression last night by producing three goals en route to a 4-3 win over the Buffalo Sabre. To make me look...
While the Carolina Hurricanes and Montreal Canadiens finished at the bottom of their respective divisions last season, both find themselves in first with the midway point approaching. The Southeast-leading Hurricanes look to win five straight for the first time in three years Thursday night as they host the Canadiens, who try to bounce back from their first regulation loss in almost...
The injury bug is back, so the "Net Effect" takes a look at some goalie situations worth monitoring. Carolina Hurricanes- Cam Ward will be out for up to two months with an MCL sprain. Bad news for the Hurricanes, as he has been one of the better goalies over the last five seasons. Dan Ellis will get the bulk of starts, and is probably owned in your league, but take a look...
NHL News

Delivered to your inbox

You'll also receive Yardbarker's daily Top 10, featuring the best sports stories from around the web. Customize your newsletter to get articles on your favorite sports and teams. And the best part? It's free!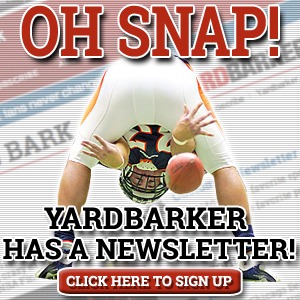 Latest Rumors
The Backyard

Today's Best Stuff

For Bloggers

Join the Yardbarker Network for more promotion, traffic, and money.

Company Info

Help

What is Yardbarker?

Yardbarker is the largest network of sports blogs and pro athlete blogs on the web. This site is the hub of the Yardbarker Network, where our editors and algorithms curate the best sports content from our network and beyond.