Found March 09, 2013 on Shutdown Line:
PLAYERS:
Carey Price
,
Tim Brent
,
Chris Terry
,
Martin Brodeur
,
Johan Hedberg
,
Travis Zajac
,
Zach Parise
,
David Clarkson
,
Adam Henrique
,
Patrik Elias
,
Bryce Salvador
,
Andrei Loktionov
,
Ilya Kovalchuk
,
Jordan Staal
,
Eric Staal
,
Mark Fayne
,
Andy Greene
,
Chad LaRose
,
Tim Wallace
,
Kevin Westgarth
,
Riley Nash
TEAMS:
Carolina Hurricanes
,
Montreal Canadiens
,
New Jersey Devils
,
Minnesota Wild
New Jersey Devils at Carolina Hurricanes 7 p.m, PNC Arena TV: FS-Carolinas, MSG+ After Thursday's frustrating loss against the Canadiens, the Hurricanes are looking to finish off this homestand on a good note by taking on the New Jersey Devils tonight. As maddening as that Montreal loss was, there were stretches of that game where the Hurricanes looked better than they have all season. Hard work and good effort does not always equate to wins, though and that's especially true when the team plays well for only parts of the game and not the full-60 minutes, which is what the Hurricanes downfall was on Thursday night. They started off flat, managed to battle back and then ran out of gas at the end. Here's to hoping that tonight's game against the Devils is more of a consistent performance. There were a lot of good things to take away from that Montreal loss, though as the Hurricanes put together a very impressive offensive performance with 43 shots on goal and may have been able to edge out a win had it not been for Carey Price. If they can bring that same firepower and bring more of an even performance, then they could pick up a win tonight against a struggling New Jersey Devils team. The Canes have not had many losing streaks this year, so continuing that trend tonight will be important as the rest of the Southeast is gaining on them. This division is easily the worst in the NHL but it is living up to it's billing of being very competitive, which is why it's important for the Canes to avoid going on a losing streak. Things are starting to get better for them as they've won four of their last five and will see another player return to the lineup tonight in Tim Brent. In case you missed it, I talked about how Brent's return is a little more important than some might think. He has made the Canes fourth line somewhat of a useful unit this year and provides some help to the powerplay. If anything, Brent provides some much needed depth to the Hurricanes bottom-six and that's never a bad thing. While oen familiar face will return to the lineup in Brent, another new addition will be made tonight as Chris Terry will be making his NHL debut. Terry has been working his way through the rankings in Charlotte and has been one of their best goal-scorers for the last few years. Many were wondering when he would finally get a shot with the big club and it looks like that time is now. How will he perform and what kind of ice time he will get from the coaching staff is another story. Kirk Muller is known for rewarding the players who perform well, so if Terry has a good debut then he could be in Raleigh for a little longer than some expect. That's just one of many storylines heading into tonight's game. Know Your Opponent: New Jersey Devils New Jersey SF/60 24.9 SA/60 24.7 EV Sv% 0.913 EV Sh% 7.5% FenClose 52.98% (7th) PP SF/60 52.1 (8th) PP% 17% (15th) PK SA/60 40.7 (4th) PK% 78.8 (22nd) Since the last time New Jersey has played Carolina, they have won only three of their last 11 games but the numbers suggest that it's mostly related to bad luck. They've been good at controlling play at even strength when the score is close and their powerplay and penalty kill aren't nearly as bad as their success rates indicate. Their PK is doing a fantastic job at preventing shots, but their goaltending has been burning them there as both Martin Brodeur and Johan Hedberg have bad PK save percentages. The former has actually been very good at even strength this season while Hedberg has had some major struggles in both areas. His save percentage currently sits at below .900 and his EV save percentage is a below average .912. With Brodeur still nursing an injury, Hedberg will likely be in net tonight and the Hurricanes might be able to have a good offensive showing if Moose's struggles continue. Goaltending has it's own way of working out, but the Devils scoring woes at even strength will eventually pick up. Their forward depth is majorly lacking, but a couple of their top players are currently marred in a stretch of bad luck, the most notable player being Travis Zajac. Zajac has only seven points through 21 games, but he has been one of the Devils best forwards at driving the play this season. Losing Zach Parise will obviously hurt any center's offensive numbers, but Zajac is playing much better than his scoring line indicates. The root of the problem is that the Devils are shooting at only 6.11% at even strength when he is on the ice and I have a hard time believing that will continue. Even despite Zajac and Kovalchuk's struggles the Devils have an extremely dangerous second line featuring David Clarkson, Adam Henrique and Patrik Elias who are destroying their opponents territorially and providing most of the Devils scoring. The Devils territorial game might actually be a little improved tonight because defenseman Bryce Salvador did not make the trip to Carolina due to an upper-body injury. Salvador is getting the tough matchups this season and he isn't exactly performing well against them. At his age, I'm not sure if he has the speed or the strength to keep up with the opposition's best forwards, so having him not take those matchups tonight might provide the Devils with some relief. The question is who will play the tough matchups in his place? The Devils defense has been such a revolving door lately that I don't really know what to expect. Tentative Lines Tlusty - E. Staal - Semin Skinner - J. Staal - Jokinen Terry - Nash - Dwyer Bowman - Brent - Wallace Harrison - Faulk Gleason - Corvo McBain - Sanguinetti Ellis Peters Ponikarovsky - Loktionov - Kovalchuk Elias - Henrique - Clarkson Matteau - Zajac - Bernier Carter - Gionta - Kostopoulos Greene - Fayne Volchenkov - Larsson Harrold - Zidlicky Hedberg Frazee Five Things to Watch For - The Devils have some interesting lines tonight with Zajac centering the third line while Andrei Loktionov gets to play on the first line with Ilya Kovalchuk. As I mentioned earlier, Zajac has been playing well this year despite his poor counting stats so the Hurricanes might get exposed to a bad matchup here, especially with two rookies on their third line. The Devils wingers on this line, however, are not very good but Zajac could elevate their play, especially with easier matchups and assignments. I'd be weary of him if I'm Carolina. - Loktionov on the first line is also interesting because having him there might cause Muller to put Jordan Staal against the much more dangerous Elias-Henrique-Clarkson line instead while letting Eric go head-to-head against that first line. That might be a good matchup for the Hurricanes since Kovalchuk has struggled at even strength this year, but both Poni and Loktionov have been very good at driving the play at five-on-five and could have a good game if the Hurricanes do not take them seriously. Eric Staal's line is probably good enough to beat this unit head-to-head, though. - With Salvador out of the lineup, I would expect Mark Fayne and Andy Greene to get the tough matchups for the Devils tonight. Personally, I think Fayne is very underrated and superior to Salvador so this could give the Devils a boost at even strength in terms of how many shots they allow. I'm not sure if these two are good enough to contain the Staal line, though since these three have been on fire lately. I know that I've been saying that they'll regress but if they create seven scoring chances at even strength tonight, there is a good chance they won't be blanked again. - Special teams allowed the Canadiens to run pull away from Carolina in Thursday night's game, so Carolina is going to have to do a better job of taking advantage of their powerplay opportunities, especially when the score is tied. The penalty kill might be a greater concern, though with how many shots they are allowing this season. Most of them haven't been dangerous scoring chances, but this is still a concern and it might hurt them tonight against the Devils powerplay, which is due for a hot streak especially when you consider that Kovalchuk is among the league leaders in powerplay shots and yet has only one 5v4 goal on the season. I want to say that getting Brent back will help here, but penalty killing has not been his specialty. - I'm obviously going to keep my eye on Chris Terry to see how he performs tonight. I thought it was interesting to see that he was called up but Muller clearly wants secondary scoring with Chad LaRose still hurt and he isn't going to get that from Tim Wallace or Kevin Westgarth. Terry is an experienced scorer at the lower-levels and has yet to get a shot in the NHL, so I'm curious to see how he looks tonight with top-nine minutes. Whether or not he sitcks will depend on how he performs tonight since that's generally how Muller works and you never know what will happen. Riley Nash was only called-up on an injury-replacement basis and now it looks like he'll be in Raleigh for a little longer than expected. An interesting related note is that the Canes will have already used 30 skaters after Terry plays tonight. Pretty much every Charlotte hopeful has gotten a shot this year. It's still too early to consider any game a must-win, but a victory tonight will help the Cans maintain their lead over the Southeast, which will go a long way later on in the year when the playoff race heats up.  
Original Story:
http://www.shutdownline.com/hurricane...
THE BACKYARD
BEST OF MAXIM
RELATED ARTICLES
The Carolina Hurricanes kept on winning, this time at the expense of the skidding New Jersey Devils, who still can't get on track without Martin Brodeur. Jiri Tlusty had two goals, and the surging Hurricanes built an early lead and carried it through to a 6-3 victory over the Devils on Saturday night. New Jersey, which was in rally mode almost all night, got two goals from...
Most of the Hurricanes injured players have returned but one player who has been on the shelf longer than intended is center Tim Brent. He was part of the notorious first-wave of injuries that occurred a few weeks ago, as he has been struggling with a nagging groin problem for quite awhile now. He is set to make his return to the lineup tonight and Brent might give the Hurricanes...
The Hurricanes managed to close out their three-game homestand in style with a 6-3 win over the New Jersey Devils, even though the team and some fans probably have a bit of a sour taste in their mouth from how the third period was played. Don't get me wrong, the Hurricanes outplayed New Jersey and deserved this win, but they allowed the Devils to get back into the game by sitting...
RALEIGH, N.C. (AP) -- Jiri Tlusty had two goals, and the surging Carolina Hurricanes built an early lead and carried it through to a 6-3 victory over the slumping New Jersey Devils on Saturday night. Alexander Semin and Jay Harrison scored 28 seconds apart in the first period, and Jeff Skinner and Chris Terry -- in his NHL debut -- added goals for the Hurricanes, who won for the...
New Jersey's longest losing streak of the season has ended, but the Devils still must improve if they're going to make a run in the other direction. Looking to build on their first win in two weeks, the visiting Devils may face a stiff challenge from the Southeast Division-leading Carolina Hurricanes on Saturday night. Adam Henrique and Patrik Elias scored third-period...
On the stat sheet, last night's 4-2 loss to the Montreal Canadiens looks like a game that the Hurricanes could/should have won but ended up losing thanks to running into a hot goaltender. They put up 43 shots against Carey Price but came away with only two goals while Montreal had only 28 shots and were outchanced 21-15. It's true that the Hurricanes had a huge advantage...
NHL News

Delivered to your inbox

You'll also receive Yardbarker's daily Top 10, featuring the best sports stories from around the web. Customize your newsletter to get articles on your favorite sports and teams. And the best part? It's free!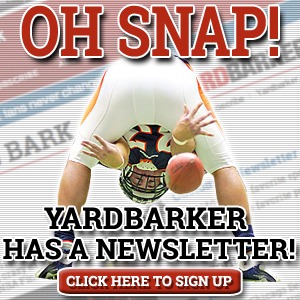 Latest Rumors
The Backyard

Today's Best Stuff

For Bloggers

Join the Yardbarker Network for more promotion, traffic, and money.

Company Info

Help

What is Yardbarker?

Yardbarker is the largest network of sports blogs and pro athlete blogs on the web. This site is the hub of the Yardbarker Network, where our editors and algorithms curate the best sports content from our network and beyond.