Found March 02, 2012 on NorthWest Sports Beat:
PLAYERS:
Cody Hodgson
,
Paul Bissonnette
,
Cam Neely
,
Zack Kassian
,
Milan Lucic
,
Todd Bertuzzi
,
Brendan Shanahan
,
Alain Vigneault
TEAMS:
Buffalo Sabres
,
Arizona Coyotes
,
Boston Bruins
,
Vancouver Canucks
,
Detroit Red Wings
,
New Jersey Devils
"Cody was something special…" The conversation has been divided; as it usually is about anything in Canucks Nation. Resistance is Futile, so why do I resist? Would you cheer if Cody Hodgson scored Saturday night? The guys on TEAM1040 kicked it around this morning with Jason Botchford saying you aren't a true fan if you cheer for a Hodgson goal. I have nothing against Jason Botchford; in fact, I absolutely love his writing in the Province and usually whatever he has to say on TEAM. However, his remarks today have inspired my game preview for Saturday night's matchup between the Canucks and Sabres. A caller was heard on Scott Rintoul's show this morning (the same one with @BotchOnCanucks) bringing up the 'Heart of a Canuck' motto that's been shoved down our throats this season. Don't get me wrong; I think that campaign is genius and it has allowed the fans to get to know the players on a more intimate level. Anyways, this caller was basically talking about how we all fell in love with Cody, not only because he was having an exceptional season but also because he displays most, if not all the characteristics of someone with the heart of a Canuck.
So now he's a Sabre. Does that mean his heart now has yellow trim instead of green and we have to hate on him?
Jason Botchford also threw out the phrase, "Team before player." 99% of the time, I will agree with that whole-heartedly. This 1% though is rearing its ugly head Saturday night. Yes, there is an exception to EVERY rule. Oh and I say ugly because of how controversial it is. I am one who doesn't believe Cody Hodgson did NOT ask for a trade and for that reason, I have not turned on him. He was my favourite player and that fact is not getting in the way of my true opinion here. I completely disagree with this trade and at the same time I will give Gillis credit. He has seldom led this team down the wrong path. In fact, he may be the greatest GM in Canucks history. Key word: MAY. My point being is that as much as I hate this trade for facts other than Cody being my favourite player, there is nothing I can do to bring him back.
There is one thing I can do though and that is letting management know how pissed off I am. I can't do that via twitter because Mike Gillis uses his twitter account less than Paul Bissonnette gets ice-time. I CAN do this by cheering as loudly as I can for a Cody Hodgson goal Saturday night.
Just look at what's happening in Toronto right now. During the game versus Chicago the other night, Leafs fans were chanting, "Fire Wilson." What happens Friday night? Brian Burke fires Wilson. I'm not saying that Canucks fans cheering for a Cody Hodgson goal will get Gillis fired or SHOULD get Gillis fired, but he deserves to hear the voice of the people. Maybe that voice only represents 25%, 33% or 50% of the people, but I KNOW it's a large portion. The players take all the flak in this city when they don't perform well and rightly so. Meanwhile, Mike Gillis is hiding in his war room and not facing the music save a cameo in Phoenix to explain his trades on Trade Deadline day. So when the Canucks face the Sabres Saturday night at Rogers Arena and my pick for Rookie of the Season comes out on the ice and scores, regardless of the score at the time, I implore you, if you were a Hodgson fan; if you made that emotional connection; if you saw Linden-like leadership characteristics; if you saw a budding NHL super-star; to cheer for that goal. #19 - Cody Hodgson Let Mike Gillis know you see Cam Neely in Buffalo right now. Let him know he's made a mistake and even though there's no bringing Cody back, he deserves the flak he gets. Oh and allow me to clarify. This has absolutely nothing to do with and is nothing personal against Zack Kassian. My reaction on Trade Deadline day when they announced the Canucks had acquired Kassian was that of excitement because I am aware of his prowess and potential. When Bob McKenzie said, "Cody Hodgson is a Buffalo Sabre," I said AWWW HELL NAAAH! Even Thursday night, The Moj is on the TEAM1040 talking about how Kassian could be the biggest bargain in a couple years as he will still be under contract making 800K and change while Cody is an FA and demanding more money.
WHO CARES HOW MUCH MONEY YOU'RE SPENDING IF YOU HAVE A MUCH BETTER PLAYER?
Zack Kassian does have so much upside to him and I believe he can be the player everyone is propping him up to be; a Milan Lucic; a Todd Bertuzzi; a Brendan Shanahan. Cody was something special though and cheering for a goal he scores Saturday does not take away the TRUE CANUCKS FANDOM of any person. BEST BET TO WIN: Vancouver Canucks Puck drop is at 7PM on CBC's Hockey Night in Canada and TEAM1040 Radio. CLICK HERE CHECK OUT THE VANCOUVER CANUCKS CLUBHOUSE ON NWSB! © Vancan19 for North West Sports Beat, 2012. | Permalink | No comment | Follow NWSB on Twitter or join US on Facebook for real-time updates OR... | Share This on Twitter | Share NWSportsBeat.com on Facebook Post tags: 2012, Alain Vigneault, Blues, bob mckenzie, Boston Bruins, Brendan Shanahan, Buffalo Sabres, buffalo sabres vs. vancouver canucks, Buffalo vs. Vancouver, Cam Neely, Canucks, Canucks Blog, Canucks Clubhouse, Canucks Matchups, Canucks Preview, Canucks vs, canucks vs. sabres, Cody Hodgson, game 66, Game Notes, game preview, hockey blog, jason botchford, Mike Gillis, milan lucic, NHL, NHL Preview, Rogers Arena, Sabres Canucks Preview, Sabres Preview, Sabres vs. Canucks, sabres vs. canucks gameday, sabres vs. canucks preview, scott rintoul, Team 1040 Radio, team1040, the moj, Todd Bertuzzi, Vancouver Canucks, vancouver canucks vs. buffalo sabres, vancouver vs. buffalo, Western Conference, Zack Kassian
Original Story:
http://www.nwsportsbeat.com/canucks/b...
THE BACKYARD
BEST OF MAXIM
RELATED ARTICLES
With the post-trade posturing by teams, general managers and fans to promote the view that this is a trade that helps both teams, often thats far from the case, and considering the wealth of draft picks and prospects exchanged at the deadline, its not always clear which team emerges as the victor in the long run. While we promoted Vancouvers and Nashvilles roster upgrades as strong...
Canucks host Sabres Saturday Night The Vancouver Canucks will welcome Cody Hodgson back to Vancouver on Saturday night – this time in an enemy uniform. One of the more curious trade deadline moves will get a chance to prove its worth when Hodgson and Alexander Sulzer attempt to make the Canuck rue the day that the Canucks moved them to Buffalo for Zach Kassian and Marc-Andre Gragnani...
Sabres vs Canucks Game Recap Did you miss the Buffalo Sabres vs. Vancouver Canucks Saturday night on Hockey Night In Canada? Boxscore | My Post Game Recap We've got the highlights for you. Sabres vs. Canucks highlights courtesy NHL.com. CLICK HERE CHECK OUT THE CANUCKS CLUBHOUSE TODAY AT NWSB! © NWSports "Q" for North West Sports Beat, 2012. | Permalink | No...
Ville Leino scored twice in the first 3:44 and Ryan Miller made 32 saves to help the Buffalo Sabres beat the NHL-leading Vancouver Canucks 5-3 on Saturday night, spoiling Zack Kassian's first games against his former teammates. Kassian, dealt to Vancouver along with Marc-Andre Gragnani in exchange for Cody Hodgson and Alexander Sulzer at the trade deadline Monday, scored his...
Canucks All Access Before the tension of the trade deadline the Vancouver Canucks were in a cheerful mood last week after a pair of big wins on the road in Detroit and New Jersey. The Canucks snapped the Red Wings' league leading home winning streak and continued with another comfortable win against Ilya Kovalchuk and the new-look Devils just days later. The Canucks were all smiles...
Vancouver's Roberto Luongo has been outstanding between the pipes lately at Rogers Arena. Buffalo's Ryan Miller has been exceptional in goal regardless of the venue. Luongo and Miller will likely be in net Saturday night in Vancouver as the Western Conference-leading Canucks go for a fifth straight home win in a matchup with a Sabres team coming off back-to-back shutout...
This week's Authority Report discusses a new basketball offer, Tyler Ennis, Justise Winslow, and more. For football, it discusses new offers, a new exercise Arizona has been doing, and more.
The San Jose Sharks will try to post consecutive wins for the first time in a month when they host the Buffalo Sabres tonight at HP Pavilion.
It's another edition of Musings on a game day. How convenient. It's also the first since the deadline came and went and the deadline day inactivity was a blessing or curse; depending on your point of view of course. The biggest winner of the deadline day for me: Buffalo. I think Cody Hodgson should be a quality center for a long time to come and any team that can get a 1st AND...
NHL News

Delivered to your inbox

You'll also receive Yardbarker's daily Top 10, featuring the best sports stories from around the web. Customize your newsletter to get articles on your favorite sports and teams. And the best part? It's free!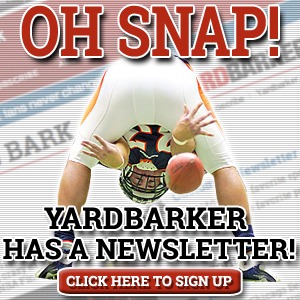 Latest Rumors
Best of Yardbarker

Today's Best Stuff

For Bloggers

Join the Yardbarker Network for more promotion, traffic, and money.

Company Info

Help

What is Yardbarker?

Yardbarker is the largest network of sports blogs and pro athlete blogs on the web. This site is the hub of the Yardbarker Network, where our editors and algorithms curate the best sports content from our network and beyond.